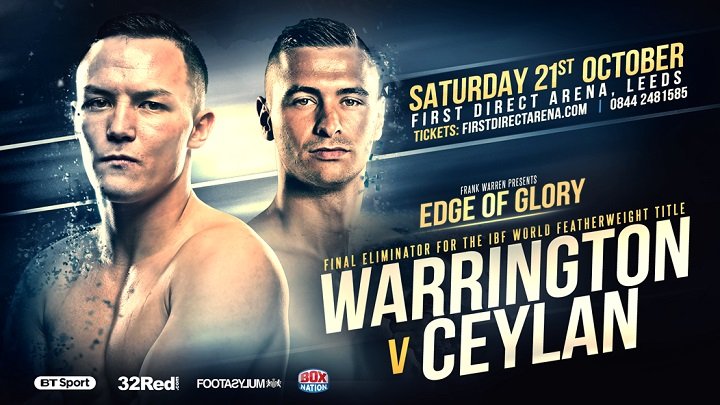 Last night in his home town of Leeds, unbeaten featherweight contender Josh Warrington improved to 26-0 and scored a rare KO (his sixth in total) in halting Denmark's Dennis Ceylan in the tenth-round. With the win over the previously unbeaten Dane who is now 18-1-2(8) Warrington earned himself a shot at Lee Selby's IBF crown.
Warrington, an exciting pressure fighter despite his veritable lack of pop, put Ceylan down twice in the 10th, finally getting him out at 1:43 of the round. Warrington's army of fans went nuts and the clash between he and Selby promises to be a big all-British showdown next year.
"I hurt him early and went for it too soon because my boxing went out the window," Warrington said in victory. "But I got there in the end. Once I started doing what I was told, things started working. I just wanted to win so bad. I've got no problems fighting the Welshman (Selby) as long as it's up here (in Leeds). This is what I want. That's what all these (fans) want. If we can make it at Elland Road, let's have it."
As big a draw as Warrington is in Leeds, where he regularly packs fans in by the thousands, it makes sense to do the fight there. According to reports, the fight, one that would see Warrington attempt to overcome Selby's slick boxing approach, could take place in March. As popular as Warrington is, a sell-out at Elland Road football ground is a real possibility.
Warrington wants the big fights, against Selby and Irish warrior Carl Frampton, and last night he took one big step towards getting them. But will Selby, 25-1(9) want to travel to Leeds for the defence? "Easy work," Selby tweeted in response to Warrington calling him out, so the 30 year old seems to have no concerns about making his fourth title defence against the unbeaten 26 year old (Warrington turns 27 next month).
Fans can expect a good action fight wherever this one takes place; whoever wins.