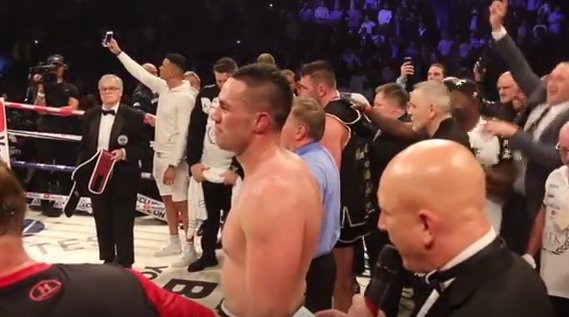 The arguments over this past Saturday night's Joseph Parker-Hughie Fury fight are still ongoing; with the Fury family being, well, furious over the 12 round majority decision that went to defending WBO heavyweight champ Parker.
As soon as the verdict was announced in Manchester, the entire Fury family, along with their supporters and their promoter, went crazy – former heavyweight king Tyson Fury especially (even climbing into the ring, apparently to confront BBB of C head Robert Smith). There were suggestions of "corruption" and of "dark forces" being at work, and Fury and his team may well launch an official protest over the decision (114-114 and 118-110 twice, for Parker).
But in speaking with Newshub, WBO vice-president John Duggan said there is "no chance" of the result being overturned.
"I thought the score was regular, and I thought the 114-114 score was somewhat unusual," Duggan told Newshub. "[Parker] deserved the win. He boxed courageously in a hostile environment. I think he won the fight, I think it was a close fight. Just because the score was wide, doesn't mean it wasn't close. With the way boxing's scored you can have an extremely close fight, and have a boxer win every round by a close margin. That happens quite a bit."
Maybe, just maybe, in light of the seemingly high number of bad, or controversial decisions we have seen in boxing recently, a new system of scoring should be introduced, to replace the existing ten point must system? Just what new method of scoring could be introduced is anyone's guess, however. Still, it does seem as though something has to be done.
As far as Saturday's heavyweight title fight is concerned, promoter Mick Hennessey says the result that went against his fighter was the result of those "forces at work."
"I know corruption is a strong word, but I tell you now, there are forces at work around this game," Hennessey told BBC Sport. "We will put in an appeal and protest as strongly as we can. I thought it was a master-class by Fury. I thought he wiped the floor with him. He was gliding round the ring hitting him wit jabs at will – it was shades of Ali the way he was moving. I had Hughie at least four rounds ahead because Parker was swinging and missing."
But according to Duggan, an appeal will achieve basically nothing (as is almost always the case whenever an appeal is launched over a decision that a fighter and his team felt was unfair) – and a rematch between the two heavyweights is also extremely unlikely.
It's tough not to feel bad for 23 year old Fury, who did indeed box brilliantly (for what it's worth I had it 7-4-1 for Fury) – but it seems he can do nothing but take pride in a great performance and move on. At the very least, Fury proved beyond any doubt he is a genuine world class fighter.