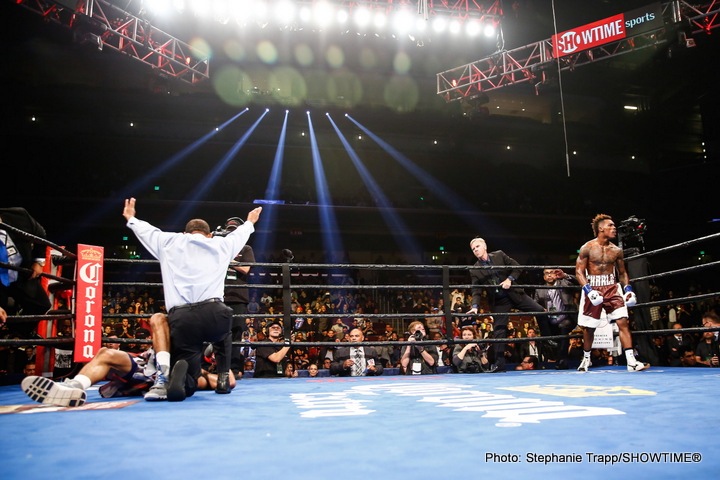 Jermall Charlo dropped Williams three times, once in the second and twice in the fifth. Williams, who had not lost a round in 10 consecutive fights, went down for the first time in his career from a strong counter left-hand midway through the second round.
Williams, who established his counter right early, performed well for the next two rounds in the first title fight between undefeated 154-pound champions since Floyd Mayweather dismantled Canelo Alvarez in 2013.
But Charlo decked him again with a brutal right uppercut midway through the fifth round that sent Williams collapsing face-forward onto the canvas. Williams got up, but he was clearly in trouble. Charlo floored him seconds layer with a left hook, forcing referee Wayne Hedgepath to instantly halt the contest at 2:06.
Charlo was ahead with scores of 38-37 on the three scorecards entering the fifth round in a highly skilled matchup between two fighters in their prime.
Afterward a fracas broke out in the ring between the fighters and their cornermen after Charlo wouldn't acknowledge Williams' congratulatory hand shake. Williams immediately stormed from the ring. The fans booed Charlo loudly throughout his post-fight interview with SHOWTIME reporter Jim Gray.
"I did what I was supposed to do, I'm very happy with my performance, I listened to my trainer,'' said Charlo, the identical twin brother of WBC 154-pound titlist Jermell Charlo. "I trained hard for this fight, I stayed in the gym the whole time.
"No matter what, people have to respect my accomplishments. He just wasn't on my level. I told everyone what I was going to do since the fight was announced. I knew I was going to win; he was badly hurt after the knockdown.
"I just want to tell Julian Williams, I'm sorry. Leading up to this fight Julian talked, and I held it in. I did what I had to do to become the champion of the world and I deserve my respect. He disrespected me all the way up to the fight. I made the fight happen; I gave the fans what they wanted to see. I stayed at 154 pounds, although I do want to move up to 160, just to fight someone the world said I couldn't beat.
"I said I don't want your congratulations, I want your apology. I don't care what they say, I knocked him out. No matter what they say about me I'm going to continue to work hard. I did what my trainer told me to do, I stayed in there and bang the shot came home. I'm never disrespected this dude, never, until I knocked him out.
"Yes, I want to unify. I want to prove I'm the best junior middleweight in the world, none of them are on my level."
Williams offered no excuses. "I just got caught,' 'he said. "I was fine after the second round and kept going. He just caught me. He wasn't too big. He just caught me.
"I didn't care about any of that [post-fight drama]. I just wanted to win."
Charlo-Williams was the fourth 154-pound title fight on SHOWTIME in 2016.