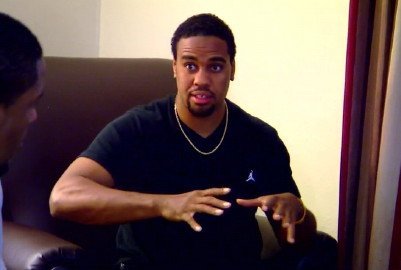 Chip Mitchell: Eddie, let's first talk about the decision to move down from heavyweight to cruiserweight? Was part of the decision it based more on size or more opportunities in the division?
Fast Eddie Chambers: It is a combination of all that. But honestly when you thing about the opportunities in cruiserweight it's almost in some ways just as difficult because you see a lot of these champions sitting on belts. At least in heavyweight division you've got one guy saying 'Look I'm going to try to rule the division'.
In the cruiserweight division we have four different champions and they're all sitting on belts. And they are like 'I don't want to pick and choose' and the promoters have to do this and that. Like Kathy (Duva) was saying a little earlier, they talk about having this other fight already made or that other fight made, so they're not really thinking about getting anybody a shot at taking their title. They are thinking of keeping their belts and sitting on them.
So the opportunity is there but it's not there. You know what I mean? It's there because of my size and now I'm comparable to every other guy's size in the cruiserweight division. We are all the same weight, basically. So now what means the most is your skill level and strength and determination and all that factors into the fight. Not size. You know what I'm saying? Not physical gifts as far as being big, tall, or having 30 or 40 pounds on a guy. That's no longer important. Really it's almost the same, but the transition was because I just really want to be a world champion. I see that possibility being a little more available at cruiserweight right now. And I'm ready to go at it. I'm can reign there because there is no size difference. I can go ahead and dominate these guys because we are all the same size.
Chip Mitchell: Okay. Piggybacking on that, someone else just mentioned your credibility being hurt by losing to Wladimir Klitschko. Let me say that when you look at the heavyweight rankings years from now, don't be surprised if the Klitschko's are ranked very high based on their accomplishments. You were a smaller guy and pretty much going the entire fight with Wladimir until a few seconds away from the final bell. I think that's going to say a lot for your legacy. People might not see it now, but I think years from now they will.
Fast Eddie: Oh yeah!
Kathy Duva: Amen!
James Bashir: Thank You! Thank You!
Chip Mitchell: Last time out you fought Tomasz Adamek, basically with one arm. My first on that question is how is your arm?
Fast Eddie Chambers: The arm is strong. The surgeon, Dr. Chris Dotson did a great job. I'm able to do the same thing now with my left as I did before and can do with it before and the same with my right.
Chip Mitchell: Secondly, how would you grade your performance knowing what we know now?
Fast Eddie Chambers: As far as the performance is concerned, I mean with one hand I guess I did what I could do on such short notice, with having that hand as my power hand or let's say my lead hand because at different times I had to switch back and forth. Give me an 'A' for effort. You know what I'm saying? So it was good for that, but I mean I didn't get the victory. We look at the judging and you could criticize. There were a few people who feel his aggressiveness did it for you. But when you look at it, it was sort of ineffective because he only landed 15 percent of his punches, which is very low number considering the other guy only had one hand. Then I landed not only at a higher percentage but I landed more punches. So it looks kind of bad when you look at that. But then you say the judges don't see the computer for the scoring of who landed more or at a higher percentage. I think it was an overall good performance- one of the better ones that I've had. However in a loss it's kind of hard to see that and say that. Overall it was a pretty good night for me, besides the loss.
Chip Mitchell: Bashir, one of his nicknames is Joe Frazier. Do you see any Frazier or Pete Whitaker in this guy's arsenal? I mean he seems to use his legs. He uses a lot of head moment to avoid punches while still trying to stay in range.
James Bashir: In my opinion it's much to do about nothing. He's gonna do what he does. But he has to settle down to win the fight. So he can be Joe Frazier, Pernell Whitaker, and a little bit Tweety Bird if he wants to. He still has to settle down to try to win the fight. I'm not going to be stressed out about him jumping around the ring and doing this and that. You know? I'm working with one of the masterful boxes in the history of the sport, in Eddie Chambers. I know and am well aware of what I'm working with. So he can bring whatever he wants to bring. He's going to have to settle down. He's going to have to box. Like I said, we're in Philadelphia. We are in the home of diversity. So the guys that Eddie Chambers is sparring with- lefties and righties, comers and boxers, we're prepared for anything that we will be faced with inside that ring.
Chip Mitchell: Fair enough, fair enough. Eddie, your relationship with Main Events allows you to have some of your fights NBC and NBC Sports Network. What does that mean to you, especially in a division that's been overlooked for in recent years?
Fast Eddie Chambers: Well I think gives not only to me- respect to Main Events that we have this opportunity- but it gives the fans a chance to see an exciting, big division. To be quite honest the heavyweight division hasn't had a lot of exciting fights for the networks to see. Even recently with some of the fights with Bryant Jennings who's been on NBC Sports, there has been a great deal of excitement in his fights. And you see Tomasz Adamek who was in a fight with Steve Cunningham. They were heavyweight guys but these are guys who are ALL smaller heavyweights. So you heard what Kathy Duva was saying when she said that is where the excitement is (cruiserweight division). You know it's very difficult to put in a guy with Wladimir Klitschko, even if he's 6 foot 3 and 215, which used to be a big heavyweight back in the day. But nowadays that's tiny. Klitschko is 6 foot 7, 250 pounds, it's a little bit ridiculous and it's hard to sell. It's an overmatched fight. If you get two humongous guys in, then it slows down and it's not really exciting and not as many punches thrown. Don't get me wrong, some of those guys are athletic. But it's just not a lot of excitement. However if you get two guys who are around 225 pounds, even up to 230, athletic and can move and give you the same things smaller weights classes do where guys are throwing 70, 80 punches a round… I mean you see Tomasz who threw like 100 punches in the last round when we fought. Those kinds of things are available when you put that on. And now you can put those kinds of fights on television. You can put me in a fight with David Haye, another talented boxer with a big punch. With us two squaring off, we are going to be throwing punches! You know what I mean? He's gonna be swinging for the fences while I'm boxing his brains off. But we're gonna be throwing punches and it's going to look good. And we are two bigger guys. So why not put those on TV like Kathy is doing and put them on the premium networks as well and have them show them off to the world.
Chip Mitchell: I agree. Now Eddie correct me if I'm wrong, but based on my reading, you seem like a spiritual person. How has spirituality played a part in your boxing career?
Fast Eddie Chambers: Aww man. Believe me I've had to have some faith at this point in my career. Things are now looking bright. There's now light at the end of the tunnel, I see. But I had to have some faith. I have to thank one of the greatest influences of my life. His name is Bishop Parker. He's actually a bishop that's been really, really influencing me in a positive way. He's getting me involved more in my spirituality more than I've ever been and like I said I had to have that faith because things are tough right now. You know things financially, you know when you are out for a year and you are unable to work. You are unable to do the things you do best financially, emotionally. Everything just starts to come down and it just becomes tough on you. You know, I'm a human being. At the end of the day I'm a human being. Though I'm a fighter and I get in the ring and slug punches for the fans and they enjoy watching it, well I HOPE they enjoy watching it, at the end of the day I'm still a human being. So when I come home and things are due and you don't have the ability to take care of them because you haven't been able to do what you do best and provide- it's a bit difficult. So I've had to really get in touch with that part. It gave me the ability toward the end of the 3rd quarter of my career to go for a title and be happy and have my emotions in the right place. So I can go in there and fight this guy here on the 3rd.
Kathy Duva: Tune into NBC Sports Network at 10:30 on Saturday August 3rd. It's going to be a tremendous show. Tell all your friends so we can make sure we get a great big audience. I think everybody will be happy to see not only Eddie, but Tomasz Adamek who is going to fight Dominick Guinn, Curtis Stevens is going to be in there with Saul Roman. Maybe a few other things will get on the air because now our undercards are being taped and show either live or possible on delay.
I want to take every chance I can to thank NBC and NBC Sports for all that they've done, and the opportunity they've given us. I believe that if we build it they will come. We are going to build the heavyweight division back and the cruiserweight division back. I think this show is going to be another one of the blocks in that building.
"Three To See" Fight Info:
Saturday August 3rd on NBC Sports Network beginning at 10:30pm, eastern. Curtis Stevens takes on Saul Roman, Tomasz Adamek faces Dominick Guinn, and Fast Eddie Chambers meets Thabiso Mchunu. Fans don't miss it!