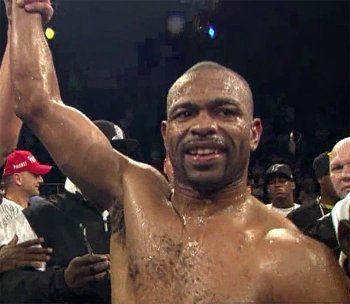 Veteran former four weight world titlist Roy Jones Jr, who continues to fight on at 46 in the quest of an elusive title at cruiserweight, has had his fight this Saturday on the tiny Dutch Island of Philipsberg Sint Maarten in the Caribbean postponed through severe weather concerns.
It would seem to many that Mother Nature is trying to tell the long faded former champ something, although the fight with fellow old timer and former 175 lb world title challenger Danny Santiago has unfortunately not been cancelled, and will be re-arranged for a later date.
"They were worried about the hurricane, so the fight was postponed and they said it would be rescheduled at a later date," Santiago's manager Heidi Jasper told ESPN.com.
"The promoter, Archie Keaton Entertainment, and I were supposed to get together to figure out when to reschedule the fight, but now it looks like Hurricane Erika might hit the island so we haven't been able to meet yet."
Hardly a tragedy for those fans keen to see the future Hall of Famer hang them up and stick to his job as an analyst for fear of seeing him hurt, although given the level of opposition he is currently fighting, that will only be of real concern should he get his wish to fight Poland's new WBO cruiserweight champ, Krysztof Glowacki, whom Jones called out after his recent fight with club fighter Eric Watkins.
"Somebody gotta give me a (title) shot at 46 years old," Roy remarked after the aforementioned Watkins debacle.
The next stop on the Roy Jones Jr "roadshow," is a stop in Liverpool, England, when he faces 42 year old returning local fighter Tony Moran (15-6, 5ko) – who aside from a 4 rounder in May – hasn't boxed for 8 long years.
Twitter @Undilutedpoison