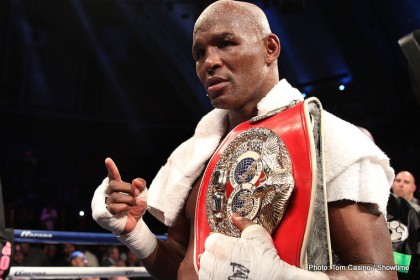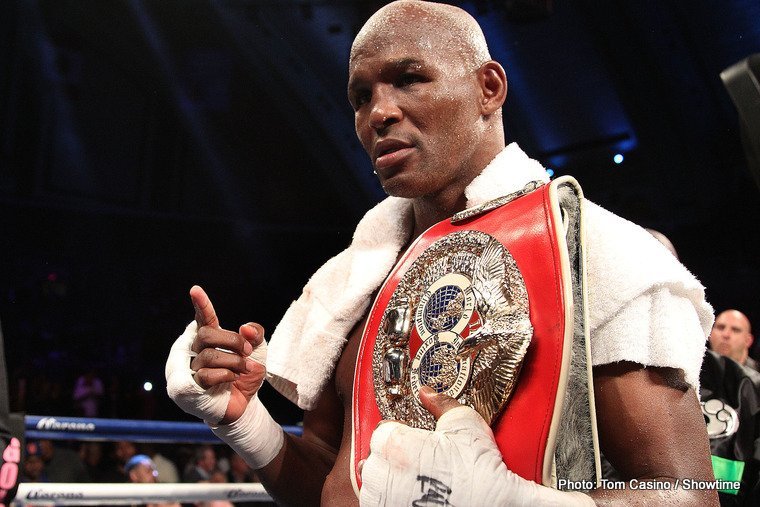 Now before you all think I'm crazy or some rhetorical shill, hear me out. I'm not saying that Mayweather/Hopkins will be made…I still think GGG will be the GUY should he KO Curtis Stevens.
But…if Hopkins does get to fight Mayweather, and he says he can get down to 160lbs for this fight, he'll regret losing the weight and will be severely drained most likely losing to Mayweather and maybe even stopped considering his age along with the weight loss. A hypothetical account follows.
Round 1:
Hopkins weighing in at 165lbs (as contracted) on fight night comes out on a mission to impose his will on the much smaller Mayweather who weighs 152lbs. Mayweather is agile and quick while Hopkins plods and attempts to bully Mayweather into the ropes. Floyd is on his toes making the slower Hopkins miss and hitting him with sharp counters. Hopkins lacks energy and his aggression is ineffective. 10-9 Mayweather
Round 2:
After a verbal chastising from Naazim Richardson between rounds Hopkins comes out more determined to corner Mayweather and rough him up. Mayweather follows the same script as he did in round 1, stick and move, hit and not get hit, on his toes, continuing to make Hopkins miss and countering with sharp punches to the body and head. Hopkins frustrated continues trying to corner his much quicker foe to no avail. 10-9 Mayweather.
Round 3:
In between rounds Floyd Sr. tells 'little Floyd' how well he's doing while also telling him to stay away from the ropes or corners, he tells 'lil Floyd' to change direction of his movement to keep Hopkins out of sync, he also tells him to step in and go to Hopkins body to take his energy and legs away. Floyd Jr. follows his corners instructions to the 'T' and lands several body shots while avoiding Bernard's counters and attempts to tie him up. At the end of the round Mayweather lands two hard shots to Hopkins head that don't seem to affect the 175lb champion at all. 10-9 Mayweather.
Round 4:
Naazim Richardson once again chastises Hopkins for his ineffective fighting telling him to cut off the ring on the smaller fighter and get him into the clinch and rough him up. Hopkins follows his corners instructions and is able to close the distance with the 154lb champion and lands a few telling blows with Mayweather against the ropes. Mayweather bobs and weaves Hopkins remaining attack and moves back to the center of the ring then launches 3 quick counters to Hopkins body and head which land cleanly before Mayweather goes back on the move. Mayweather catches Hopkins coming in with a straight right to the head which doesn't hurt the bigger man but stops him in his tracks. Mayweather finishes the 4th round strong. 10-9 Mayweather.
Round 5:
This time it's Floyd Sr. doing the chastising in the corner, telling 'Lil Floyd' not to be stupid, 'Lil Floyd' responds "I know what I'm doing", and then rises from his stool to go back out and battle. Hopkins comes out energized having some success in the previous round, once again trying to cutoff the ring on the smaller, quicker man. When it seems like Hopkins has his man trapped and then goes in for the kill Mayweather ducks and slips his shots and counters with a left-right combination to Hopkins head and then moves away. This pattern repeats itself throughout the round and by the end Hopkins energy output is down and frustration has set in. Mayweather 10-9.
Round 6:
Round 6 turns out to be the best round of the fight for Hopkins who's able to corner Mayweather on the ropes and ring corners several times and while in the clinch is able to rough Floyd up on the inside to the body and head. Hopkins turns the whole fight to his favor with this round. Mayweather for his part stays on the inside and tries to trade shots with the 175lb champ to his own dismay. 10-9 Hopkins.
Round 7:
In the corner between the 6 and 7th round Floyd Sr. tells 'Lil Floyd' he's going to stop the fight if he stands inside with Hopkins and trades in the 7th round. Floyd obeys his fathers instructions and returns to the 'stick and move' strategy that had won him most of the early rounds and finds success again. Able to avoid Hopkins shots and counter well. 10-9 Mayweather.
Round 8:
The 8th round plays out like the 7th with Mayweather on his toes countering Hopkins leads while avoiding being forced onto the ropes or into the corners. Mayweather lands a massive right hand to the head-left hook to the body at the end of the 8th. 10-9 Mayweather.
Round 9:
Hopkins comes out in 9th round obviously slowed from the action of the 8th round. The quick and agile Mayweather notices the lack in Hopkins and picks up the in and out movement landing several blows to Hopkins head and body, getting out before Hopkins can land anything. 10-9 Mayweather.
Round 10:
Hopkins comes out very sluggish for the 10th frame and Mayweather picks up where he left off in the 9th peppering the weight drained Hopkins with head and body shots while slipping and avoiding Hopkins counters. 10-9 Mayweather.
Rounds 11 & 12:
The championship rounds follow the same script as the previous 2 rounds with Hopkins fading and taking quick counters from the 147lb/154lb champion while not being able to mount much offense himself, his window having closed around the 6th or 7th round. Mayweather dances his way to victory in the final frame avoiding any contact with Hopkins who motions for him to stand and fight. Both 10-9 for Mayweather.
In the end Hopkins goes home with a cool $20M while 'Lil Floyd' takes home $100M, with the 3.1M PPV buys shattering the record 2.5M PPV buys set in the Maweather?De La Hoya fight. With his impressive victory over fellow HOFmer Bernard Hopkins, Floyd Mayweather Jr. sets his legacy in stone.