Ajagba to make debut under the Top Rank banner in 2020
(Aug. 5, 2020) — Top Rank announced today the signing of undefeated heavyweight knockout artist Efe Ajagba to a long-term promotional agreement.
Ajagba, 26, the Nigerian-born former soccer player, turned pro in 2017 after a decorated amateur career that included a berth at the 2016 Rio Olympics. A three-year professional, he has risen the ranks of the young heavyweights and is already rated in the top 15 by two of the major governing organizations.
Ajagba will make his Top Rank on ESPN debut in 2020 on a to-be-determined bill. He has also enlisted the services of manager James Prince and head trainer Kay Koroma.
"I made this decision to become a better boxer and to advance my career. That's why I signed with James Prince and Top Rank," Ajagba said. "When I return to the ring soon, you will see a new Efe Ajagba. Kay Koroma and I are working on my head movement and defense, as I seek to become a more well-rounded fighter."
"Efe Ajagba is one of the most gifted young heavyweights I've seen in quite some time," said Top Rank chairman Bob Arum. "He has immense physical tools and a great work ethic. I have the utmost confidence that we're looking at a future heavyweight champion."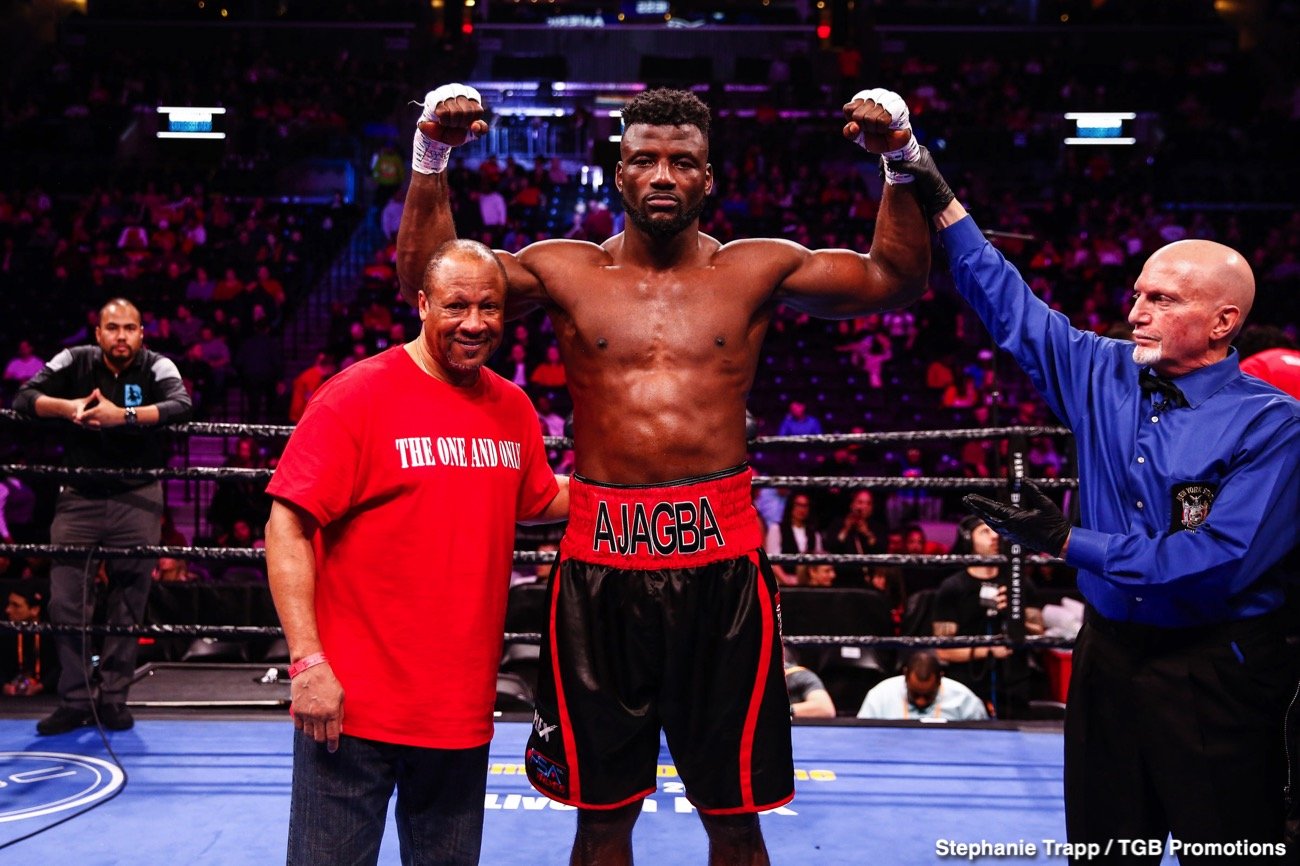 At 6-foot-6 and 240-plus pounds, Ajagba (13-0, 11 KOs) is one of the division's most intimidating physical specimens, a natural puncher with six-first round knockouts on his ledger.
He holds the record for the fastest victory in boxing history when, in August 2018, Curtis Harper walked out of the ring one second after the opening bell sounded.
The disqualification win ended Ajagba's string of knockouts, and he would score four more knockouts before being taken the distance for the first time in his career. Ajagba last fought March 7 in Brooklyn, knocking out former world title challenger Razvan Cojanu in nine rounds.
STAR BOXING SIGNS UNDEFEATED IRISH SUPER LIGHTWEIGHT "THE SILENT ASSASSIN" RYAN O'ROURKE
Undefeated 21-year-old, super lightweight, RYAN O'ROURKE (3-0) has officially put pen to paper on a promotional agreement with JOE DEGUARDIA'S STAR BOXING.
In signing with Hall of Fame Promoter, Joe DeGuardia, O'Rourke has his sights set on growing his fan base internationally, which is already supported by a strong contingent of fans in Ireland.
CEO of Star Boxing, JOE DEGUARDIA, had this to say on the signing, 'Ryan had an impressive amateur career and since making the switch to the paid ranks, it is clear to see he is very suited to the professional game. He is still only 21 years of age and has a lot of potential. It looks as though he will be a very entertaining fighter in the years to come."
O'Rourke joins a talented stable of fighters, represented by Star Boxing, including former world title challenger JOE SMITH JR (25-3 20KO's), who makes his return August 22 in a WBO Title Eliminator on ESPN against Eleider Alvarez, former WBO Super Lightweight World Champion CHRIS ALGIERI (24-3 9KO's), former heavyweight world title challenger CARLOS TAKAM (39-5-1 28KO's), amongst many other talented fighters.
Known as 'The Silent Assassin', Ryan O' Rourke has shown his quality in the ring, notching 3 quick wins in January, February, and March of this year before the world came to a stop due to the global pandemic.
However, O' Rourke will look to add to his impressive undefeated resume on September 11th in Spain where he steps up for his first 6-round contest.
Ryan O' Rourke had this to say about signing with Star Boxing, "I am delighted to have signed with one of the biggest promoters in the world. I can't thank Joe and Star Boxing enough for the opportunity and I am looking forward to getting started and kicking on in America. My career has been mapped out brilliantly, and I am building up a wealth of experience and fighting regularly. This opportunity is what dreams are made of."