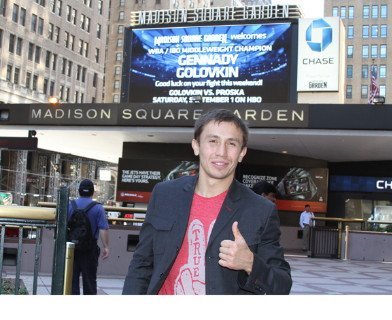 (Photo credit Ed Keenan/K2 Promotions) By Marcus Richarson: Matchroom Sport promoter Barry Hearn, the promoter for Grzegorz Proksa (28-1, 21 KO's), doesn't see tomorrow night's fight between IBO/WBA World middleweight champion Gennady Golovkin and the 27-year-old Proksa going the full 12 rounds when they meet in this HBO televised fight at the Turning Stone Resort & Casino, Verona, New York, United States.
Hearn said to RingTV "Both have huge knockout percentage. Both have the ability to take men out with single shots, and I think HBO is in for an exciting fight. If it goes the distance, I'll be surprised."
It probably won't go the distance, and Hearn is right about both guys having a ton of power. Both guys can legitimately end the fight with a single shot. However, it's going to be a little tougher for Proksa because he really only has power in his left hand, and he can't fight on the inside at all because of his style of fighting. He fights a lot like former WBC middleweight champion Sergio Martinez, and like him, Proksa can't fight well on the inside. He's kind of lost when in close and mostly just looks to hold. Golovkin has already said that he plans on taking the fight to Proksa on Saturday, to get real close and force him to fight an inside game.
Unless Proksa is able to dodge Golovkin's attacks and hurt him before he gets in close, it's going to be a painful night for Proksa. Oddly enough, Golovkin doesn't seem to lose any power when throwing shots from a short distance and that makes him very dangerous for Proksa. The odds are high that Golokin is going to get inside on Proksa and once he does he's going to make the Polish fighter miserable in front of a nationwide audience in the United States watching the fight on HBO.
Proksa's only real chance of winning this fight is if he can keep moving for 12 rounds like Martinez does. It's going to be difficult because Golovkin is an expert at cutting off the ring and working his way inside like a younger version of Julio Cesar Chavez. Golovkin can hurt you to the body or head, and that's going to make it even tougher for Proksa, because he usually doesn't get hit to the body that much because of his style of fighting. It's going to be new experience for him and he probably won't do well with it.