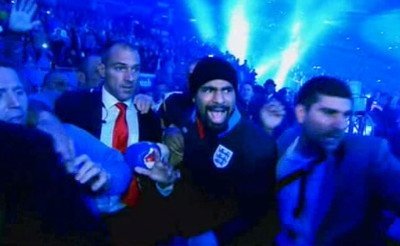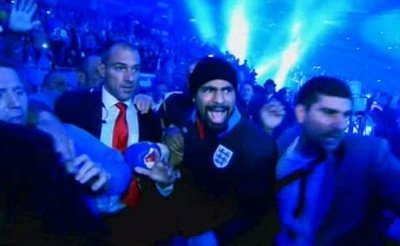 By Michael Collins: David Haye (26-2, 24 KO's) thinks that WBC heavyweight champion Vitali Klitschko's legacy won't be impressive as it could be unless he faces his before he retires from boxing in the near future. Haye doesn't think Vitali has had a true legacy-building fight during his 16-year-old career that boxing fans will remember.
Haye told Sky Sports News "He [Vitali] needs a fight people will actually remember, and the only recognized heavyweight out there is myself. He's had 50 fights against nobodies. The only fight of his that people remember is the one against Lennox Lewis, which he lost."
I'm all for Vitali building his legacy but there's really no one in the top 15 right now that will help Vitali in that respect. Haye has already been easily beaten Wladimir Klitschko, so his scalp wouldn't be worth much for Vitali at this point. It might have been before Wladimir beat Haye, but not now.
Fighters like Tyson Fury and David Price aren't worth much for Vitali, because those fighters have been facing generally weak opposition. Price is fighting nothing 40-years-olds lately, and Fury is facing journeyman level opposition, so beating him won't do much for Vitali's legacy. Vitaly already Chris Arreola, and Bermane Stieverne isn't an opponent that will do much for Vitali's legacy.
The fact remains that Vitali, 41, is too up there in age for him to have any real impact on his career by beating one or two guys. For Vitali to be able to shape his legacy he would have to stick around the sport long enough for a few really good heavyweights to emerge and then beat them all to help his legacy. I'm sorry, but I don't see Haye, Price, Fury or any of the other contenders as being good enough to do anything for Vitali's legacy.
If anything, I think a fight between Vitali and Haye would maybe cheapen Vitali's legacy because it would be perceived by a lot of boxing fans as just a money grab on Vitali's part in taking the fight because Haye no longer seems interested in fighting contenders and is just waiting to get one big fight.
When you get fighters that are no longer fighting regularly and looking to stay busy against the top contenders, it's not worth much fighting these kinds of guys in my view. Haye should have been proving himself after he got beat by Wladimir, but instead the only guys he's faced is a British domestic level fighter in Dereck Chisora. Why should Vitali fight Haye if he's not even fighting world class opposition anymore?