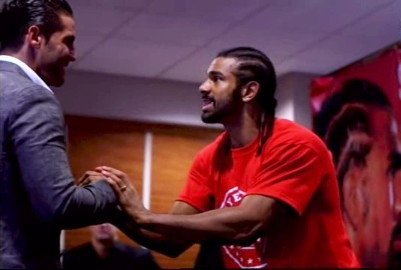 By Brad Cronick: Former two division world champion David Haye has hitched his wagon to WBC heavyweight champion Vitali Klitschko, as that's the only fight that Haye wants before he retires. Haye is waiting to see if the 41-year-old Vitali will fight him or choose to retire.
If Vitali retires, then Haye plans on getting out of boxing as well because he doesn't want to fight any of the smaller names despite the fact that he can still make very good money against them. Haye wants the huge money that would come with a fight against the big 6'7" Vitali.
Haye also wouldn't mind getting a rematch against Vitali's brother IBF/IBO/WBA/WBO heavyweight champion Wladimir Klitschko, but he has no interest in fighting Haye again after easily beating him by a 12 round decision in July 2011.
Haye said to the Evening Standard "I want to knock Vitali Klitschko out in 2013. The contract for the fight has been agreed and is there ready to sign. Were it simply up to me, I'd be training to fight right now. Nobody seems to know if Vitali wants to set foot again in the ring, let alone face somebody as dangerous as me."
Haye went on to say that he'll retire if Vitali doesn't choose to fight him by next year. He's not going to wait until 2014 to fight Vitali, and that's probably a smart thing because Vitali will likely retire next year, so he won't be there for Haye to fight in 2014 anyway.
It's strange that Vitali hasn't fought Haye yet because it seemed like for a while there that Vitali really wanted that fight, but as soon as Haye started showing a ton of interest in facing him, Vitali hasn't seem all that interested in taking the fight. It doesn't make sense for Vitali not to have faced Haye by now because Vitali fought a much less well known heavyweight in Manuel Charr recently and that fight didn't make the money that Vitali could make in a fight with Haye.
It also didn't attract the kind of interest that a Vitali-Haye fight would attract from boxing fans. It could be that Vitali doesn't relish the thought of sharing the ring with a fighter with the hand speed, power, mobility and youth that Haye possesses.
To be sure, Vitali's brother Wladimir easily handled Haye but Wladimir has much faster hands, a better jab and is a lot more mobile than Vitali is. The fight was easy for Wladimir because he had so many different skills to use to dominate Haye. Vitali would be limited to using his size and trying to overpower Haye.