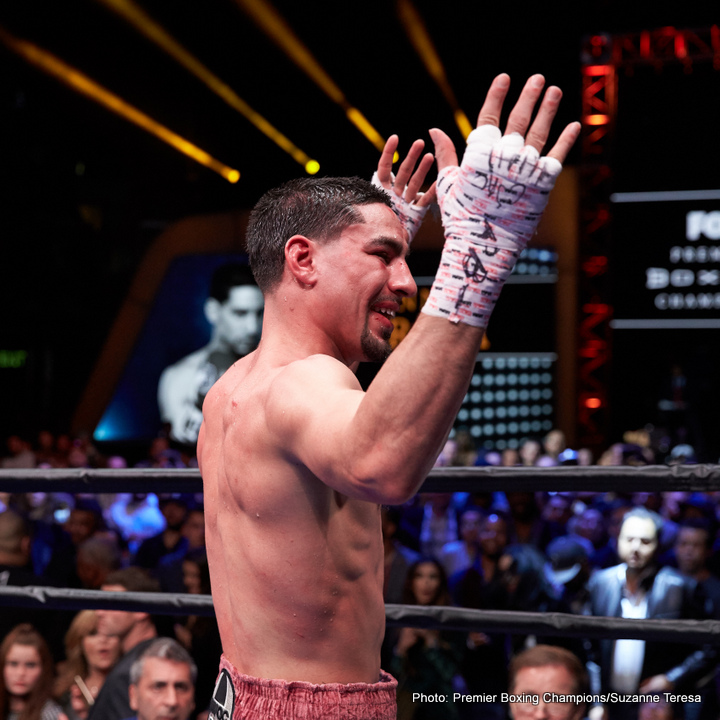 Robert Guerrero (33-4-1, 18 KOs) fought well enough to deserve a draw last Saturday night in his fight against Danny Garcia (32-0, 18 KOs), but the judges saw it differently in giving the 27-year-old Garcia a 12 round unanimous decision at the Staples Center in Los Angeles, California. The judges scored it 116-112, 116-112 and 116-112.
Guerrero was upset about the decision afterwards and said he wants a rematch, because even Floyd Mayweather Jr. said that the fight should have been scored a draw. However, Garcia and his dad Angel Garcia are saying no to a rematch. They want to move on to bigger fights. Just what those bigger fights are is unclear, because they don't want to fight Amir Khan.
They can't fight Keith Thurman because he's already got a fight scheduled against Shawn Porter. Unless they can get a unification fight against Kell Brook, they're probably looking at routine title defense for Garcia's next fight.
"I want a rematch and that's it. Not one person out there thought Danny won, but his team," Guerrero said via Fightnews.com. "I pressured him, I nailed him, busted his body up. I out-jabbed him. I thought I won the fight. The crowd thought I won the fight. It was a great fight. I am happy I'm healthy. I will be back. I thought I won the fight and I definitely want a rematch. The doubters don't bother me. I showed how strong I am and what I could do. That's why I come out and fight the way I do. It's all for the fans. That's why they bring me back. They love it and they enjoy it. They were entertained tonight. They thought I won the fight, but that's the way the ball went."
A rematch between Guerrero and Garcia would need to be given the green light by both their manager Al Haymon and the World Boxing Council. I doubt that either of them will let a second fight between them take place. Haymon will most likely move Garcia forward to whatever fight he likes. If Amir Khan pushes Haymon hard, then he might be the next fight for Garcia, but I doubt it. I think Garcia is going to stay away from Khan and Guerrero and look for a voluntary defense for his next fight against someone ranked near the bottom of the division like Alfonso Gomez. I could also see Garcia fighting #5 WBC Andre Berto. He's not ranked near the bottom of the division, but he clearly has an inflated ranking by the WBC. I think Berto should be ranked near or at the bottom of the WBC's rankings. That would be an easy money fight for Garcia.
"I'm not going to say I want a rematch because I beat him [Guerrero] clean. I feel like I beat him clean and there's no need for me to take a step back in my career. I just want to go on to bigger and better things," Garcia said.