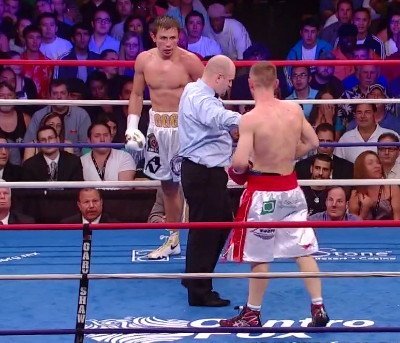 By Paul Strauss: Gennady G.G.G. Golovkin did a pretty good job Saturday night at the Turning Stone Resort and Casino in Verona, N.Y. trying to establish his worthiness for all comers. Quite often when a fighter boasts he's ready for the best (in several divisions), his words are dismissed as just so much talk. Fans realize that often a fighter is trying hard to convince himself as much as anyone else.
In Golovkin's case, Fans might dismiss the apparent bragging as a problem in translation. Maybe English translated to his native Kazakh (or possibly Russian) language back to English got mixed up with the effort. One thing for sure, Golovkin did a number on the previously once defeated Polish southpaw fighter named Grzegorz "Super G" Proksa, who sported twenty-one knockouts of his own to surpass Golovkin's twenty. Going into Saturday night's bout, he was viewed as no slouch, but despite that fact, Golovkin managed to knock him stiff.
Just cruising along in the first round, Golovkin still managed to drop Proksa. There was thought by some he might have slipped or stumbled over Golovkin's feet. Doubt diminished In the second round, when G.G.G. fired off several particularly nice left hooks to the body, which changed the expression on the Polish fighter's face to something resembling a silent scream.
Proksa was game though, and with his unorthodox southpaw style, he tried and tried hard to tag G.G.G with something that would dissuade him from having his own way. But, it wasn't working. The orthodox G.G.G. was very smooth. He moved just enough to make Proksa's punches miss or fall short. He also has that knack of seeing punches so well and gaging them instantly. He knows whether he needs to move at all, or just let them fell short or slide by. It's a little like the great hitters in baseball who can pick up the rotation of the ball as soon as it leaves the pitcher's hand. They know if it's a fast ball or breaking ball, and whether it's going to be a strike or a ball. The great Ted Williams could tell the ball's path within a half inch or so.
That might be an exaggeration in G.G.G's. case, but the fact is Saturday night he was cool and relaxed and in a calm, calculated manner took Proksa apart. Early on he landed some good left hooks to the head. Soon, he was crunching that same punch to the body and then bringing it back up to the head. He also instantly shortened his shots and caught the bending in Proksa squarely. Proksa proved to be tough, but it was painful to watch him take the thudding shots.
G.G.G. closed things out at 1:11 of the fifth with a beautiful combination of punches that once again began with the left hook to the body. After two leg stiffening shots to the kidney area, G.G.G. brought up a short left uppercut. It landed right on the button. There were more punches, but essentially the fight was over and everyone knew it except Proksa. His fighter's heart wished to continue, but Referee Charles Fitch thought better of it and mercifully stopped the slaughter.
G.G.G. even had analyst and ringside expert Roy Jones, Jr. gushing about him. The future hall of famer pointed out to fellow announcer Max Kellerman that G.G.G. had great balance. Roy explained G.G.G. was always in proper position. In the process of destroying Proksa, G.G.G. never over extended. He always kept his feet under him, centered. The same was true if he slid back out of range. He was always ready to punch, and can he punch!
He definitely has those heavy hands. He literally can knock his opponent stiff with either hand. That coupled with his boxing ability and poise make him a worthy adversary for anyone………maybe even Mayweather or Ward. After all, he already has victories over Andre Dirrell, Andy Lee and Lucien Bute. Some would argue those victories came in the amateurs, and don't mean that much, but they do prove the medalist can box as well as punch.
One thing is for sure, his debut in the USA has definitely left boxing fans wanting to see more of this impressive WBA and IBO thirty year old undefeated hard punching middleweight title holder.
That feeling certainly doesn't carry over from the semi-main event between Serhiy Dzinziruk and Jonathan Gonzalez. First off, Gonzalez missed making the junior middle weight limit by nine pounds! He apparently is another Adrien Broner type who thinks rules are for somebody else. By fight time, he ate his $60,000 fine, and everything else in sight, and speed dialed Dunkin Donuts. Then he waddled into the ring at 172 lbs.
One thing in his favor was the way the fight went. He had his way landing short straight shots, especially the counter right to Serhiy's useless jab. It didn't start that way, as Jonathan seemed determined to throw looping power shots. But, he quickly settled in and if Serhiy couldn't block a shot, his head was there for a second or third shot. That lack of mobility enabled Jonathan to club him with multiple rights, not fearing any kind of troublesome counter punch.
Unfortunately for Jonathan, at least two of the three judges didn't see it that way. One must have thought he was scoring an amateur fight. He must have been counting taps landed by the white portion of the glove, because the truth is Dzinziruk didn't land anything of consequence. A second judge scored the fight a draw. The third judge had it right at 117-111 for Gonzalez, but officially it's a draw.
The real truth is the fight was a "yawner". Promoters aren't going to be lining up with excited for the chance to feature either of these guys, especially the corpulent Gonzalez. The only knock at his door he can expect anytime soon is "Jimmy Johns".