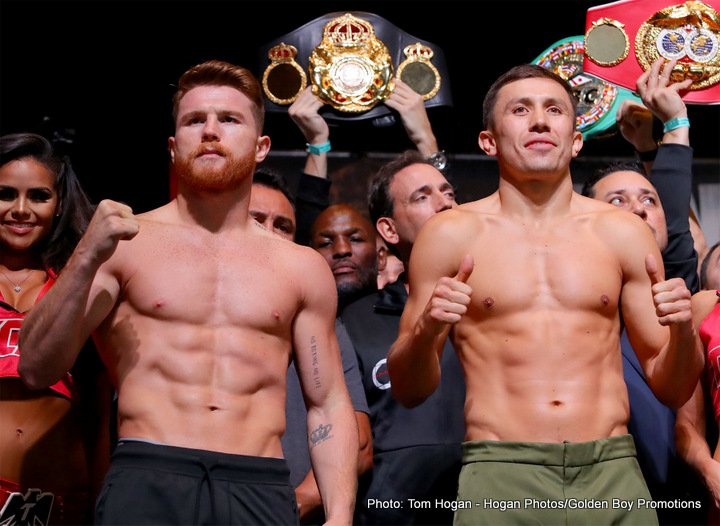 The Middleweight division is responsible for some of the most memorable moments in boxing history. With so many memorable nights stashed on the historical ledger fans around the world have every reason to believe that tonight will be yet another installment, eager to write itself in the history books. This chapter won't include the ageless wonder, Bernard Hopkins or his predecessor, Marvin Hagler. It will be this generations parallel, (Gennady G. Golovkin) along with a man eager to prove his own worth Saul 'Canelo' Alvarez) on the historical landscape. As we get ready for this showdown, we take a look at Keys to Victory, Four to Explore, and an Official Prediction.
KEYS TO VICTORY (GENNADY G. GOLOVKIN)
For Golovkin, keys to victory almost always come down to the same things, and those "same things" have far more to do with what he does, than anything his opponent can do. The old adage has it that "pressure burst pipes". The pressure of Golovkin is relentless and suffocating. It's what he does, it's who he is. To win tonight, Golovkin will need to add a new wrinkle to that pressure. Normally it comes with reckless abandon that leaves him open, willing to take a few shots to land a few. This could land him in trouble tonight. Golovkin will need to box intelligently and prevent Canelo from landing his patented combinations (which rack up points). If Golovkin can stop Canelo from gaining confidence early and racking up points he can wear him down enough to win on points or even potentially stop the Mexican warrior.
KEYS TO VICTORY (SAUL 'CANELO' ALVAREZ)
For Canelo, the keys to victory fall right in the realm of an evolution we've already seen him start. Box, box, box! Canelo has faced a very wide array of opponents, each bringing totally different styles to the ring. Canelo will need to abandon his heart-tinged Mexican warrior spirit early on and rely on pure fundamentals. It isn't logical to think that he can bounce around and win with footwork. But the "defensive offense" he has seemed to master, where he lands and slips shots will greatly minimize the amount of damage he sustains. Body work early, used as a trap to set up the uppercut and his vicious lead right could actually score him an unprecedented short night. This blueprint is a sure path to victory for Canelo.
FOUR TO EXPLORE (CRITICAL GAME CHANGERS TO WATCH)
'Measuring Experience' – The battle of "experience" is an interesting element to gauge in this fight. Golovkin is the more experienced Middleweight, yet Canelo, while younger, is the more experienced fighter. Most look at Golovkin's power and Middleweight reign as a true tell-all-be-all; but there's one element of the experience factor that doesn't seem to come up, yet has contributed to the outcome of more fights than probably any other attribute in the sports history. Golovkin, a KO-King, has 172 rounds boxed in an 11yr career; Alvarez has 353 rounds in the rearview mirror over a career a month shy of 12yrs. Middleweight experience is great, but will job experience on the pro level mean more? Tonight, we find out.
Legend of the 'Worm' – In March of 1976, feared Middleweight puncher Marvin Hagler entered the ring a favorite to defeat a man who few gave a chance (Willie "The Worm" Monroe"). Although Monroe was known as a solid boxer, few thought he'd stand up to the power of Hagler, as few others had. In a shocking turn of events, Monroe took Hagler apart from the onset with clever boxing, and a more effective punch than many thought he would have. By the 2nd round, a left hook and a straight right broke Hagler's nose. A series of uppercuts which knocked out the mouthpiece of Hagler early in the 3rd began the lifting of what most thought to be his veil of invincibility. The irony: each of those punches are key staples to Canelo's offense. Does the legend of the "Worm" resurface again tonight?
'Another Bite from Mike' (Tyson)?: Another monumental moment in Boxing history that left fans stunned happened when the sports most feared puncher at the time, Mike Tyson, entered the ring 37-0, 33KO's, against an opponent most believed had little chance to win. The man who dethroned the 'invincible' Mike Tyson at the time (Buster Douglas) entered the ring as a 42-1 underdog. While Canelo won't be that far down the odds list, he will enter the ring facing an uphill battle in the mind of most. Can Canelo land a "shot heard around the world" to also shock the world?
'Competition is None'?: Most boxing pundits have recently began to wonder if Gennady G. Golovkin is "slipping" in his older age based on recent performances that were considered to be less than his best. While more logical minds understand that his level of competition has increased, others feel it's the beginning of the end. Why does Golovkin have so many questions surrounding his legacy? Prior to the last year or so, most of his competition was well below great. To date, only Jacobs and Kell Brook were considered truly elite fighters on his resume. Some believed Jacobs did enough to win, while critics take issue with the fact that Brook was a naturally smaller man coming up. Canelo will be coming up in weight, but some would argue that his ability exceeds all in Golovkin's past. If so, has Golovkin's resume helped or hurt him.
OFFICIAL PREDICTION
Tonight will be everything the Boxing public has wanted to see in a fight for a long time. High action, high energy, and bombs away! There won't be a filling out period, and even those who don't follow the sport will walk away asking themselves what took them so long to come to it. No matter how it ends, the beginning of that "end" will surface within the 1st three rounds. During that timeframe, someone will make a statement, someone will respond, and the battle of imposing ones will on the other will merge. Neither of these men are known to break down, and neither have ever been forced to go down. Tonight, that will change. Expect Canelo to use a lot of head movement and try to assert his power early. Golovkin will do the same, but an inability to exercise his strengths with aggression will ultimately work against him.
Both are come forward fighters, but only one implements defense in their game plan, and that one wrinkle could be enough to save him over the course of 12rds. Golovkin will land his power, and he will stalk his prey. But the uppercut, right cross, and body work will make him more hesitant than fans are used to seeing. Tonight will present two "first". Late in the fight, Golovkin will appear consistently "gun shy". More afraid of what's coming in that what's going out. Around this time there will also come a point where Canelo will be the stalker, as Golovkin spends more time on his back foot. Solid defense and a strong offensive attack when under pressure will lead Canelo to a hard fought victory that came easier than many predict.
CANELO UNANIMOUS DECISION (UPSET BAROMETER PEAKS AT 5 of 5 – GOLOVKIN HAS THE ABILITY TO END THE NIGHT AT ANY MOMENT)
(Vivek "Vito" Wallace can be reached at 754.307.7747, or Wallace@eastsideboxing.com. You can follow his work at here at boxing247.com, or on Facebook in his daily "BoxingTalk" fight threads)