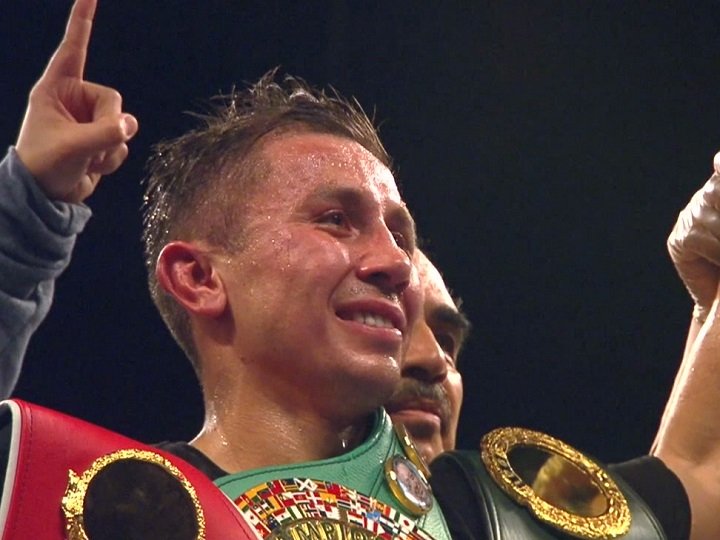 What a sad state of affairs it is when one of the very best fighters in the world, a unified world champion at that, cannot seem to get himself a fight – against.any.body. This is the frustrating situation world middleweight king Gennady Golovkin finds himself in right now.
Since the big May 5 return fight with Canelo Alvarez fell through – through absolutely no fault of Golovkin's, Canelo's two failed drugs test being the bad guy – GGG has been searching and searching for a suitable replacement challenger to try and take his 160 pound belts (GGG holding them all apart from the WBO belt). To no avail, so far anyway.
Yesterday, Golovkin and promoter Tom Loeffler hosted a short-notice presser, during which Loeffler basically confirmed how nothing has been confirmed – opponent-wise. Loeffler said that there are three venues interested in hosting GGG's still hoped for May 5 fight – StubHub Centre, Madison Square Garden and The MGM in Vegas – but so far no opponent can be confirmed.
There is, however, an apparent frontrunner: former 154 pound title challenger Vanes Martirosyan, 36-3-1(21). Loeffler has been in talks with Martirosyan's promoter Don King, but would fans be happy if this fight took place? Martirosyan has never boxed at middleweight and he has not boxed at all since 2016.
One man who wants the shot is unbeaten IBF mandatory challenger Sergey Derevyanchenko. His promoter, Lou DiBella insists his man must face GGG next or Golovkin runs the risk of being stripped by the IBF. Would fans be happier if the 12-0(10) contender got the shot instead of Martirosyan? Gary "Spike" O'Sullivan was once the frontrunner for the shot but the Irishman has now withdrawn. So here we are; GGG, a pound-for-pound great, a reigning world champion, has less than a month to get himself a fight or he will not fight at all.
What a shame: from one of the biggest rematches in the sport to, maybe, nothing at all. No wonder GGG is unhappy with Canelo and is dissatisfied with the Mexican's public apology.