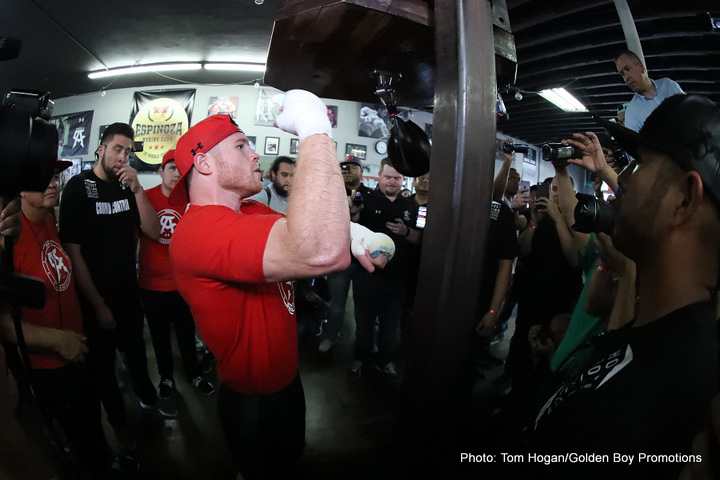 Is Mexican star and upcoming WBO 154-pound title challenger Saul Canelo Alvarez having weight troubles? This is the word according to whispers out in Texas – rumours Canelo and his team deny. But trainer Joe Gallagher told RingTV.com that if Canelo does fail to make 154 for Saturday's fight, there will be no fight. Gallagher says there will not be a catch-weight fight, at all.
"If Canelo doesn't make weight, [we'll take] our paycheck," Gallagher stated. "Saul Alvarez and his team – I have huge respect for them. They're professionals. I don't expect any slip-ups at the weigh-in. But to let everyone know: if Saul Alvarez doesn't make 154 – there'll be no fight."
Gallagher spoke of fights in the past where a fighter failed to make weight, perhaps by just a pound or two, only for his opponent to take payment compensation and go ahead with an over-the-weight bout. This won't happen on Saturday, Gallagher said, no matter what offers would materialise. Canelo is of course a big 154-pounder (making his claims that he is not yet big enough, or ready, to face middleweight king Gennady Golovkin all the more unacceptable to many fight fans).
It is to be hoped Alvarez does make 154 and, for his own sake, does so without weakening himself. Canelo is the favourite to win on Saturday but he is not in with any pushover. Smith, who Gallagher says is right on target weight-wise, is a big, strong super-welterweight and a number of good judges pick him to give Canelo a real battle, maybe even cause the upset and beat him. Canelo will need to be at his best if he's to take the WBO belt off the unbeaten champion, these people say.