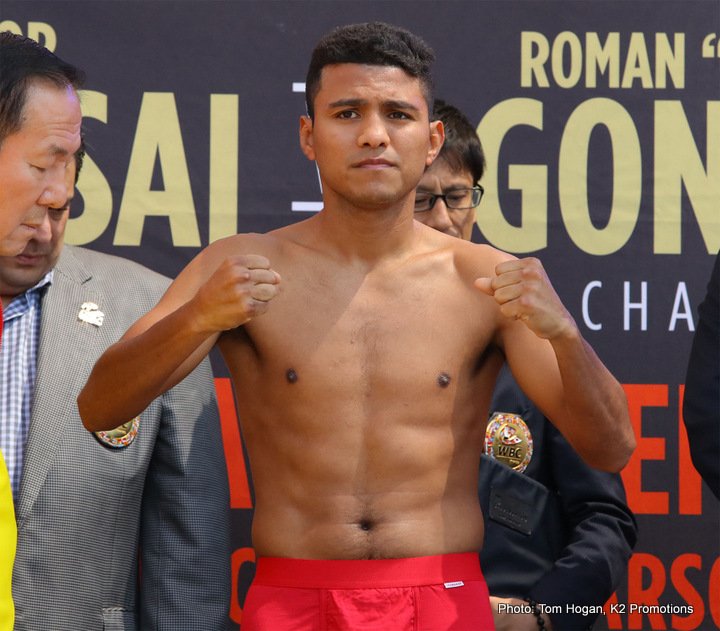 This Saturday night the rematch between Roman Gonzalez and Srisaket Sor Rungvisai at the super flyweight division along with the rest of the HBO tripleheader could be the spark that ignites round two if you will of the Flyweight Wars. Several years ago a plethora of fights took place at the flyweight division sparking a round-robin feel amongst 7 or 8 fighters. It was a wonderful thing to witness as many hardcore fans got a taste of what boxing use to be like in its heyday.
The triangle theory is used today by fans to justify a certain fighter or as a form of entertainment when the politics of the sport abruptly kill a matchup. The flyweight wars were a blast to follow for the most part online, except now HBO is in position to broadcast most of these potential fights. And with HBO's budget constraints the little guys will be much more affordable and the super flyweight weight class is stack to the gills.
The main event headliner Gonzalez vs. Rungvisai 2 should meet the lofty expectations in a rematch of a top-5 fight of the year from their March meeting. Roman did more than enough to get his hand raised in what was a brutal war. It seems as though the judges were scoring blood caused by a few accidental heat butts. Chocolatito landed the heavier shots and in the end landed considerably more punches. That's not taking anything away from Rungvisai's outstanding performance superseding almost everyone's thoughts on his chances heading into the fight.
Expect the same intensity in the rematch but this time Gonzalez will get the victory possibly setting up a trilogy down the line. Look for Roman to land the harder shots and not get knocked down as he did in round 1 the first time around. Although Rungvisai will put up a valiant effort he will fall short in defeat. Let us not forget that 30 years of age is considered old for the lower weight classes and a case could be made that Gonzalez is over the hill and at a division too high. The over/under for combined punches thrown could be set at 1800.
My Official Prediction is Roman 'Chocolatito' Gonzalez by Unanimous Decision.
Both Juan Francisco Estrada and Carlos Cuadras pushed Roman Gonzalez enough to earn a second crack. So it's pretty dang cool that these two will square off against each other for a shot at the main event winner which will likely be Chocolatito.
Estrada experienced a coming of age scenario during the flyweight wars establishing himself as a borderline pound for pound fighter. Injuries and not being able to land the Gonzalez rematch or another significant challenge forced Estrada to move up in weight to chase greatness. Cuadras shined last year when he took on Gonzalez frustrating Roman with movement and a busy work-rate. Enough so that many fans thought Carlos had beaten Gonzalez.
Cuadras will face a different foe in Estrada one who will not come barreling forward. The casual fan probably doesn't even know about this matchup and may be bored in spots if they watched it. Yes it's true that Estrada vs. Cuadras could take a few rounds to heat up but once it does it will boil. Not in the same slugfest-style as the main event instead it will be a chess match. Estrada is not as busy as Cuadras but makes ever punch count. If Estrada becomes impatient we could see him push forward. Carlos can make life difficult for Juan if he sticks to his movement mixed with activity game plan. After a few rounds of measurement and a tad bit of big fight rust to shake off, I expect Estrada to win convincingly in the mid to late frames.
My Official Prediction is Juan Francisco Estrada by Majority Decision.
Naoya Inoue versus Antonio Nieves marks the American debut of the Japanese fighter with the nickname 'The Monster'. With just 13 bouts as a professional Naoya Inoue is on a fast track to stardom. Although his resume isn't all that impressive at this stage one look at Inoue says a lot. Inoue has a similar in and out offensive style to Manny Pacquiao and even has that same eagerness to trade punches mentality of a prime Pacquiao. Last December Inoue destroyed an older but still game Kohei Kono.
His opponent Antonio Nieves comes limping in to his HBO debut having lost via split-decision the last time out not to mention two separate draws over the last few years. Nieves serves as a showcase for 'The Monster' and a launching point for an HBO investment. There is a slight chance of Inoue feeling the pressure of wanting to impress the HBO brass and presumably he could get caught with something flush. It should be noted that Inoue has a tendency to leap at times on the attack with his chin way too high in the air. Beyond a punch that hurts Inoue badly he shouldn't have too much to worry about and will likely get his man out.
My Official Prediction is Naoya Inoue by late stoppage.
Written by Chris Carlson Host/Producer of The Rope A Dope Radio Podcast Available on Apple Podcast (ITunes), Player.FM, Stitcher, Tunein, www.blogtalkradio.com/ropeadoperadio & More! Follow on Twitter @RopeADopeRadio