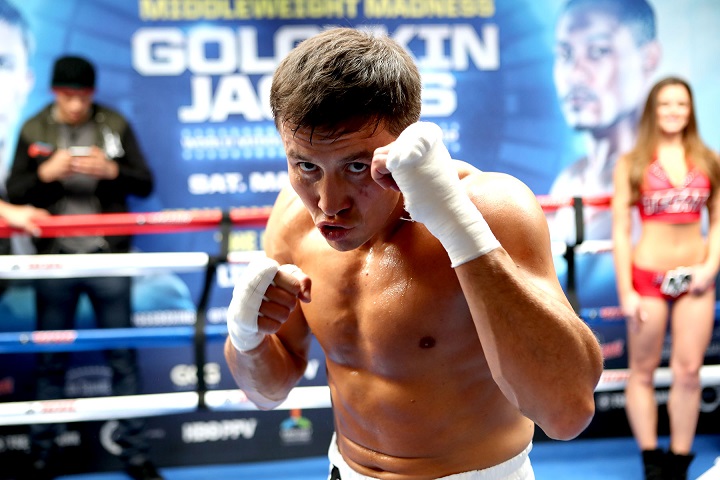 It remains the most fascinating, talked about match-up in boxing, even if we all know it will never take place: Floyd Mayweather Vs. Gennady Golovkin. From before his 2015 "retirement" up to the present day, fight fans and experts alike, when asked to list the one fight match-up they'd most like to see made, reply a Mayweather-GGG clash.
But while middleweight king Golovkin has expressed plenty of interest in a fight with "Money," even at 154 pounds, Mayweather himself has said a number of times he has no need, or desire, to fight Triple-G. Like many other people, Mayweather was left unimpressed by GGG's recent close decision win over Danny Jacobs – a fight and a performance that reinforced Floyd's belief that he has no need to face the unbeaten 35 year-old but that if he was still boxing, he would "put the work in on that boy."
Mayweather, in speaking with Fighthype.com, said he knows, as well as his fans know, what would happen if he fought "Triple-L."
"When I was overseas I seen another fighter fight and I thought he came up short. Y'all know who we're talking about…..Triple-L, because he lost three times to me," Mayweather said. "Triple-G, he can punch, he's a good puncher. But I may need to train Danny Jacobs, because Danny Jacobs – he could have got the job done a lot better. I could have shown him how to get the job done a lot better. But Danny Jacobs put up a hell of a fight. He's a hell of a fighter. Triple-G is a hell of a fighter. It was a good match-up.
"I came out of retirement for one fighter, and that's Conor McGregor. But if I was still active in the fight game, y'all already know. I don't have to tell the fans what I'd do. I'd put the work in on that boy."
Indeed, you will not find too many fans arguing with Floyd here; as Mayweather, if he met the GGG who struggled so badly with Jacobs' movement and hand speed, would almost certainly pot-shot, befuddle, box and ultimately cruise to a fairly wide decision victory – all the more so if the two met at 154 pounds.
Mayweather, as he showed against Canelo Alvarez and so many other excellent fighters, is more than capable of making special fighters look ordinary. There was a time, not too long ago, when a big number of fans felt Mayweather had ducked Golovkin for fear of losing to him. Right now, this opinion is shared by a whole lot less people.
Mayweather outboxes the GGG that fought on March 18 every day of the week and twice on Sundays. The big question is, did Golovkin have a mere off night against "The Miracle Man," or is he already a fading fighter?