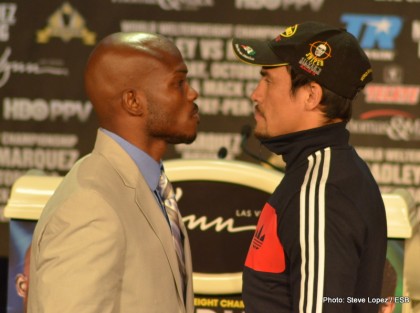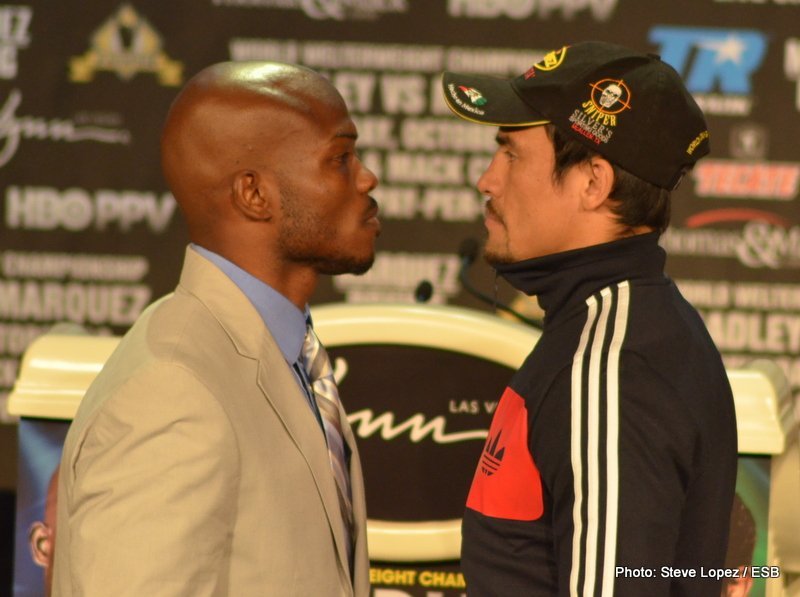 Desert Storm VS. Dynamite.
Las Vegas, NV once again becomes the spotlight for fight fans. A welterweight showdown looms with Timothy Bradley against Mexico's own Juan Manuel Marquez.
The Encore Theater at Wynn Las Vegas was host to the final press conference for Bradley against Marquez. Fighters, trainers and promoters took to podium to finalize the last words that each camp had to say. Nothing but respect came from both camps. Both fighters understand the challenge that lies in front of them.
At stake for Juan Manuel Marquez is the opportunity to become the first Mexican fighter to win five different world titles in five different weight classes. With a scintillating knockout victory over Philippine sensation Manny Pacquiao, Marquez comes to this fight oozing with confidence. Though 40 years old, Marquez shows no signs obvious wear and tear that comes with the sport. In comparison to other Mexican greats that came up along him, such as Marco Antonio Barrera and Erik Morales, Marquez in the one with the most mileage left in the tank. Marquez aims to defeat not just Bradley but also Father Time.
On the opposite corner lies Timothy Bradley who looks to derail the Juan Manuel Marquez express. After performing in a Fight of the Year Candidate with tough-as-nails Ruslan Provodnikov, Bradley comes to this fight with a goal to continue to solidify his legacy. Always deemed as the underdog, Bradley is set to prove the critics wrong once more. Bradley's speed is well known with his past fights. His most recent war with Provodnikov proved that his chin is above par.
In an evenly matched fight, Saturday nights seems to be another classic, such as soccer, in Las Vegas.
U.S.A. Vs. Mexico.
For more of Steve Lopez, follow on Twitter: @LopezPPVBoxing.
Fight week continues with the undercard press conference. More updates to come from Las Vegas!
Here are some notable quotes from promoters, fighters and trainers:
BOB ARUM
"With all the hoopla we have in these big PPV shows, this fight is a classic. It involves two equally matched fighters in a main event that's going to bring dynamite and entertainment to boxing fans, sports fans in the United States and all over the world."
"Juan Manuel, I'm sure you're happy to be 40. If I was 40, I'd be even happier. But I'm more than double your age. If I was 40, none of these girls would have a chance."
JUAN MANUEL MARQUEZ
"I prepared myself very hard because I want to give another great fight. All of the Mexican people, all my fans. I know this is a new, a top challenge. But, I trained very hard. Everybody knows me. I don't like talking outside the ring. I talk in the ring. I talk with my fists in the ring. I feel I am ready."
"Everybody tells me: how do you feel at 40 years old? I feel very happy. I feel great like a young fighter with a warrior heart. Thank you very much."
NACHO BERISTAIN
"I'll be brief. I invite you to see a great fight this Saturday. A world champion, Bradley, who is an excellent fighter with a young trainer. Competitive and intelligent. I'm very worried. And, an intelligent fighter who gives everything. It's a guarantee. It's a guaranteed fight. The respect we feel for the champion and his young trainer does not take away our will to win."
JOEL DIAZ
"We started the promotion months ago. I think we basically said it all. We are ready to put up a great fight. We are ready to come in and give the people what they want to see."
"I want to thank Team Marquez. Juan himself. Nacho and his team. It's an honor sharing a ring with him. Something that every trainer dreams of. Team Bradley and my team ready to do what we do best: fight."
"That night, Saturday night, it's going to be a fight that everyone is going to remember. A fight that people will always remember. We're going to give it all. We strongly believe that Timothy Bradley has everything to win this fight."
TIMOTHY BRADLEY
"Since I signed with Top Rank, honestly, man, this has been a blessing for me and my family."
"I want to thank Team Bradley. Without Team Bradley, everyone who's part of it, my family. I want to thank everyone for that. The Wynn Hotel is amazing, the rooms are amazing. I'm like 'MG-what? Who? The Wynn is where it's at."
"Did I forget anyone? Yeah, Marquez and team. Absolutely. Thanks to Marquez and his team for stepping up and wanting to fight me."
"It's going to be an interesting night. I always call Fight Night: Fin Time. It's time to have fun. I can't wait. I've said everything to the media and stuff. I don't have much to say. I'm ready for a tremendous, tremendous fight Saturday night."