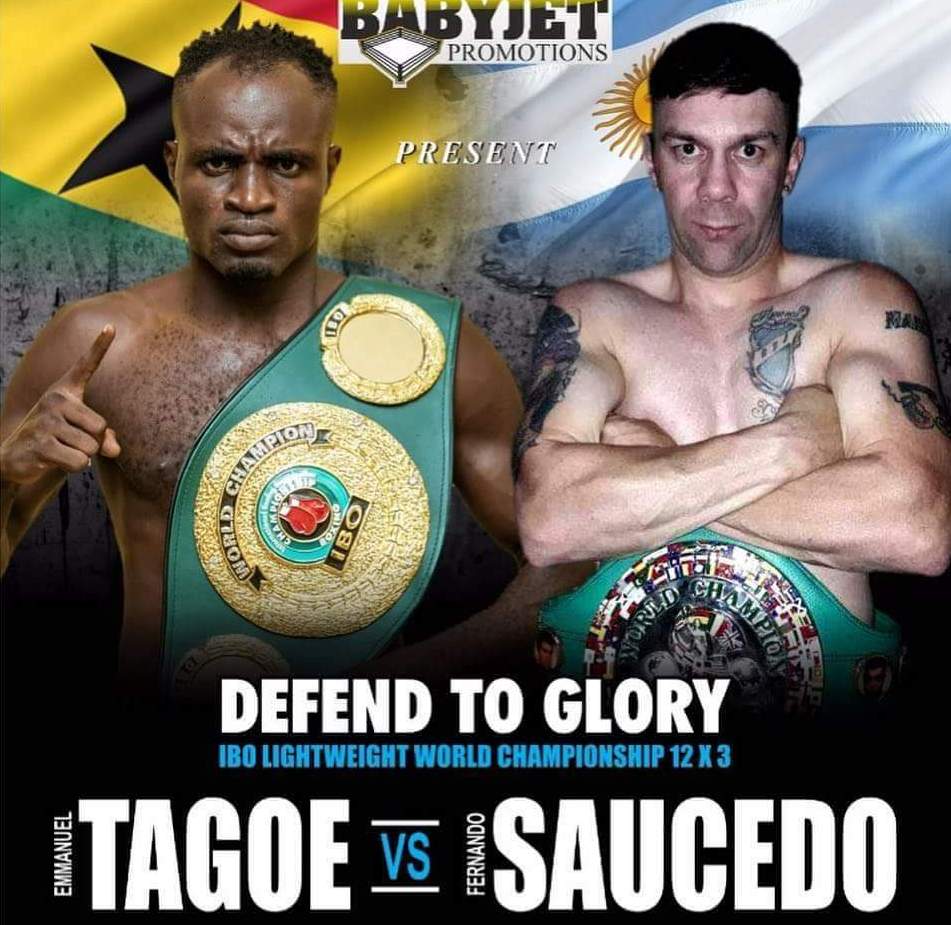 Fernando David Saucedo of Argentina (61-6-3, 10 KOs) has landed in the Ghanaian capital, Accra for Saturday's IBO Lightweight world title fight against champion and home favourite, Emmanuel 'Game Boy' Tagoe (27-1, 13 KOs) at the Bukom Boxing Arena on Saturday night.
The former 2-time world title challenger with a 70-fight career experience jetted into town in the late hours of Wednesday showing off his WBC title even though that's not what will be at stake against Tagoe.
Boasting a career record of 61 wins, 6 defeats and three draws with ten knockouts having made his pro debut in July 2001, Saucedo first challenged for the world title when he lost a unanimous decision to Indonesia's Chris John in a bid for the WBA super featherweight title in December 2010.
He did not give up and went on to capture the WBC Latino and later WBC silver world super featherweight belts in a 14-fight winning run, and again challenged for the world title and lost again, this time for the IBF super featherweight belt of undefeated champ, Rances Barthelemy in April 2014.
36 year old Saucedo has never given up on the dream to be the world champion the fight against Tagoe presents him on Saturday night in Accra however, winning all eight fights since the loss to Barthelemy, in the process bagging both the interim WBO and interim WBC Latino lightweight crowns after moving up in weight.
But in Tagoe, he faces an opponent who has won over ten titles and has not suffered defeat in 27 straight fights since losing on debut in June 2004. The former WBA international lightweight, IBF intercontinental super featherweight, WBA international super featherweight, WBO Africa super featherweight and WBO Africa featherweight champion added the IBO Lightweight world title to his vast collection with a resounding unanimous decision victory over Mzonke Fana in Accra in December 2016.
A number of factors, including injuries ensured he couldn't defend his title in 2017 but is now back fully determined and is already looking beyond the fight against Saucedo.
"Our main agenda for 2018 is to unify the lightweight division, we want to add the IBO title to either the WBO or WBA title before the end of the year," Sammy Anim-Addo, CEO of BabyJet Promotions said at a press conference to announce the fight details in Accra.
"Saucedo is a tough boxer but Game Boy is training very hard, we trust him to successfully defend the belt, then maybe defend it again but our aim is to unify the division," Tagoe's promoter added.