Ryan Garcia has suddenly gone quiet without explaining a fight that was supposed to be happening next for him against Manny Pacquiao.
Up until a week ago, the unbeaten lightweight contender King Ryan (21-0, 18 KOs) was talking nonstop about how he was going to have a "real fight" against the 42-year-old Pacquiao (62-7-2, 39 KOs), but now he's not saying anything at all.
It'll be interesting to see if Ryan shows some maturity by revealing why the fight with Pacquiao isn't happening rather than just staying quiet, hoping fans will forget.
It'll look bad on Ryan's part if he blames his promoter Oscar De La Hoya, for why the fight with Manny isn't going down.
Even if one of Ryan's promoters are the ones that put their foot down and saying the fight can't happen, Ryan should do the noble by taking responsibility himself. Ryan would look better in the public's eyes if he falls on the sword rather than letting his promoters take the blame.
Is it too much for Ryan to tell the media that the fight isn't going to happen? The way that Ryan abruptly stopped talking about the fight with Pacquiao strikes one as odd.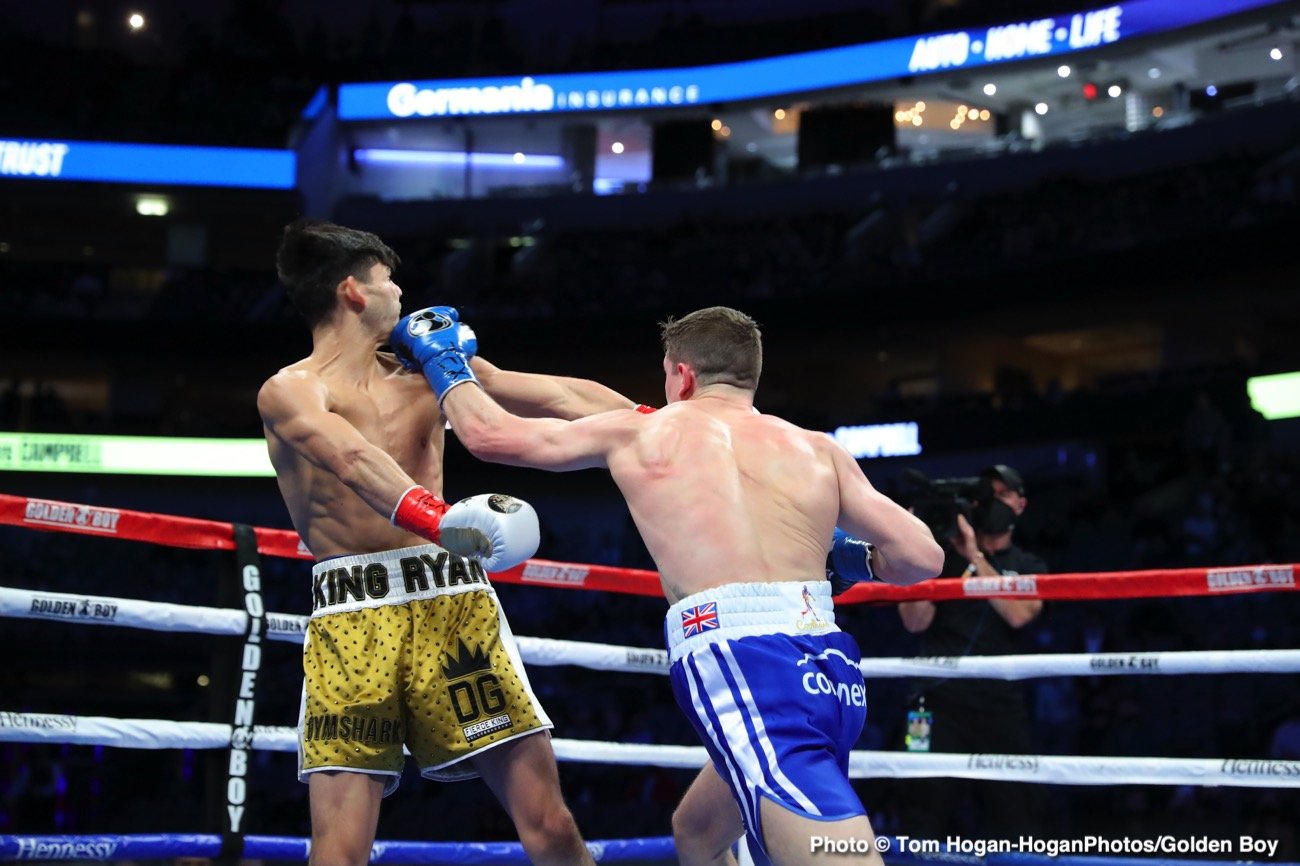 Is Ryan embarrassed about getting some boxing fans' hopes up about his dream fight against Pacquiao? If so, that might explain why Ryan isn't coming out to tell the fans the fight isn't happening.
There will obviously be many fans ridiculing Ryan when or if that were to happen, but they're going to find out anyway once Golden Boy announces his next fight.
In hindsight, Ryan should have waited until Golden Boy looked into the Pacquiao fight before he started talking it up because negotiations are always tricky when it involves a superstar boxer facing a prospect.
The possible reason why Ryan, 22, has clammed up on the subject of a fight against the former eight-division world champion is his promoter Eric Gomez of Golden Boy Promotions saying to ESPN that there is no fight between them.
He spoke to Pacquiao's management reportedly and realized nothing concrete for a match between Ryan and Pacquiao.
Instead of that fight, Gomez would like to match Ryan Garcia Top Rank promoted uneaten undisputed lightweight champion Teofimo Lopez (16-0, 12 KOs).
If Teofimo's fight against his IBF mandatory George Kambosos Jr fails to occur, Ryan Garcia would be the ideal replacement.
Teofimo was talking up Ryan this weekend, saying he's #3 on his list of the top 5 lightweights in the division. Ryan railed #2 Vasily Lomachenko.
The praise that Teofimo has been giving Ryan Garcia in the last week can only mean one thing. He's likely to be Teo's next opponent. Before last week, Teofimo wasn't giving any love to Ryan in commenting on him, but that's changed suddenly.
We could see Teofimo pull out of his fight against his IBF mandatory George Kambosos Jr if the purse bid this week isn't to his liking. Teofimo isn't going to want to take that fight if it's not worth it.