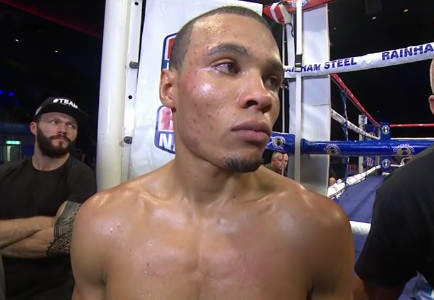 #9 WBO 160lb contender Chris Eubank Jr (18-0, 11 KOs) methodically broke down his 25-year-old opponent Omar Siala (23-18-3, 10 KOs) before stopping him in the 2nd round last night at the Echo Arena in Liverpool, England.
Eubank Jr landed a tremendous right uppercut that sent Siala reeling towards the ropes. Eubank Jr then followed up with four additional uppercuts before referee Alvin Finch stepped in to stop the fight before Eubank Jr could seriously hurt Siala.
The official time of the stoppage was 1:15 of the round. The win sets Eubank Jr up with a nice money fight against EBU middleweight champion Billy Joe Saunders next month on November 29th at the ExCel Arena in London, UK.
Siala was taking a lot of heavy shots in the fight, and it was pretty clear that he didn't belong in the same ring with Eubank Jr. from the very start of the fight, Siala was getting banged around without being able to connect with much. On the few occasions where Siala did land shots, it was when Eubank Jr would stand completely frozen with his arms down by his sides, daring Siala to throw a shot. Eubank Jr's reflexes weren't fast enough for him to move away from the right hands that Siala threw at him on those occasions.
Eubank Jr was loading up with some beautiful uppercuts and hooks in the 1st round. He had zero respect at all for the shots that Siala was throwing back at him. He did a good job of bending at the waist to avoid many of the punches that Siala threw in the opening round.
Eubank Jr's father, Chris Eubank Sr, came into the ring after the end of the 1st round. Like in his last fight, Eubank Sr stood and observed his son without giving him any instructions. It was very odd. One of the ringside officials appeared to tell Eubank Sr that he needed to leave then ring due to there being more than one person inside the ring working on Eubank Jr. The other corner person left the ring, leaving Eubank Sr standing in the ring.