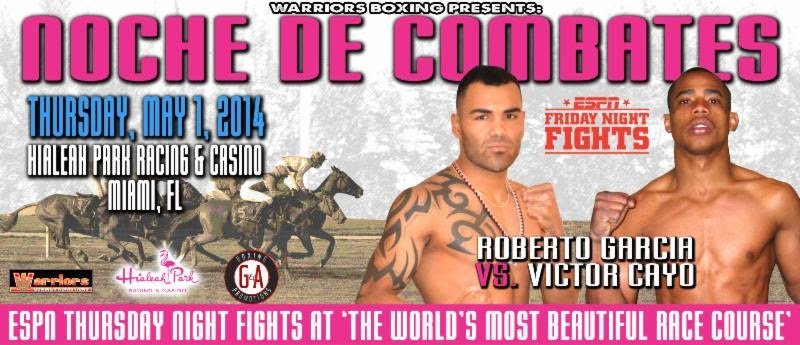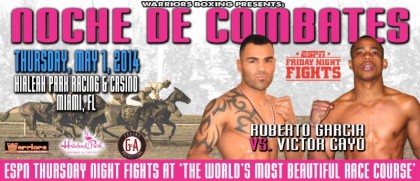 ESPN will broadcast a special Thursday night edition of ESPN Friday Night Fights, appropriately billed "ESPN Thursday Night Fights," on ESPN2 May 1, 2014 from Hialeah Park Casino in Hialeah, FL.
ABOUT THE FIGHTS
In the main event of an ESPN co-feature, Texan Roberto "La Amenaza" Garcia (34-3, 22 KOs) is scheduled to fight Dominican Victor "Mermelada" Cayo (32-4, 23 KOs) in a 10-round Jr. Middleweight bout.
Garcia's most notable opponent, Antonio Margarito, defeated Garcia by unanimous decision in 2010 in Margarito's first fight since his infamous 2010 hand wrap scandal. However, Garcia has bounced back with a 6-0 record since Margarito.
Similarly, Victor Cayo fell to his most notable opponents, Marcos Maidana and Lamont Peterson, who both defeated the now-29-year-old welterweight by KO. Cayo also fell to Emmanuel Taylor by TKO just last year. He returned to the ring five months later to knock out Ricardo Veras in his home country of the Dominican Republic.
In the Middleweight co-feature, Puerto Rican former Olympian Jonathan "Mantequilla" González (17-0-1, 14 KOs) will take on the more professionally experienced Mexican pugilist Rogelio "Porky" Medina (32-5, 26 KOs).
In 2012, Gonzalez fought WBO Light Middleweight Champion Serhiy Dzinziruk, to a draw and went on to win his next two fights by majority decision and TKO. Medina has lost three of his last five fights, including a sixth-round TKO loss at the hands of Mayweather protégé Badou Jack.