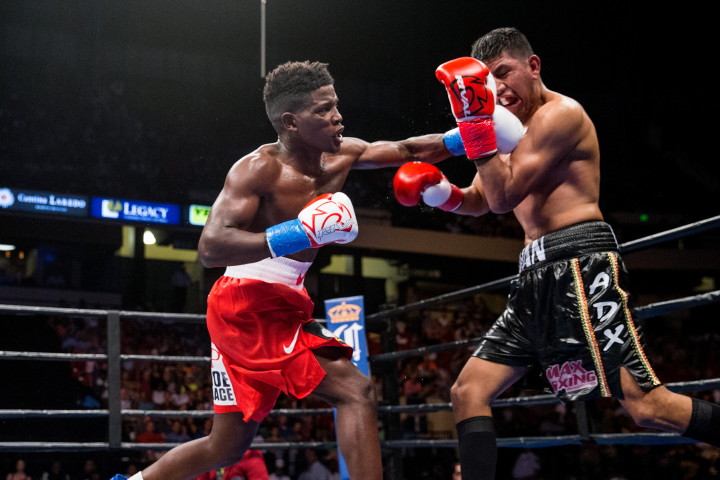 (Photo Credit: Ryan Hafey/Jordan Hardy/Premier Boxing Champions) Undefeated 154lb contender Ericson Lubin (16-0, 11 KOs) beat the tough but limited Ivan Montero (26-2, 8 KOs) by an eight round unanimous decision on Saturday night at the Legacy Arena in Birmingham, Alabama. The 20-year-old Lubin tried his best to KO the over-matched Montero, but he lacked the explosiveness, power and the hand speed to get the job done.
Lubin did win the fight by the scores 80-72, 80-72 and 80-72. Montero was able to take everything Lubin dished out in the contest and was able to come with his own shots. Lubin kept trying to get the knockout, but it wasn't happening tonight. Montero fought smart and was able to come in close to smother Lubin's power.
Lubin proved to be a rather ordinary fighter on the inside. Montero exposed that limitation in Lubin's game by coming in close and smothering his power completely. Lubin was still able to get his shots off on the inside, but he proved to be a much weaker puncher without the ability to gain any leverage on his shots. About the only thing that Lubin was able to do when Montero was in close was catch him with uppercuts every now and then, but the shots still didn't have enough power on them to bother Montero in any real way.
Surprisingly, Montero was able to land frequently with his looping shots and his jabs. Montero did some nice shoeshine punches to the body in a number of rounds. He threw sustained combinations to the midsection of Lubin. It made it interesting because he was making the blue-chip fighter look bad.
Lubin tried to come on in the 7th and 8th rounds to get a stoppage, but Montero wasn't having any of it. He kept firing back with his own punches and frustrating Lubin. You could see how frustrated Lubin was by looking at his face. He hadn't bargained for his 2nd tier opponent to give him problems, because this was supposed to have been a mismatch on paper. It turn out to be a mismatch, but Montero still made it competitive.