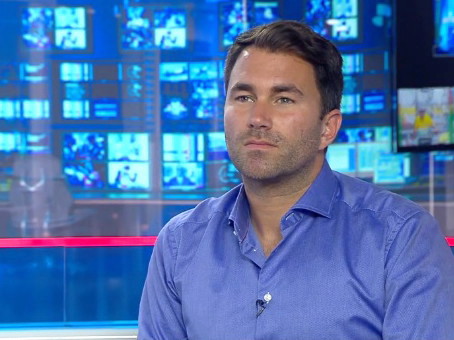 Matchroom Boxing chief Eddie Hearn has this evening dropped something of a minor bombshell by announcing that he is considering making a purse bid to stage the upcoming clash between Wladimir Klitschko and Tyson Fury that, as yet, the two camps concerned have been unable to agree terms for.
Hearn, who has nothing to do with either fighter, and enjoys an exclusive broadcasting deal with Sky Sports, has told the channel that should the scheduled purse bid go ahead in Panama he may well be in attendance. The deadline for a deal to be reached to prevent the bid happening is Monday.
Hearn said;
"It's a big fight for the world heavyweight title involving a Briton and a great champion in Wladimir Klitschko. There is a purse bid in Panama and maybe we'll be on the plane to put a bid in ourselves."
"When you're not really aligned with a broadcaster – someone like Tyson Fury – you can sit back and let it go to purse bids and see who wants to pay the most money. It's quite a unique situation and everyone will turn up with an envelope and the governing body will read out the bids. Whoever pays the most gets the fight."
"This is the time with a few days to go that the pressure is really on. If they don't agree terms, then I'm sure they'll be some interesting bidders."
The deadline for the fight to happen is October 24th and Hearn has suggested that should he win, he'd seek to stage the bout in the UK, although one can't be entirely certain how sincere he is with this talk anyway. One suspects it could be to intentionally rile Frank Warren, who – along with promoter Mick Hennessey, has been helping look after Fury's interests.
Eddie Hearn knows the value of keeping the Matchroom name in the spotlight.
Also, winning the purse bid, and his broadcaster Sky winning the TV rights to screen the fight are two different things entirely.
However, Eddie continued;
"Of course I've thought about the bidding. We'll have the paperwork ready to go – but probably until Monday morning we won't think the bidding is going to go ahead because like I said, this deal can be done at any time."
"If the purse bid goes ahead, I'm sure we'll be there."
Twitter @Undilutedpoison