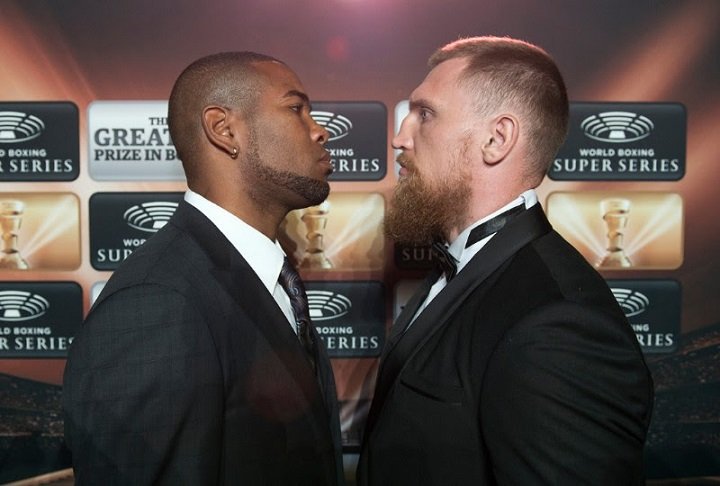 With World Boxing Super Series action officially underway following Oleksandr Usyk's 10th-round stoppage of Marco Huck Saturday in Germany, cruiserweight sluggers Yunier Dorticos and Dmitry Kudryashov offered training camp updates ahead of their highly anticipated quarter-final showdown taking place Saturday, September 23 from the Alamodome in San Antonio. The WBA cruiserweight titleholder, "The KO Doctor" Dorticos has been hard at work at the Freestyle Fighting Academy in Miami as he prepares for the matchup that many are calling the best fight of the tournament.
"I'm working hard and getting ready to take advantage of this opportunity," said Dorticos. "I have a strong opponent in front of me, but I know what I'm capable of. I'm going to go out there and study him the first few rounds and then break him down. I have to execute my game plan. My training camp is going really well and I can't wait to have all of my hard work pay off on September 23."
Owning a 100 percent knockout ratio over his 21 pro wins, "The Russian Hammer" Kudryashov has trained at the Legends Boxing Gym in Norwalk, Calif., for his first fight in the U.S. as he looks to punch his ticket to the WBSS semi-finals.
"When you want to be the best, you have to train harder than everybody," said Kudryashov. "That is the key to my game. Dorticos is a good fighter with a strong amateur background. He's dedicated to this sport and he's no easy opponent. I'm going to have to be at my best to beat him. Everyone in this tournament was afraid to pick me but I'm happy to be in this fight."
With the WBO champion Usyk set to face the winner of WBC Champion Mairis Briedis vs. Mike Perez, the Dorticos vs. Kudryashov winner will match up against the winner of IBF Champion Murat Gassiev vs. Krzysztof Wlodarczyk in a unification showdown that promises more high-stakes action.
"It's an honor for me to be part of such a prestigious tournament," said Dorticos. "This is my opportunity to put myself on top of this sport with the other big names and champions. This is what me and my team have worked so hard to accomplish."
"My main motivation is to become world champion and show that I'm the best in the division," said Kudryashov. "I'm the most powerful fighter in this division and everyone will see that on September 23. I have a newborn daughter but I'm still training harder than ever and it has just added to my motivation to go win this tournament."
With the Muhammad Ali Trophy awaiting the winner of the WBSS tournament, both men are looking to increase their profiles and prove their supremacy in the division while matching up against the best in the weight class.
"Fighting for the Muhammad Ali Trophy is huge for me," said Kudryashov. "It is a big responsibility to make sure that I honor his name. This is possibly the biggest prize that boxers can fight for in a tournament that couldn't be more important."
"I want to fight all of the champions," said Dorticos. "That is my plan because I see myself as the best fighter in this division and now I can go out there and prove it. I idolized Muhammad Ali just like everyone else in this sport and to earn the trophy with his name would be something very special for my life and career."
With a combined 41 knockouts over 42 victories, Dorticos vs. Kudryashov promises to be a back-and-forth all-action fight, but only one man will be able to raise his hand at the end of the night and move on in the quest for the Muhammad Ali Trophy.
"The fans are going to get an amazing show on September 23," said Dorticos. "This is definitely the best fight of the tournament and the best man will win. We're both going to leave it all in the ring and fight with our hearts until the very end. I've worked too hard to get to this point. Once I connect with him, everyone knows what is going to happen."
"This is the first time that all of the best fighters in the division have been collected in a tournament so it is a big opportunity for me," said Kudryashov. "My team has been amazing in training camp and I am going to take that and bring it to the ring against Dorticos. My opponent better be ready, because I'm coming to beat you like nobody ever has."
Undercard
An action-packed night of rising stars and local talent will be featured as part of an exciting undercard lineup on Saturday, September 23 from the Alamodome in San Antonio.
Mexican Olympian and 2016 bronze medalist Misael Rodriguez (2-0, 1 KO) will compete in a six-round middleweight bout while 2016 Lithuanian Olympian Eimantas Stanionis (2-0, 2 KOs) enters the ring for six rounds of welterweight action.
The September 23 event is headlined by the World Boxing Super Series quarter-final showdown between Yunier Dorticos and Dmitry Kudryashov and also features a reserve match between once-beaten cruiserweights Keith Tapia and Lateef Kayode, while former world champion Nonito Donaire returns to take on Mexico's Ruben Garcia Hernandez. *Media credential information below.
Additional action will see unbeaten prospect Money Powell IV (3-0, 2 KOs) meet Antonio Urista (9-2, 2 KOs) in a six-round super welterweight contest, Nigerian heavyweight prospect Efe Ajagba (1-0, 1 KO) facing unbeaten Daniel Gallemore (5-0, 2 KOs) in a six-round fight and Nigerian prospect Wesley Apochi (1-0, 1 KO) in a six-round cruiserweight matchup against Leo Pla (5-7-2, 2 KOs).
A host of talented local fighters from San Antonio will round out the undercard as Daniel Baiz (9-1, 5 KOs) competes in super welterweight action, Kendo Castaneda (10-0, 4 KOs) enters the ring for a six round welterweight fight, welterweight prospect Joseph Rodriguez (12-0-1, 2 KOs) fights in a four-round attraction and middleweight Dagoberto Nevarez (1-0, 1 KO) steps in for a four-round bout.
At last year's Rio games, the 23-year-old Rodriguez overcame incredible odds to win the first Olympic boxing medal for Mexico since Christian Bejerano in 2000. The Chihuahua native and his teammates had to resort to begging on public buses and streets in Mexico to raise money to compete in international boxing tournaments. He completed his road to the medal stand by defeating Egypt's Hosam Bakr Abdin to clinch a medal in the middleweight division. Rodriguez made his pro debut in April with a dominant decision victory over Brian True and followed it up knockout of Jose David Mosquera in July.
An accomplished amateur representing Kaunas, Lithuania, Stanionis is looking to become the next Eastern European fighter to make a splash in the U.S. The 23-year-old had a 141-19 record as an amateur and earned four senior national championships before winning gold at the European Olympic Qualifier to earn his trip to the 2016 Games. A gold medalist at welterweight at the 2015 European Amateur Boxing Championships, Stanionis has impressed with knockouts in his first two starts since turning pro in April.
Born in Germany, where his former boxer father was stationed in the military, Powell IV dedicated himself to boxing for good when his family moved back to the U.S. in 2011. The 19-year-old has quickly made a name for himself since then, winning the 2016 Youth Welterweight National Championship to earn the top ranking in the 152-pound division by USA Boxing. Fighting out of Fort Mitchell, on the state line of Alabama and Georgia, Powell scored stoppage victories in his first two starts before a dominant decision victory to pick up his third win in July.
The 23-year-old Ajagba is set to turn pro after beating the odds and making the 2016 Rio Olympics to represent his native Nigeria. Although he lost in the quarterfinals, Ajagba made a splash by delivering a highlight reel knockout in his opening bout against Trinidad and Tobago. The fighter known as "King Kong" also won an African games gold medal during his impressive amateur career delivered a first round knockout in his pro debut in July.
Orogun, Nigeria's Apochi was once the captain of his country's national boxing team, a testament to how far he came since a surprising second place finish in the 2011 Africa Games. The 29-year-old represented Nigeria at the 2013 World Championships and earned a bronze medal at the 2014 Commonwealth Games before turning pro in July and delivering a knockout in his debut.
Nonito Donaire Returns to the Ring to Take on Ruben Garcia Hernandez
Exciting former world champion Nonito Donaire (37-4-0, 24 KOs) will return to the ring to take on Ruben Garcia Hernandez (22-2-1, 9 KOs) for the WBC Silver Featherweight Title in a bout that takes place alongside the World Boxing Super Series Quarterfinals on Saturday, September 23 from the Alamodome live in San Antonio and presented by Ringstar Sports.
Additional action will feature a 10-round showdown between once-beaten cruiserweights Keith Tapia (17-1, 11 KOs) and Lateef Kayode (21-1, 16 KOs) that will serve as the reserve match for the World Boxing Super Series Quarterfinal matchup of Cuban WBA World Champion Yunier 'The KO Doctor' Dorticos (21-0, 20 KOs) versus Russian Dmitry 'Russian Hammer' Kudryashov (21-1, 21 KOs).
Donaire returns to the ring after a controversial loss last November to Jessie Magdaleno. Donaire recently teamed up with Ringstar Sports where he plans to reclaim his supremacy in the featherweight division. Garcia Hernandez is a tested Mexican fighter looking to make a name for himself in the U.S. at the Alamodome.
"I'm ready to return to the ring and show that I still have what it takes to be a world champion and face the best in this sport," said Donaire. "I'm thankful to Ringstar Sports for helping me in this next chapter of my career and I know with them in my corner, I'll be back to where I belong soon. I'm excited to give the great fight fans in San Antonio a great show, just like when I fought Wilfredo Vazquez at the Alamodome in 2012. After this fight, I'm coming for all of the featherweight champions and to prove I'm the best in the division."
"I am grateful for this opportunity and I can't wait to get in the ring," said Garcia Hernandez. "I know that I am facing a great fighter and that has motivated me to train harder than ever before for this matchup. I'm planning on giving it my all and giving the fans a great fight. I hope Donaire comes to fight because I am coming to knock him ou on September 23rd."
Tickets for the live event are priced at $250, $125, $100, $50, and $30, and are on sale now. Tickets are available at ticketmaster.com HERE.
"The return of Nonito Donaire to the ring is a treat for boxing fans in San Antonio as he looks to return to his place as one of the top fighters in the sport," said Richard Schaefer, Chairman & CEO of Ringstar Sports. "He will be in an all-action matchup against a tough Mexican fighter in Ruben Garcia Hernandez and I expect them to give the fans an exciting night. The entire card will be jam packed with rising prospects and contenders, plus a great cruiserweight showdown between Keith Tapia and Lateef Kayode that will be the reserve match for the World Boxing Super Series Quarterfinal that night."
The Filipino fighter known as the "Filipino Flash" Donaire grew up in Northern California and now fights out of Las Vegas. His last fight was November 2016 when he battled Magdeleno for a junior featherweight world title in a bout that he lost by controversial decision. Hoping for a rematch that was never made, he partnered with Ringstar Sports looking to return to the top of the featherweight division. Prior to that, Donaire won belts in four different weight classes and was recognized as the 2012 Fighter of the Year by the BWAA, ESPN and Ring Magazine.
Fighting out of Mexico City, Mexico, Hernandez made his pro debut in 2010. Since that time he has battled his way through Mexico while fighting in the U.S. four times. Hernandez enters this bout on a seven fight winning streak and plans to make a name for himself in the United States on September 23rd when he takes on Donaire.
The 27-year-old Tapia returns to the ring after dropping a decision to unbeaten Andrew Tabiti that snapped a 17-fight win streak to begin his professional career. Originally from Puerto Rico but fighting out of the Bronx, Tapia has picked up victories over durable veterans Garrett Wilson and Anthony Caputo Smith and will look to cement his status as a cruiserweight contender on September 23rd.
A former title challenger at cruiserweight, Kayode last battled Denis Lebedev for his cruiserweight crown in a November 2015 bout in Russia. Fighting out of Hollywood, Calif., by way of Nigeria, Kayode has shared the ring with the likes of Antonio Tarver and Luis Ortiz while taking down Felix Cora Jr, Matt Godfrey and Nick Kisner on his way to an unbeaten mark after his first 21 pro fights.