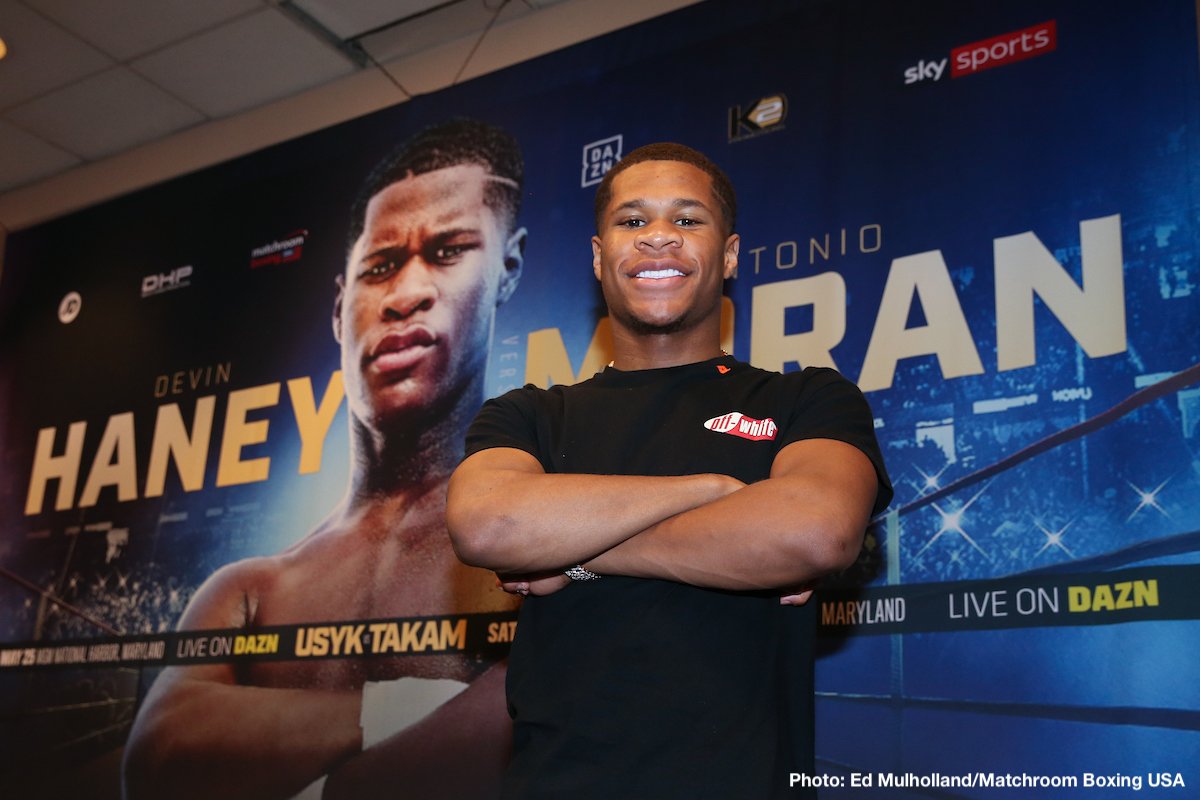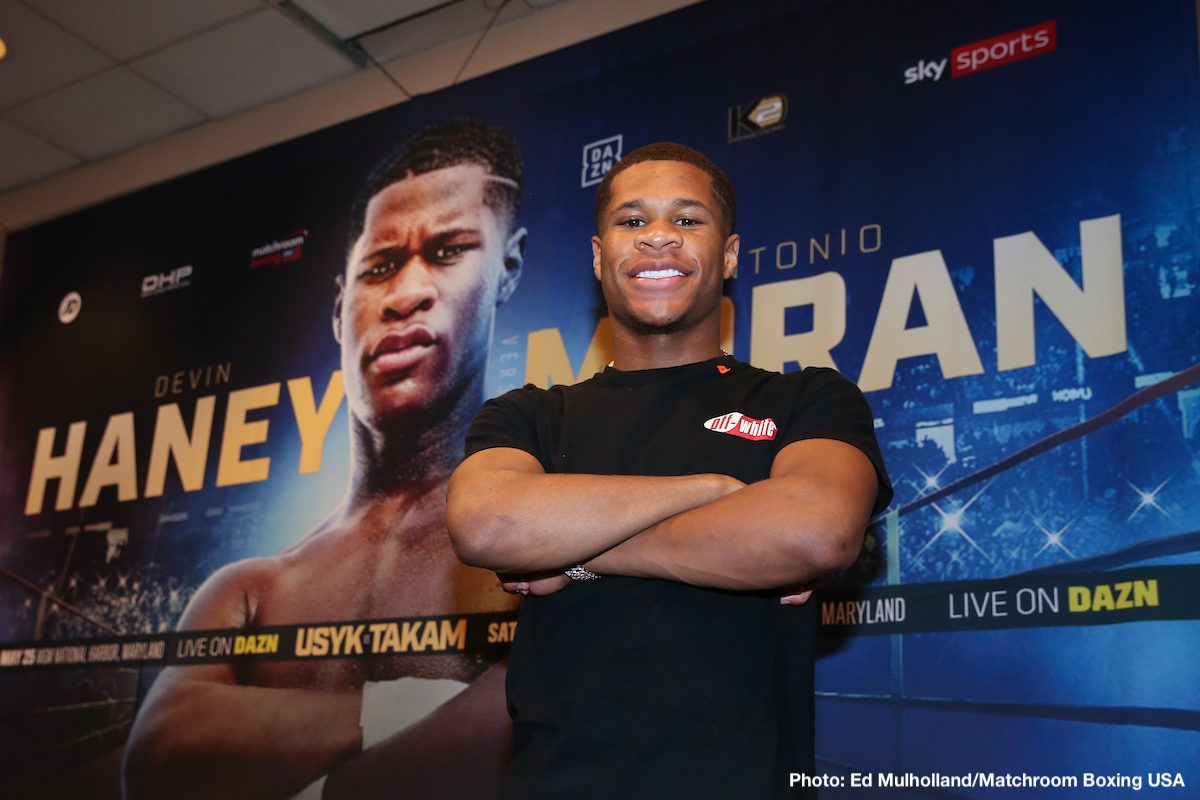 Devin Haney is ready to step-up his goal of dominating the sport as he prepares to face Antonio Moran in his DAZN debut in the US at the MGM National Harbor in Oxon Hill, Maryland on Saturday May 25, also live on Sky Sports in the UK.
(Photo credit: Ed Mulholland/Matchroom Boxing USA)
Haney (21-0 13 KOs) is straight into action at the top of the bill having penned a co-promotional deal with Eddie Hearn's Matchroom Boxing USA – and the unbeaten Lightweight sensation is planning to put on a devastating display to underline his World title credentials.
'The Dream' will have his hands full against Moran (24-3 17 KOs) who was edged out by former World ruler Jose Pedraza in June and returned to winning ways in December with a second round KO in Mexico – but Haney will not let his journey be derailed before he's hit the heights he believes his talent can take him.
"There's nothing to stop me from getting to number one, it's just time," said Haney. "Timing is everything and my time is going to come. I am only 20 years old, the other Lightweights out there better catch me now because I am only going to get stronger and faster so the top guys need to fight me now.
"Boxing is something that I love so it doesn't feel like a job to me, but the job is not done, I want to be a multi-weight champion and I want to rule the sport as a pound-for-pound star. When I am the face of boxing down the line, who knows what will happen, but right now those big goals are keeping me motivated.
"Getting the fights I want has been a challenge, a lot of guys have turned me down, saying there's no point or not making enough money, so that's been a real challenge. It's me versus me, when I am in the gym I am so far ahead of a lot of guys that it's me challenging myself, pushing myself, seeing how far I can go rather than seeing how far I can outrun another guy – how fast can I push myself?
"The landscape is very interesting right now. A World title is very important to me, over money and anything else, being World champion is the ultimate goal. To be a World ruler at 20 would be history, the youngest in the game. My ring IQ at my age is crazy, I'm able to adapt and adjust, I've been in there with so many great fighters like Floyd Mayweather, Shawn Porter, Amir Khan, and I'm able to adjust.
"When I first met Eddie and the Matchroom Boxing team it felt like the perfect fit. Me and my team spoke with Eddie about what we wanted and we were able to make it fit. Eddie recognizes me as a promoter, they are willing to work with me and build my brand and company at the same time.
"A lot of other promoters didn't recognize me as a promoter, they just wanted to give me money and buy me out. Matchroom Boxing see me as a top fighter that they want to get behind, I would be important elsewhere, but Eddie made it clear that they are going to push me and get behind me."
Haney's clash with Moran is part of a huge night of action in Maryland where rising Heavyweight Croatian talent Filip Hrgovic taking on Gregory Corbin on his US debut, more Heavyweight interest as Michael Hunter tackles Gregory Corbin and WBA World Super-Lightweight champion Jessica McCaskill looks to unify the division against WBA champion Anahi Sanchez.
Haney vs Moran
Haney (21-0 13 KOs) announced a co-promotional deal with Eddie Hearn's Matchroom Boxing USA and now the Lightweight sensation will headline against Moran (24-3 17 KOs), the 26 year old who has stopped four of his last five opponents and was narrowly edged out by Jose Pedraza in June.
'The Dream' will be hunting World title action in the second half of 2019, sitting at number three in the WBC, five in the WBA, eight with the WBO and ten with the IBF, and the 20 year old Las Vegas ace will be looking to underline his lofty position in the rankings with a stellar showing in Maryland.
"It's unfortunate that Oleksandr Usyk had to pull out because of injury," said Haney. "I wish him a fast and speedy recovery. I'm very happy Matchroom and DAZN made the right choice in making me the main event.
"The MGM National Harbor will be the perfect place for me to show up and show out at. The fans in this area of the world really know boxing. I will put on a great show for them. I'm the future of this sport and on May 25 I will show the world how much I've grown inside the ring."
A stacked card in support of Haney sees Chicago's WBC World Super-Lightweight champion Jessica McCaskill (6-2 3 KOs) aims to unify the division against Argentine WBA ruler Anahi Sanchez (19-3), Croatian Heavyweight star Filip Hrgovic (7-0 5 KOs) faces Gregory Corbin (15-1 9 KOs) and Las Vegas Heavyweight Michael Hunter (16-1 11 KOs) will look to continue his great run of KO wins.
"We know that Devin is a future superstar but Usyk's unfortunate injury now gives Devin the chance to headline first time out on DAZN," said promoter Eddie Hearn. "Moran will give Devin the toughest test of his career so far, last year he dropped a close decision to WBO World champ Jose Pedraza and is coming off an impressive knockout victory.
"Heavyweight action remains on the card with two top 15 ranked fighters Michael Hunter and Flip Hrgovic who are both searching for a shot at the World heavyweight title and Jessica McCaskill and Anahi Sanchez face off in an exciting World title unification. It's going to be a great night of boxing and I expect Devin Haney to steal the show in Maryland!"
Tickets are on sale now priced at $40, $80, $150 and $250 (plus fees) and are on sale now at this link: ticketmaster.com
Fans looking to get a refund following the injury to original headliner Oleksandr Usyk should contact their point of purchase.