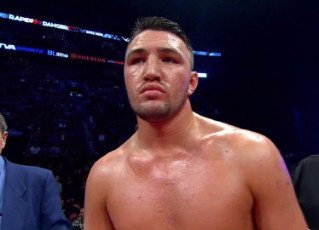 An interesting tweet from British trainer Peter Fury dropped last night regarding his unbeaten son Hughie – cousin of Tyson – potentially fighting WBC heavyweight champion Deontay Wilder in America.
September 26th is the penciled in date for the Alabama man's return, with Fury tweeting;
"Call just came in from USA asking @hughiefury to fight Wilder in 4 weeks. Getting noticed @Tyson_Fury."
It's potentially fantastic news for the Fury team in terms of profile, although the shrewd and savvy Peter will have to seriously chew any offer over before accepting, given his 20 year old son is pretty green in terms of the pro game.
Hughie looked fantastic in February's career best win over Andriy Rudenko and recently beat durable Brazilian George Arias in Derby by UD, though in all honesty, most would agree he is not ready for a world title shot yet by any stretch, especially when you consider his Cousin Tyson – who is 26 and the superior fighter at the moment, has only just earned his championship stripes, challenging Wladimir Klitschko in October.
It's perhaps more reflective of Wilder and his desire to hang on to the WBC championship by any stretch, fighting what are ostensibly the easiest fights possible, without truly testing himself – as irrespective of his world championship status, there are more credible tests awaiting him than last opponent Eric Molina and the young Fury.
It's more likely that Al Haymon, who looks after Wilder, likes the idea of the Fury NAME and would look to build a back story for Cousin Tyson then fighting Wilder down the line in a bid to avenge his young cousin's loss. Similar to Vitali Klitschko avenging Wladimir's losses to Ross Purrity and Corrie Sanders or Wladimir beating Chris Byrd, that type of thing.
It's a cynical and cheap ploy from Haymon and the Wilder team, calling Fury a little over a month out, and exactly why Premier Boxing Champions – who Wilder now fights under – have been losing support Stateside with so many errant mismatches. You can fool some of the people some of the time and all that.
Wilder is due a mandatory defense in January against dangerous Russian Alexander Povetkin, whose sole blemish is the loss to Wladimir Klitschko – in which there can be no shame – and most would agree that it's only a matter of time until he loses his title in that case anyway.
There has been no word since from Peter Fury and he was unavailable for comment at the time of writing but, it'll be very interesting to see if they actually take the fight with Wilder next month.
Twitter @Undilutedpoison