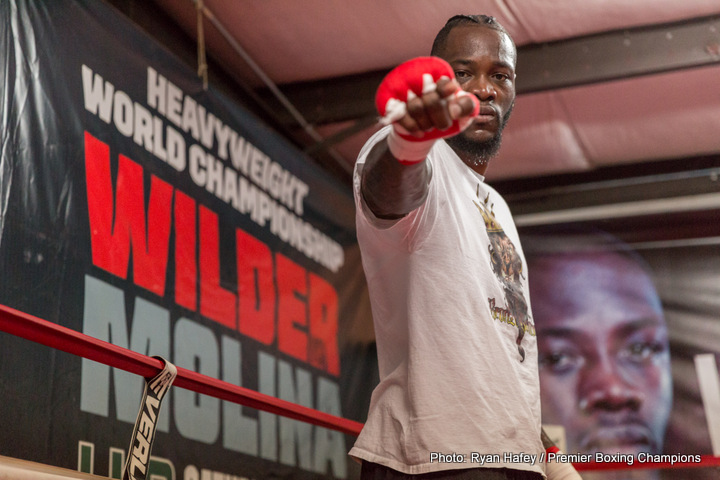 While almost all fight fans and boxing historians feel there will NEVER be another fight or night as epic and as truly special as the happening that was the Joe Frazier-Muhammad Ali super-fight from 1971, reigning WBC heavyweight king Deontay Wilder says that a fight between he and rival champ Anthony Joshua would rank right up there with "The Fight of The Century."
Like Ali and Frazier were at the time of their monster fight, Wilder and Joshua are unbeaten, in their mid-to-late 20s and each boasts a claim to the crown. There the similarities end but Wilder, in speaking with GQ, is adamant a fight between he and the IBF ruler (who, if he beats former king Wladimir Klitschko on April 29, will add the WBA belt to his collection) would be the biggest fight in the division's history for some time.
"I think that if he can surpass Klitschko, that raises his stock even more in the division and when that time comes for me and him to face each other, it would be one of the best fight in history," Wilder said of a fight with AJ. "We're talking an Ali-Frazier type of thing. Millions and millions of people would tune in for that, no doubt. So we hope and pray that Joshua can come through and we can make that fantasy fight happen once and for all."
Wilder Vs. Joshua certainly has a nice ring to it, and if the two men do remain unbeaten the fight simply has to happen. Wilder, with his blend of raw power and sheer aggressiveness, sees himself as the next superstar of the division and he is convinced there would only be one winner if he and Joshua got it on.
"I have no doubt in my mind [I would knock him out.] I could knock out any man in the heavyweight division," Wilder told GQ. "I'd beat him [Joshua] like I've beaten every other fighter."
Of course Joshua has the same feelings and beliefs, now we all need to see which wannabe superstar of the division comes out on top. It might not be as big as Ali-Frazier (no fight ever will be again) but Wilder-Joshua would certainly add some needed magic to today's heavyweight scene. And unlike the unforgettable Frazier-Ali battle, this one would definitely end via a KO; one way or the other.