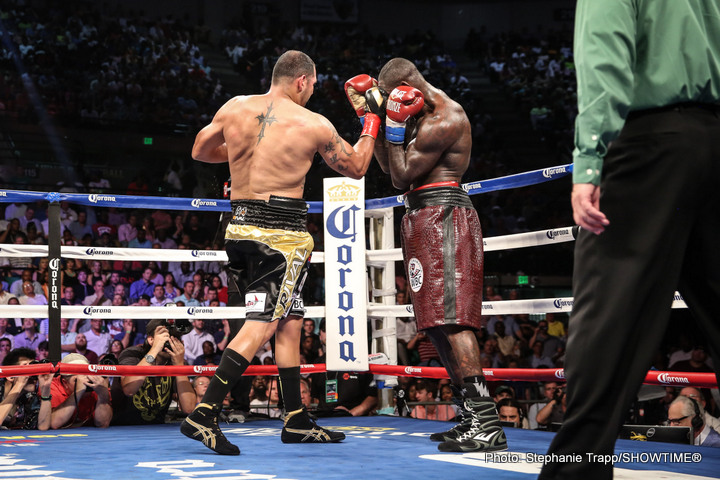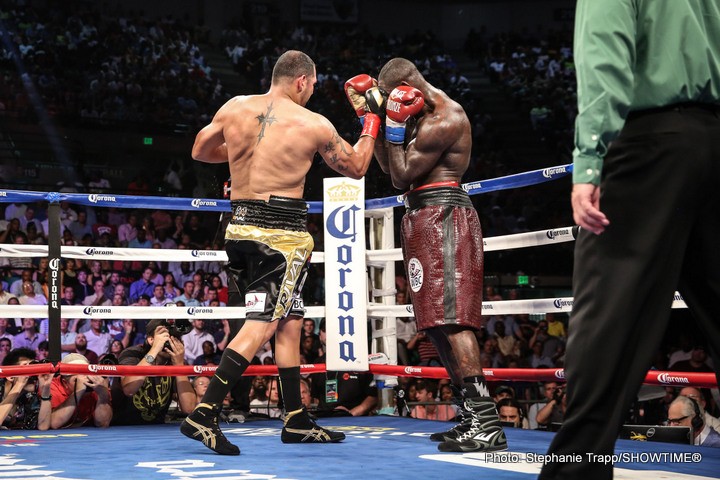 Boxing fans are going to have to wait a little awhile before WBC heavyweight champion Deontay Wilder (34-0, 33 KOs) defends his WBC title against his mandatory challenger Alexander Povetkin. Wilder's trainer Jay Deas says the Wilder-Povetkin fight likely won't take place until 2016. He says it takes a lot of time to negotiate big fights against fighters like Povetkin and Tyson Fury.
In the meantime, Wilder will be looking to fight against in three months on September 26th against the likes of Tony Thompson or Chris Arreola. It's a voluntary defense for Wilder so he's not going to be fighting a top five contender like Anthony Joshua, Vyacheslav Glazkov or Bryant Jennings.
Wilder's recent win over #9 WBC challenge Eric Molina last Saturday night showed that there are some areas in Wilder's game that urgently need improvement before he faces a talented fighter like Alexander Povetkin. That's too advanced of a fighter for Wilder to be facing right now with the way that he looked against Molina. With another training camp under Wilder's belt to fix the many mistakes he made in the Molina fight, Wilder will have a better chance of beating Povetkin next year.
Let's be real about this; if Wilder takes the fight against Povetkin right there he'll have little chance of winning unless he lands one of his big bombs on the chin of the easy to hit Povetkin. But with more time to work on the flaws in Wilder's game, he could possibly beat Povetkin next year.
"I would like September 26th. That's the date I had in mind," Wilder's trainer Jay Deas said to cbssports.com. "Everyone wants [Wladimir] Klitschko, everyone wants Povetkin, or Tyson Fury, but you have to realize, you can work on those things but they take six months to a year — look at Floyd [Mayweather Jr. and [Manny] Pacquiao. Those things take a while to make."
With the kind of improvements that Wilder needs to make, he should put off the Povetkin fight as long as possible because he's clearly not ready for that fight right now. Wilder needs to stop going backwards in a straight line with his chin in the air. He also needs to stop covering up on the ropes like a sparring partner. We both of that from Wilder last Saturday.
Wilder's jab needs work, and his left hook still isn't a big enough weapon to be much use to him. One of Wilder's trainers Russ Anber didn't like the way he backed away so frequently against Molina. He would like to see Wilder standing his ground more in the future and fighting on the inside. All of these things likely won't be fixed in one training camp though. It's going to take more time for Wilder to improve, but unfortunately he doesn't have a lot of time before he eventually has to face Povetkin.