Eddie Hearn reports that terms have been agreed for WBO middleweight champion Demetrius 'Boo Boo' Andrade (29-0, 18 KOs) to defend against his mandatory Liam Willaims (23-2-1, 18 KOs) in April in Providence, Rhode Island.
Hearn is excited about the fight, as he's had trouble trying to get fights for Andrade since he signed him. At least with this fight, Hearn is off the hook without needing to dig up an opponent for Andrade.
Demetrius' opposition since winning the WBO middleweight title:
Luke Keeler
Maciej Sulecki
Artur Akavov
Williams has the better power of the to, but he may be in for a surprise when he starts getting his by the big southpaw Andrade.
Andrade will be making his four defense of his WBO 160-lb title he captured three years ago. This could be as easy as Andrade's last defense against Luke Keeler if Williams comes looking for a knockout as he often does.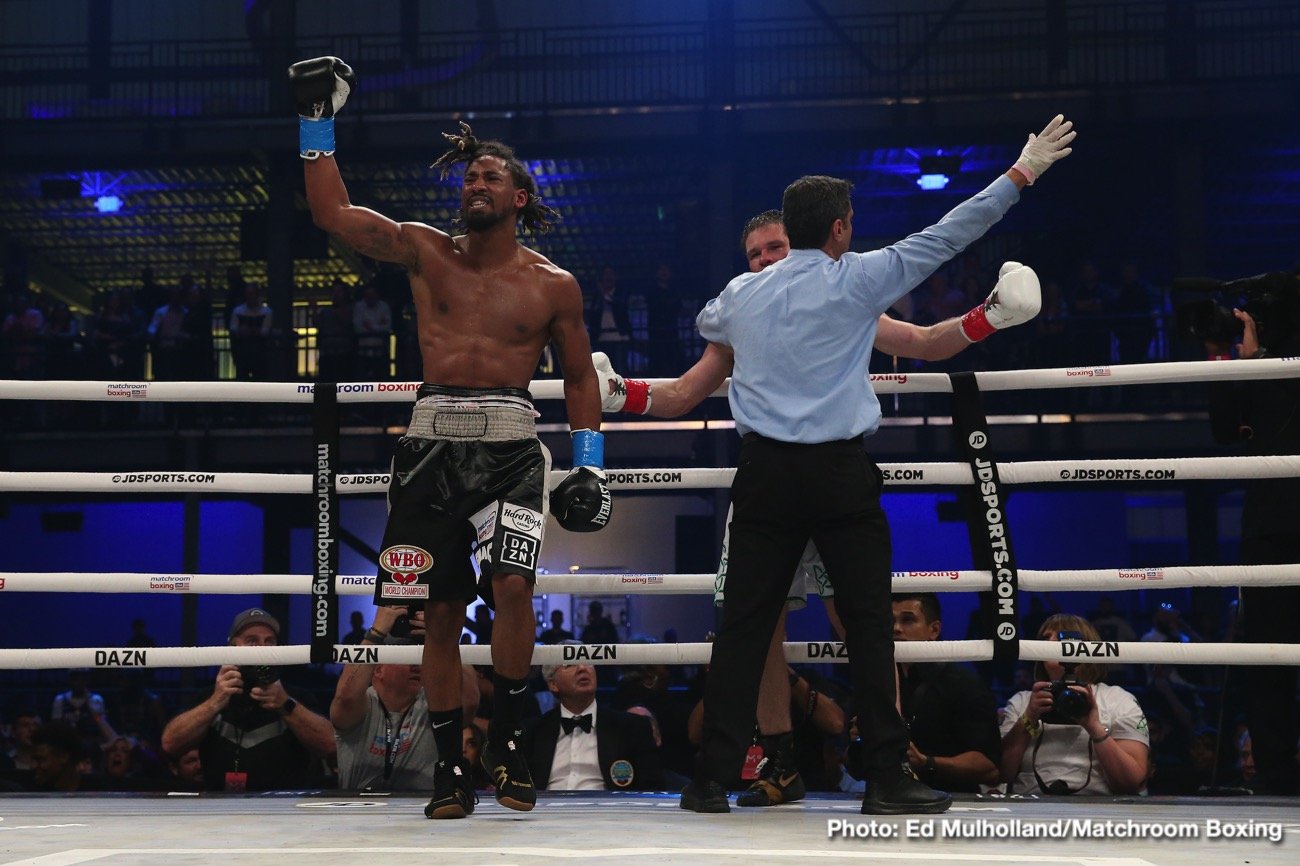 It was hoped that Andrade would shed himself of the WBO title and move up to 168 to go after bigger and better things against Canelo Alvarez, Billy Joe Saunders, Caleb Plant, and David  Benavidez.
Andrade, 32, has chosen to hold onto his WBO title for the paydays  rather than casting the title adrift and stepping into the uncharted territory at 168.
There would be much risk for Andrade in going up to super-middleweight because he wouldn't be getting all the easy opposition that he's been feasting on all these years.
Williams has put himself in the WBO mandatory spot, winning his last seven fights against these fighters:
Andrew Robinson
Alantez Fox
Karim Achour
Joe Mullender
Mark Heffron
Craig Nicholson
Darryl Sharp
This limited talent group consists of everyone Williams has beaten since his back to back losses to Liam Smith in 2017.
They say that William, 28, has improved since his losses to Smith, but it's impossible to know if that's true given the opposition he's been facing since then.
The only way we would know for sure if Williams has gotten better if he fought someone with a pulse like Sergiy Derevyanchenko, Chris Eubank Jr, or Jaime Munguia.
This is a fight that British boxing fans will love and U.S fans will hate. The American fans have seen too many lackluster opponents from the 32-year-old Andrade, and they want to see him step up against better opposition already.
Demetrius is a 13-year professional, yet all he has to show for himself is wins over Luke Keeler, Brian Rose, Jack Culcay, and Maciej Sulecki.
Liam Williams has the punching power to win, but his boxing ability, defense his pedigree are much inferior to that of Andrade.
If Williams thinks he's going to obliterate Andrade the way he's been doing lately against the pedestrian level opposition his promoter has been feeding him, he could be in for a lot of disappointment.