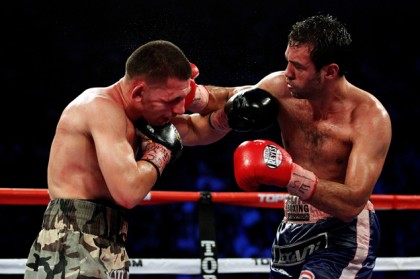 by Lem Satterfield – Puerto Rican three-division title winner Miguel Cotto will face top rated contender and two-time world title challenger Delvin Rodriguez on Oct. 5, LIVE on HBO at the Amway Center in Orlando, Fla., site of today's open-to-the-public press conference announcing the event.
"I'm feeling great," said Rodriguez (28-6-3, 16 KOs), who is 33. "I'm excited. This is a great opportunity. This is an opportunity that I'm going to take full advantage of. I'm ready for the work. I've already started training, and I'm very, very motivated. I think that Cotto is a warrior, and he's going to pretty much be coming forward".
"I don't think that I'm going to have to go looking for Cotto. It's going to make it a great fight and a war, and that's easier for me. People are probably going to expect me to be running around, concentrating on my defense, which is the opposite of what I'm going to do. I believe that Cotto is very effective when he takes an opponent to the ropes, but I'm going to keep him in the middle of the ring."
Cotto-Rodriguez is being co-promoted by Miguel Cotto Promotions and Top Rank, in association with Joe DeGuardia's Star Boxing and Tecate.
"We should have a good turnout tomorrow. All of the media has been very supportive. We look forward to a very big event there. We've had incredible support from the city and the officials to bring something like this to them," said Todd duBoef, president of Top Rank, who will be in attendance at the press conference along with Orlando Mayor Buddy Dyer as well as Amway Center Executive Director Allen Johnson and Héctor Soto, vice president of Miguel Cotto Promotions.
"Obviously, you have the second-largest pocket of Puerto Rican community in the U.S. in Orlando, second to New York. It's good for Miguel's brand and it's good for giving them a high quality event. Obviously, we've seen that Orlando supports an NBA team, so it's a good sports town and has a lot to offer, including the Disney ventures. We think that the event on Oct. 5 is going to do very well and be a big attraction."
Cotto (37-4, 30 knockouts), who turns 32 on Oct. 29, fought his past two bouts under the Golden Boy Promotions banner, falling by unanimous decision to Floyd Mayweather Jr. and Austin Trout in May and December of last year, respectively.
Cotto will be working with Hall of Fame trainer Freddie Roach for the first time against Rodriguez.
"I think that stylistically, it's a good fight for both guys. They're both action fighters," said duBoef.
"Miguel has fought Trout and Mayweather, who are awkward and a little defensive and more difficult. Miguel's always been out to please the fans and I think that's what Delvin does too, so I think that you have a real good match and two highly-skilled fighters."
Cotto's last victory was under the banner of Top Rank — his promoter from the outset of his career — and was in December of 2011 by 10th-round knockout over Antonio Margarito. Cotto was trained by Pedro Diaz in his past three bouts. Trainer Pedro Diaz had been in Cotto's corner for his last three fights.
Rodriguez has won two straight by knockout since falling by unanimous decision to Trout in June of 2012, stopping previously unbeaten George Tahdooahnippah in the sixth in February, and Freddy Hernandez in the eighth in May.
"What I learned from the Trout fight will make this a totally different fight from the one that's coming up with Cotto. Trout is more concentrated in defense, which was his main thing, running around, hitting whenever he can. But I learned from the Trout fight. For every fight, I'm in top shape, but for that fight, I didn't do anything. I didn't put all of my hard work to work that night," said Rodriguez.
"All of the work that I had done, I left it behind and didn't put to use. I told myself after that fight that I would fight like I have the last two fights, which is why I got the knockouts. I'm going for it. I'm going for it and not hesitate. I'm not going to wait for those precise moments. I'm going to make them happen, and do it by throwing different punches from different angles."
Prior to facing Trout, Rodriguez had fought to a draw and a unanimous decision, respectively, over Pawel Wolak in July and December of 2011.
"Delvin recognizes that these are the opportunities of a lifetime, and we've talked about it. The fight with Trout was obviously, style-wise, a very difficult one and wasn't the kind that fits Delvin, who prefers to dig in and to fight. Miguel found out the same thing with Trout, who has the kind of style that doesn't lend itself to being able to dig in in the trenches. But this fight has the makings that let both fighters show their mettle. For a guy like Miguel, who wants to stay on top, he's got to be able to win. He's going to be hungry I'm sure to stay in the mix," said DeGuardia.
"For a guy like Delvin, this is everything. He's been climbing up the mountain, and now, he's at the mountain top. So this fight is huge, and I think that it's a great fight for Delvin, and, perhaps more importantly, I think that it's a thrilling fight for the fans. It's something that I look forward to seeing. Both of them are real veterans, but also, real warriors. Obviously, fighting a Miguel Cotto, who is a legend and I would say a future Hall of Famer, on HBO puts Delvin on the highest level. It's just a fantastic opportunity for Delvin. He's worked hard for the opportunity, I'm glad that he's got it, and he deserves it"