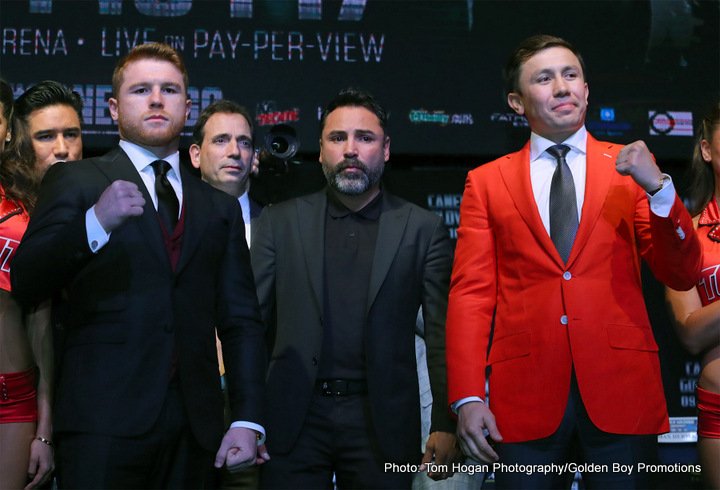 Biggest isn't always best. Promoter Oscar De La Hoya, himself no stranger to gargantuan numbers, either as a fighter or as a promoter, said on Tuesday's conference call to further promote the September 16 world middleweight clash between Gennady Golovkin and Saul Canelo Alvarez that the upcoming fight will be THE biggest fight in the history of the middleweight division.
De La Hoya was primarily speaking in terms of global attention the fight is receiving, of the number of people who will be watching on fight night, and of course in terms of revenue the fight is expected to generate. And with the money a boxing match can generate today, and with the sheer availability of any sporting event these days, what with the internet, closed circuit and the like, then yes, GGG-Canelo probably is the biggest, or one of the biggest fights in 160 pound history.
But will the fight deliver what is most important: great, big, unforgettable action? There have been some truly classic middleweight title fights over the years, and just because there were not as big, in today's terms at least, it doesn't mean the upcoming bout eclipses them, or will eclipse them.
What about the brutally beautiful war Sugar Ray Robinson and Jake La Motta put on, in the final meeting in their savage rivalry, in 1951? How big would that fight have been had it played out with today's technology covering it and with today's pay-per-view $dollars!
Going back even farther, to the 1940s, what about the incredibly violent wars Rocky Graziano and Tony Zale engaged in? Will GGG and Canelo possibly give us such mesmerising action and naked aggression?
More up to date, and the epic 1985 Marvin Hagler-Thomas Hearn slugfest remains the benchmark as far as genuine Super-Fights that genuinely delivered – and made many millions at the box-office – goes. Do Canelo and Triple-G have any chance of giving us something so special?
And De La Hoya himself took part in a middleweight blockbuster, when he took on the great Bernard Hopkins in 2004. This fight was massive, and though it was no classic, it was a classic display from Hopkins; and from it of course an unlikely promotional partnership was born.
The last massive and special world middleweight title fight was probably the 2001 masterpiece Hopkins put on in taking away Felix Trinidad's cloak of invincibility. Since then there have been some big ones – Hopkins-Jermain Taylor, Kelly Pavlik-Taylor, Sergio Martinez-Julio Cesar Chavez Jr – but the upcoming September showdown is the biggest world middleweight affair for some years.
Will it go down among the great, great fights this historic weight division has given us over the decades?