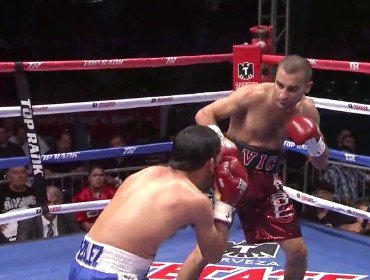 Vic Darchinyan (39-5-1, 28 KO's) smashed his over-matched opponent Javier Gallow (18-7-1, 10 KO's) in a 4th round TKO on Saturday night at the Uni-Trade Stadium, in Laredo, Texas, USA.
Darchinyan finished Gallow off with a left to the head that sent Gallo hitting the deck and sliding on his backside. Gallo, who had already been knocked down three other times in the fight, didn't even try to get up after the fourth knockdown.
Gallo hurt Darchinyan twice in the fight with big right hands. The first time occurred late in the 1st round when he timed Darchinyan as he was coming in and nailed him with a right hand. Darchinyan was staggered by the shot but he wasn't hurt enough to go down from it. In the second round, Gallo hurt Darchinyan with a right hand that momentarily had Darchinyan slightly dazed. However, Darchinyan came back to drop Gallo at the end of the round with a perfect left to the head.
The 2nd round was an interesting one. Darchinyan seemed like he wanted to get even with Gallo for having been hurt by him in the 1st round, and he dropped Gallo almost immediately at the start of the round with a perfect left to the head.
Moments later, Darchinyan knocked Gallo down again with another hard left hand to the head. After getting stunned by a right hand from Gallo, Darchinyan dropped Gallo again with another left hand. I think Darchinyan was still hurt at the time, but there was nothing wrong with his left hand power. Once he connected with another left, Gallo hit the deck.
In the 3rd round, Darchinyan teed off on Gallo with big left hands for the full three minutes of the round. Somehow, Gallo was able to make it out of the round without going down again.
At the start of the 4th, Darchinyan finished Gallo off with a nice left to the jaw that put him down on his backside. The fight was then halted at 0.26 of the round.