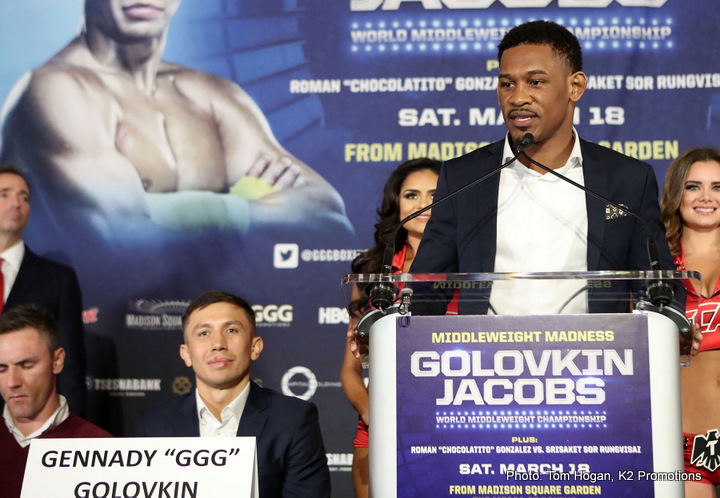 New Yorker Danny Jacobs, last seen pushing feared world middleweight king Gennady Golovkin very hard indeed, all the way to the end of the 12th and final round in March, might next be seen boxing on the under-card of Golovkin's mega-fight with Canelo Alvarez.
According to a short news piece on ESPN.com, talks are currently underway between Golden Boy and Al Haymon. So far Jacobs' opponent, if he does indeed box on the card, is TBA. It would of course help make the big September 16 show even bigger if Jacobs, arguably the world's second best middleweight, appeared on the Las Vegas card.
Back in March, when a firm underdog (although "The Miracle Man" always had his supporters going into what was the biggest fight of his career; inside the ring anyway) Jacobs really did make GGG look ordinary – even being deserving of the decision in the opinion of some. Now, some three months on, it's time the gifted and talented former WBA champ got busy with his next fight so as to keep the momentum going.
Who knows, Jacobs – who wants a return fight with Triple-G – might look good enough on the September card to earn a shot at the winner. But who would make a good, solid opponent for Jacobs in his next fight?
Jacobs against the likes of Andy Lee, Willie Monroe Junior or even Ishe Smith or Peter Quillin (in what would be return bouts) would prove interesting, while a Jacobs-David Lemieux fight, in maybe a final eliminator, would be great (perhaps too good to be true, certainly for an under-card; but then Oscar De La Hoya does deliver stacked cards most of the time).
Either way, whether or not he fights one of these guys, and whether or not he boxes on the GGG-Canelo card, it's time to see the multi-talented Jacobs, 32-2(29) back in the ring soon, certainly before the end of the year. The worst thing a good fighter can do after suffering a close loss is to embark on an inactive spell.