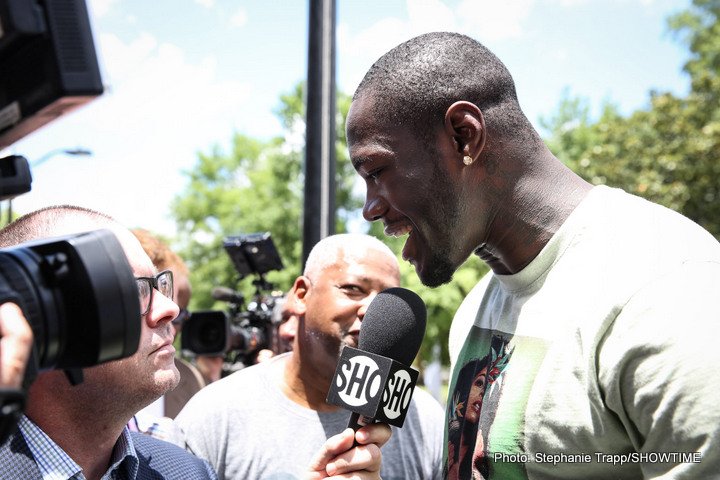 After making hard work of beating Eric Molina recently, the heavyweight division seemingly began to close in on WBC champion Deontay Wilder, with everybody from Tyson Fury to David Price and Lucas Browne all speaking out to say they feel a fight against "The Bronze Bomber" is a perfectly winnable proposition.
And it is Browne who has upped the ante more than anyone recently, taunting Wilder via his promoters and over social media directly in hope of making the fight.
The unbeaten Australian – one of the more accessible fighters on twitter – has been angered by numerous online comments from the Alabama fighter in response to him, with Wilder insisting Browne is 'just trying to make a name for himself' – further insisting 'nobody who trains out of their garage is gonna beat me.'
Via Hatton promotions, Browne – who is 22-0 with 19 early finishes, said in reply;
"I saw Deontay's video and wasn't really impressed. Deontay says 'I don't believe in myself?' – well, anyone who knows me knows that couldn't be further from the truth. I believe I'm the hardest hitting heavyweight in the world. There's no doubt in my mind of that."
"He said he hopes I continue to climb the rankings? Well, I'm already ranked above his last opponent Eric Molina – who would be lucky to last 3 rounds against me. He gave Wilder a tough fight."
Clearly stating his position, Browne said;
"I will fight Deontay Wilder anywhere in the world. Las Vegas, New York, his backyard, wherever. It's a fight that would be explosive and that's what fight fans want to see in heavyweight boxing."
"Wilder said I might be his next opponent. Well, it would be an honour to challenge for the heavyweight championship of the world. Have his team contact Hatton Promotions and we can give the fans what they want to see – an explosive fight!"
Obviously buoyed by the fact that Molina rocked Wilder significantly early on in their fight, Browne's manager also spoke out to sum up the feelings of many when he said;
"If the version of Deontay Wilder turns up that fought Eric Molina then he is getting knocked out and Australia has it's first ever heavyweight champion of the world."
Since the news broke earlier today, Browne's twitter has been absolutely bombarded with messages of support from his 16k followers.
It leaves a pertinent question. Did Wilder just have a bad day at the office against Molina? Or was it something more?
With Alexander Povetkin his mandatory and Tyson Fury among the other 'named' heavies also eyeing Deontay, it's a certainty that the Alabama fighter is going to run out of breathing space real soon.
We shall see if these latest exchanges come to anything.
Twitter @Undilutedpoison