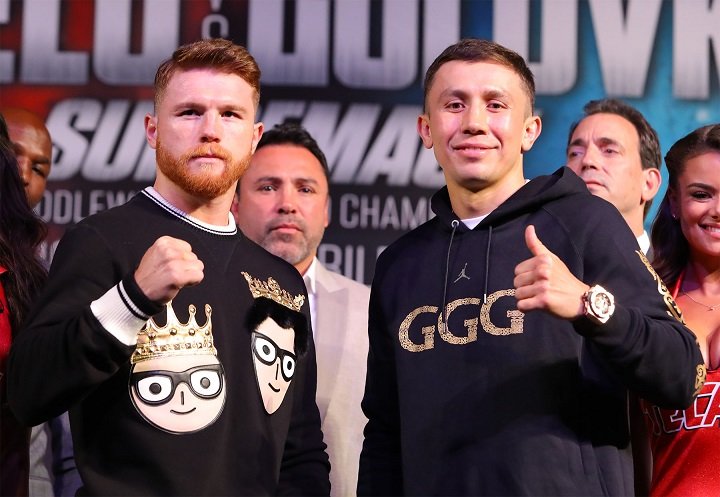 Future Hall of Famer Miguel Cotto will be a very interested observer of tonight's enormous middleweight showdown between Gennady Golovkin and Canelo Alvarez; mostly due to the fact that the Puerto Rican great wants to fight the winner, in his final fight, on December 2.
It has been pointed out how, for tonight's winner to fight again less than three months on from tonight's fight, an expected tough battle for both men, a very quick turnaround would be needed.
Also, if GGG wins, he will be contractually obligated to fight Canelo in a return bout as per the rematch clause the Mexican star has (GGG has no such clause in his contract). But if Canelo does win, or if GGG wins and can get Alvarez to agree to fight the rematch with him next year some time, who knows, maybe Cotto will get the big bang of a career finale he wants.
Cotto has of course already fought Canelo, losing a wide decision (wide on the cards; the fight appearing much closer in the eyes of many) so a return between the two would not be as big or as intriguing as a GGG-Cotto fight. Imagine if you will, Cotto managing to punch out a win over Triple-G at the very end of his great career. That would be some huge achievement, even for as special a fighter as Cotto; a warrior who has already achieved so much.
"It's going to be a tough fight between them," Cotto told ESPN.com when speaking about tonight's big fight. "Whatever happens, I am leaving the ring December 31. I will have the last fight of my career in December, and fighting the winner would be a good way to go out. I would be proud to have that fight."
Tonight's winner can also expect to be called out by WBO middleweight champ Billy Joe Saunders – providing Saunders gets past Willie Monroe Junior tonight, which is by no means a sure thing. GGG has said many times how he wants all the belts at 160, so it's entirely possible Golovkin, if he wins tonight, will go after Saunders instead of a fight with Cotto. This fact, along with the time-frame involved, makes many people sceptical over Cotto getting the massive career finale he wants.
Tonight's battle could be brutal and punishing; can we really expect the winner to even want to fight again just seven weeks on? Remember how long an inactive spell both Marvin Hagler and Thomas Hearns had after their unforgettable 1985 war – 11 months. Tonight's fight could be just as punishing and maybe neither man will be able to fight again until well into 2018.
We'll soon see, but Cotto remains hopeful he will get what he wants.