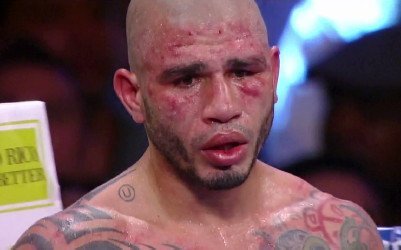 By Steve Mabbott: Former three division world champion Miguel Cotto (37-4, 30 KO's) could be back in the ring on June 8th at the Barclays Center in Brooklyn, New York, according to RingTV. Cotto, 32, lost his last fight against WBA World junior middleweight champion Austin Trout in a failed attempt to capture his title at Madison Square Garden earlier this month on December 1.
Cotto was beaten pretty badly in this one-sided fight, and the loss removed any hope of Cotto facing WBC junior middleweight champion Saul "Canelo" Alvarez in a unification bout. Golden Boy Promotions CEO Richard Schaefer still didn't rule out a Cotto-Alvarez fight taking place on May 4th, but then Alvarez came out and said he was no longer really interested in facing Cotto, so this leaves Cotto looking for a fight on June 8th.
Schaefer told RingTV "We're definitely going to be working with Miguel Cotto on that date [June 8th] as a fighter."
If Cotto is fighting in June then that rules out him facing Alvarez or Floyd Mayweather Jr, as both of them are planning on fighting on May 4th against still to be determined opponents. It's unclear who Cotto could wind up fighting in June. One thing we do know is that Cotto likely won't be facing any pure boxers like Trout again in his next fight because he didn't handle his boxing skills too well and ended up getting dominated by him.
Cotto's better off facing someone like Alfredo Angulo, who is like a bigger version of Antonio Margarito, James Kirkland would be a good option for Cotto and so would Cornelius Bundrage. Whoever they find, they need to make sure Cotto sticks with sluggers from now on because he just doesn't do very well against fighters with good boxing skills. We've seen Cotto get dominated by Floyd Mayweather Jr. and now Trout, and both of those guys had great technical skills.