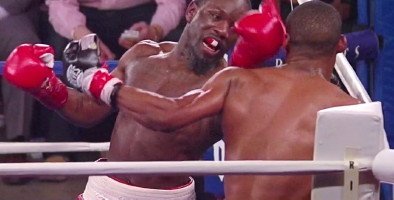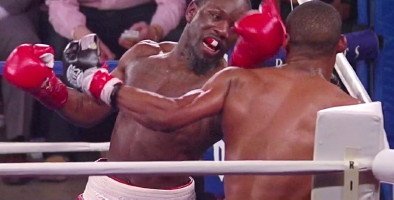 By Bill Phanco: Light welterweight contender Victor Cayo (31-4, 22 KO's) suffered a disappointing 8th round stoppage loss to Emmanuel Taylor (17-1, 12 KO's) tonight at the Resorts Hotel & Casino in Atlantic City, New Jersey. Cayo seemingly had the fight in the bag until getting put down with a series of solid right hands from the 22-year-old Taylor in the 8th. Taylor then hammered the hurt Cayo with several more shots after he got back up to his feet, and the fight was then halted by referee Benjy Esteves Jr. at 1:11 of the round.
Cayo fought reasonably well until getting hurt late in the 7th round, and then finished off in the 8th. Cayo knocked Taylor down in the 5th round with a sweeping right hook to the head. Cayo was effective when fighting out of the southpaw stance, but he only rarely used this stance despite the success he had in the fight when he was using it.
Taylor dominated rounds 2 through 4 with his power punches and heavy pressure. Cayo fought well in rounds five and six, and was doing well in the 7th until getting hurt late in the round.
Taylor is going to need to increase his work rate if he wants to beat the better fighters in the division. He reminds me a lot of a light welterweight version of Ross Puritty. He has good power, an excellent jab, but he covers up too much and doesn't let his hands go.
***
Russian heavyweight Magomed Abdusalamov (17-0, 17 KO's) defeated Victor Bisbal (21-2, 15 KO's) by a 5th round knockout after dropping him with a left hand. Bisbal got up from the knockdown, but the referee stopped the fight anyway.
Abdusalamov, ranked #10 WBA, #10 WBC, #13 IBF, did not look good despite winning the fight. He was easy to hit, and he moved like a slow tank. The fight might have been different had Bisbal had the ability to move around the ring to avoid Abdusalamov's left hand shots. That's really the only thing that Bisbal had to worry about from Abdusalamov because his right hand power wasn't impressive.
After absorbing a lot of punishment in the first three rounds, Abdusalamov took over the fight in the 4th, as he landed big left hands to the head and wasn't getting hit nearly as much by that time in the fight by the tired Bisbal.