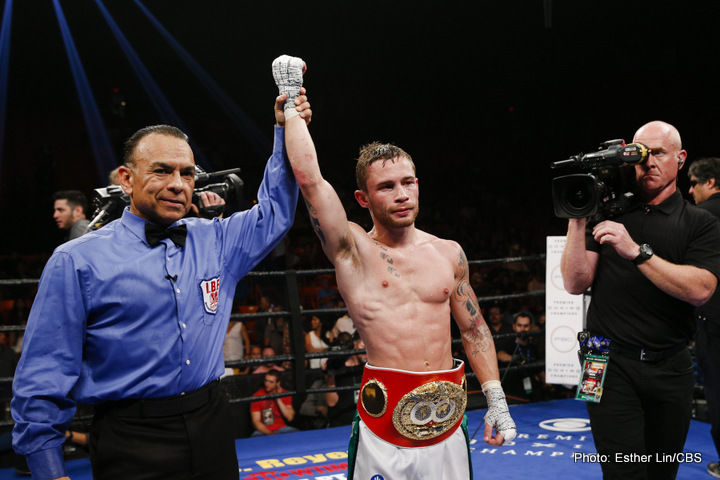 Boxing can be a fickle business. Before both men boxed on opposite sides of the Atlantic on the same night last month, the odds-makers and a large majority of fight fans favoured IBF 122 lb champion Carl Frampton over his Bury based rival Scott Quigg should their sought after domestic grudge match ever come off.
Frampton survived some early scares in his American debut against Alejandro Gonzalez Jr to battle back for a courageous and deserved points win, while Quigg blew away former (2x) Frampton foe Kiko Martinez inside 2 rounds in Manchester, following perhaps the most shaky 1st round of his entire career.
That victory for Quigg led the more fickle boxing fans (in the UK especially) to start trumping his cause, citing Frampton taking 9 and 12 rounds (UD) respectively to beat Martinez as evidence of the WBA champion now gaining and deserving more leverage in any future negotiations – this after their respective camps previously failed to get the fight between the two super bantams on.
Quigg's promoter Eddie Hearn had offered a flat £1.5 million to Frampton that hadn't taken into account PPV revenues (among other things) that would potentially have left Quigg walking away the higher earner, yet in light of recent events Hearn revised the offer to include a 2 fight, 2 city deal encompassing each man's local stronghold of Manchester and Belfast respectively.
Speaking about recent events in the 'Belfast Newsletter', Frampton says that he has no problem with going to Quigg's Manchester backyard, certain that he won't even need the second fight Hearn has offered, such is his belief in getting the win.
"Let's be sensible and get the (Quigg) fight on. No publicity stunts. We don't need to be all over social media. Let's talk about it and get it done." he said.
"No one has started talking yet but hopefully we can sit down and get it sorted. I'm very keen on the Scott Quigg fight and I'm happy to go to Manchester to fight him.
"I don't even think we need to come to Belfast after that because I'm confident I'm going to win that fight, so what's the point in a rematch? I want to move on to bigger and better things after him," he added.
"It's important for us to be able to see everything that's going on behind the scenes, what's coming in, what's going out.
"We want to be able to get some of our fighters on the bill, some of the guys I train with all the time. So there are things that need to be talked about but I believe the fight can be made."
The ever-honest Tiger's Bay man is also keen not to make excuses for what happened in America, admitting that mistakes were made in the lead up;
"It was strange.. boxing in the middle of the day. There were probably only 1,500 fans there and the Americans are not as partisan as the Belfast fans.
"It was strange but I don't want to make too many excuses. I underestimated this guy. I thought it was going to be easy and I got caught with two shots in the first round.
"They were flash knockdowns and I recovered and won 10 of the 12 rounds. I was embarrassed to be honest.
"It was an under par performance but I got a win. The American TV are happy and ITV are happy. I needed to get my face out there in the USA."
Twitter @Undilutedpoison