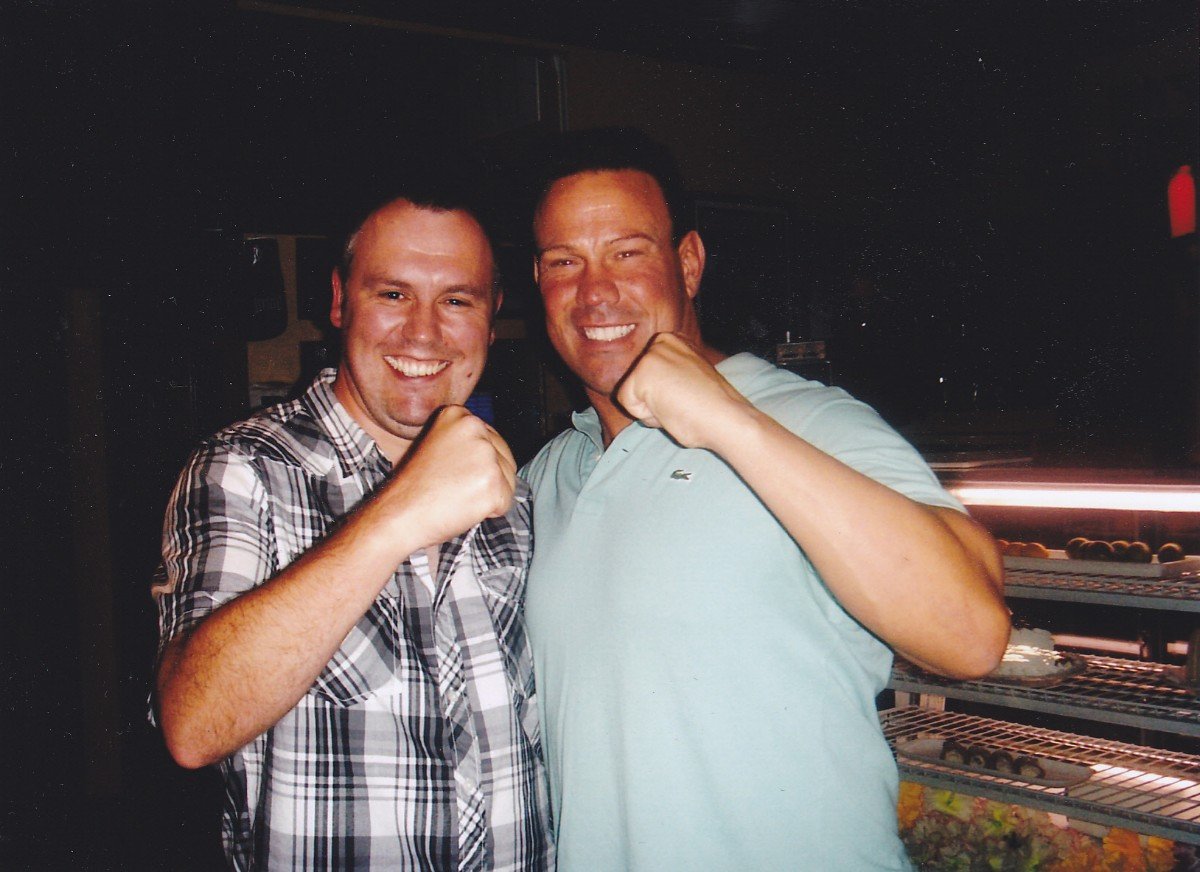 A genuine fan favorite during his blood 'n' guts, up and down career, retired heavyweight Vinny Maddalone will be the guest of honor at a Roast tonight at Russo's on the Bay in Howard Beach, New York. There will be jokes at Vinny's expense, along with plenty of appreciation for the effort Maddalone gave each and every time he stepped into the squared circle.
Ring 8, which was founded way back in 1954, to help retired fighters with things such as financial assistance and medical care, will host the event. Maddalone retired with a 37-8-1(28) pro record, and he met five world champions (either past or future) during his rock 'em, sock 'em career.
Maddalone of Queens turned pro in 1999 and he went on to win over those fight fans who saw him slug it out. With his sheer heart, his honest, down to earth approach and his fearlessness, Maddalone, who was never a fighter blessed with natural boxing skills, was willing to fight anyone his promoter Joe DeGuardia put him in with. And Vinny could really crack, with either mitt.
Back when he went pro in April of 1999 in North Carolina, Maddalone was that rare commodity: a white heavyweight. He may not have been anybody's White Hope, but the 25 year old was marketed as a title hope all the same. Having had just a handful of tough-man contests, Vinny was very much a fighter learning on the job as he went. And it showed. In his 16th fight, the unbeaten banger was matched with former IBF cruiserweight champ Al Cole.
Cole, past his best but still useful and of course carrying the type of big fight experience Vinny could only dream of, knocked the raw up-and-comer around pretty good in the final two rounds of the six-rounder. It was something of a miracle that Maddalone, hurt, wobbled, and then hurt and wobbled again, made it to the final bell in Atlantic City. "Exposed" in the eyes of his critics, Maddalone faced his first long road back.
Regrouping and taking care of more journeymen and club fighters the type he had been matched with in his initial bouts, Maddalone put together another unbeaten run; before he returned to The Trump Taj Mahal in New Jersey, this time against a 17-0 Brian Minto. The two limited but courageous heavies put on a great fight on ESPN, and Maddalone was, oh, so close to picking up the biggest win of his career. Ahead on points and seeing the finish line, a fatigued Vinny was instead stopped in the final round. Hard road back number-two had arrived.
By this stage, though the purists would never be swayed from their opinion that he would never, ever have a prayer of a chance of becoming a world champion, Maddalone had earned his share of fans, the New York crowd especially. If you wanted guaranteed action, Vinny was the East Coast trier to go and see. The one-sided rematch loss he suffered at the hands of Minto (five fights after the first rumble) would have proven devastating to many a fighter, but Vinny, now aged 31 and already carrying a good deal of scar tissue around his eyes, sucked it up once again.
A fight with "The Towering Inferno," Julius Long, in December of 2006, almost proved career-ending. The 7'2" Long busted Vinny up, outboxed him and appeared to have been a clear winner when the fight went to the score-cards after Maddalone's cut eye (ruled caused by a head-butt) forced the bout stopped. Long indeed won the five-round decision. Shortly after, though, Long tested positive for an illegal substance and Maddalone's loss, his fourth, was changed to a No Decision.
Tough road back number-four became a slightly more promising journey in that Maddalone was, in March of 2007, surprisingly given a shot at ex-champ Evander Holyfield.
By far the biggest opportunity his exciting career had thus far given him, Maddalone was extremely lucky to have been given this fight. For even if "The Real Deal" was nowhere near the great he once was, a win over him would still likely get Vinny the one thing he truly dreamt of: a world title shot. This wasn't the movies though, and the ageing Holyfield, still having way too much weaponry for Maddalone, sliced and diced his club fighter of a rival up inside three rounds.
Where now for Maddalone? Why, tough road back number-five, naturally. Now going overseas to fight on occasion, Vinny would travel to Germany to test an unbeaten Denis Boytsov (losing on points over eight rounds) and then to France to face yet another former cruiserweight king in Jean Marc Mormeck.
The Mormeck fight would see Maddalone fight his best fight and come the closet yet to winning the big one. Reduced, the night of the fight, from ten rounds to just eight, the Mormeck fight was very close; with Maddalone appearing to be deserving of a draw in the opinion of some. Instead, going home upset due to how some serious home cooking had been served to local star Mormeck, Vinny dropped a close decision. This fight was the one that both bothered Vinny the most, yet at the same time served to drive him on throughout the remainder of his career, convincing him as it had that he had what to took to beat a world class fighter.
Tomasz Adamek stopped the now veteran slugger in 2010, while a young Tyson Fury did likewise, in England, in 2012. This fight, one that saw Maddalone get busted up and stopped on his feet once again (despite his defensive shortcomings, Maddalone was rarely put on the canvas throughout his rough and tough career) should have been the end.
Instead, three more fights followed, two wins and a draw, against more realistic opposition, before Vinny finally retired in late 2013.
Now, Vinny, who truly did win the hearts of the fans who always got their money's worth when they paid to see him fight as hard as he could, gets the roast/career celebration treatment. And as Jack Hirsch, president of Ring 8 said in speaking with RingTV.com – "He had a heck of a career and Vinny deserves to be remembered."
Indeed.