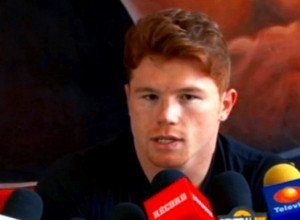 WBA/WBC junior middleweight champion Saul "Canelo" Alvarez (42-0-1, 30 KO's) says he's been studying Floyd Mayweather Jr. (44-0, 26 KO's) for a long time now and he knows what to do to hand him his first loss of his career on September 14th.
Canelo isn't saying what his secret strategy is to beat the 36-year-old Mayweather, but it's got to be something along the lines of how Canelo has been fighting because he's not exactly one of the most versatile fighters because of his low center of gravity, short height, and the weight that he carries for the junior middleweight division.
Canelo said this about Mayweather as quoted by the record.com.mx "We know to fight Floyd Mayweather, and everyone will follow."
Canelo doesn't really have a lot of options. He can't use the game plan that Jose Luis Castillo used many years ago against Mayweather by throwing massive amounts of punches in hopes of outworking him. Canelo can't do that because he doesn't have the stamina to throw more than a tiny handful of punches without turning red in the face and needing to stop punching.
Canelo can't fight Mayweather on the move because he's too heavy-footed to fight while moving. Canelo can't beat Mayweather by jabbing him because Mayweather is able to pick off jabs or move his head to avoid them.
If Canelo's plan is to try and beat Mayweather by throwing an occasional 1-2 combination to win over judges by landing the harder power shots, I don't see that working here. It worked in San Antonio, Texas against Austin Trout with open scoring, but I don't see that happening here. I think if a different set of judges had worked the Canelo-Trout fight they could have easily have given that fight to Trout because Canelo fought a dumb fight.
Canelo didn't throw enough punches and looked tired for 12 rounds. If Canelo fights that against Mayweather on September 14th, he's going to get embarrassed because there's no judges going to give him decision fighting like that against Mayweather. He'll get dominated.