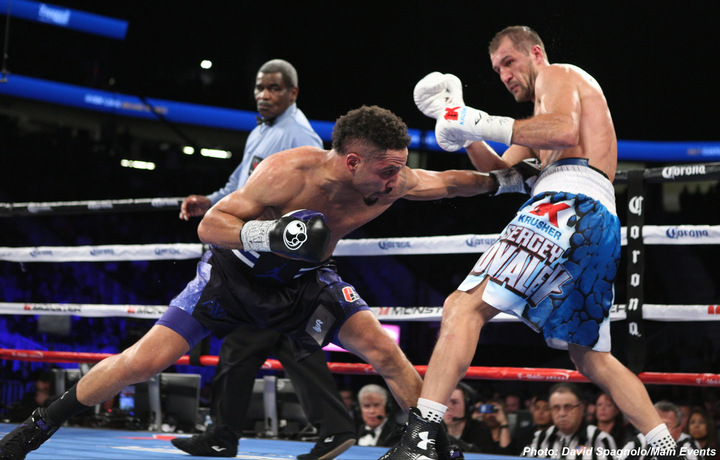 Can Andre Ward make it as a heavyweight? After his close, controversial but at times very impressive win/performance over Sergey Kovalev, Ward, the new light-heavyweight king, briefly spoke about how he might – might – be tempted to take a fight at heavyweight one day. Ward hasn't lost it completely, as he carefully inserted the caveat that the fight would have to be "the right fight."
In other words, Ward, at 6'0," would not tackle a giant like a Tyson Fury, an Anthony Joshua or a Deontay Wilder. But Ward said, as quoted by Metro, that he does feel as though he might have "a Roy Jones type of situation [in me] before my career is over." Ward is of course referring to Jones' fantastic win over John Ruiz back in 2003, the decision win bagging the former middleweight ruler a heavyweight belt. Ruiz was a smallish heavyweight, but the problem Ward faces is, there are no smallish heavies currently holding belts.
Maybe, as he suggested, Ward will find the right fight one day. Ward is taller than Jones, who stands 5'11," and "S.O.G" is also taller than James Toney – who, although he never won a major belt as a heavyweight, did pick up hugely impressive results in fights with the likes of Evander Holyfield and Hasim Rahman – and Ward's skill level is arguably equal to that of these two one-time stars who scaled the heavyweight mountain.
But Ward has plenty of unfinished business to attend to with Kovalev before he can think about packing on a further 20 or so pounds and then invading the heavyweight division. Fans both want and deserve a rematch of Saturday's fight – one that promises to keep people talking for quite some time.