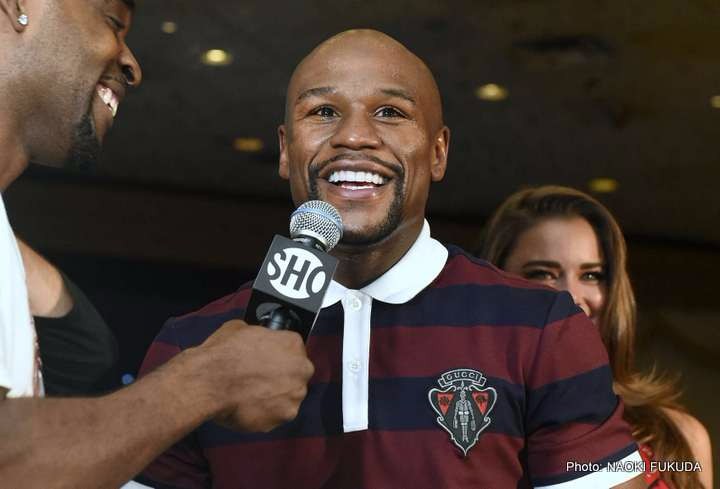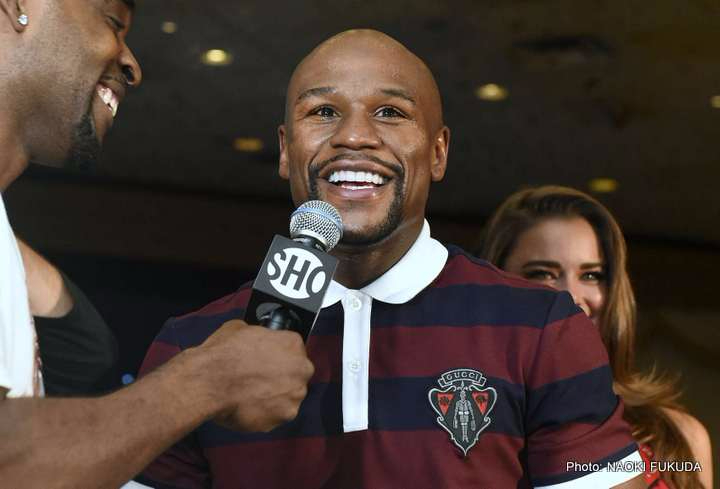 Recently you witnessed hopefully what was the last fight of Floyd Mayweather Jr's career. I did not buy it. Time and money are valuable, so I am careful how I spend both. For me Mayweather's fights have not been worth my money or time for a very long while.
Happy Days might be here again… if he stays retired.
Happy Days because finally the Boxing Press and sports media in general will be forced to focus on one of the other Pound 4 Pound best fighters, who are far more entertaining in the ring than Mayweather has been for many years.
Yes, I can respect and will acknowledge the craft and skill of one of the greatest defensive masters of boxing of all time. Floyd was great at stopping a fight from really happening. But No, I haven't spent my money on pay per views where the main event fighter made it obvious that his objective made it almost certain that the contest would be boring.
I also won't spend my time watching the professional golf tournament right down the road either. Those are just marginally less exciting than Mayweather's fights.
Floyd had the opportunity to give the thrills that fight fans crave but for some reason he would refuse to do so. It amazed me how many people kept buying his fights even after knowing that they were almost certain to be duds.
A few examples are: Against Robert Guerrero it was obvious from the beginning Floyd had absolutely no threat in front of him. He could have turned on the gas and probably gotten a stoppage. But he played it safe and settled for a one-sided decision.
Against Pacquiao he would have shut up all the non-Floyd fans, like me, if after he found out he had an opponent who was again a non-threat, he had gone after him and made it into a real fight. But again, like in most of his bouts, he played it safe and settled for a wide decision.
In, what was hopefully his last fight, it was the same. He had an opponent who was nowhere near his skill level and he delivered an extremely expensive sparring session.
Let's make this clear, Floyd has always been capable of delivering exciting fights. He did one early in his career against the extremely capable Diego Corrales. That fight was a masterpiece. But Mayweather stopped delivering entertainment when he started making mega-million dollar paydays.
That's why I started refusing to buy his fights. As an entertainment consumer I'm not going to pay for Non-Entertaining Events.
Other reasons why I am glad Floyd Mayweather is retired are:
It is rather obvious that Mayweather avoided some of the top challenges that were available to him when he was in or around their weight divisions.
The names that pop-up first are Paul Williams and Antonio Margarito at Welterweight. For a while Williams was a puzzle that no one could solve and Margarito was a wrecking ball until they found out about his doctored/illegal wraps.
I honestly think that Floyd would have outsmarted both of them. But it is obvious that they were avoided. You really shouldn't call yourself the "Greatest of All Time" if you don't go after the largest threats during your own time.
Other fighters he could have fought but never did are Kostya Tszyu and the now up and coming Keith Thurman.
Tszyu was fearsome for a relatively short period of time. Just look at what he did to a prime Zab Judah as an example. I understand why Floyd didn't fight him. But don't call yourself the "Greatest of All Time" if you avoid danger.
Keith Thurman has the look of being the best of the new generation of up and coming welterweights. He could be a coming superstar. He shows no huge flaws. If Floyd had taken a risky fight like Keith Thurman in his last bout even I, a Non-Fan, would have praised him. But he did what I told my friends he would do. He took the easy, safe way out. You can't get or gain respect by doing that if you call yourself a warrior. Warriors don't do that.
Warriors go after the greatest and biggest threats to their safety and standing in their sport. Say whatever you want but Mayweather just did not do that.
The other reason I could never be a supporter of the Mayweather Money Machine is because I will never be able to stomach anyone who abuses women. Being accused of that once makes it a maybe, if you say you didn't do it. More than that and you got some problems with being able to control yourself.
Top Boxers should be known for upholding the Honor of The Manly Art of Self Defense. Not for using it upon women. Anyone can get angry. Got knows women can push guys buttons. As a man there are limits you place upon yourself.
Striking a woman is one of those lines you just do not cross if you have any self-respect. Training as a Boxer is supposed to teach you how to keep control of yourself in all situations, how to keep a clear head in the middle of a violent storm. Martial Arts, and Boxing is one, is to protect those physically weaker than you, not to use those skills against them.
Finally, I am glad that the vacuum left by Floyd's vacating the sport will give needed exposure to fighters who are just plain fun to watch.
If you haven't done it yet, go to YouTube and catch some of Roman Gonzalez fights. He's undefeated after 43 fights and has 37 knockouts. He's currently ranked #2 Pound 4 Pound by Ring Magazine. That boy is BIG ARTILLARY in a small package. He deserves the million dollar paydays because he delivers explosive performances.
We all know about Golovkin and Kovalev.
Now we may get the chance to see them in some Mega-Fights because the calendar is open and the need will be there.
Gennedy is going against David Lemieux on October 17th. It's practically guaranteed to be a BLAST!
Sergey needs to somehow get Adonis Stevenson in the ring to have what could approach a Super Fight.
Yes, Happy Days could be here again.
Let's hope the promoters and networks demand the right fights to make Boxing the enormously popular combat sport that it has been in the past and can be once again.
*****
Author's Bio: Mike Keeler is a Mystery Man. You could say Mike Keeler is even a mystery to himself.
Mike Keeler is a Pen Name of an author who has had several novels in several genres published. He has also written for several publications and has over twenty short stories published… all under another name.
Don't search for Mike Keeler.
He does not exist.