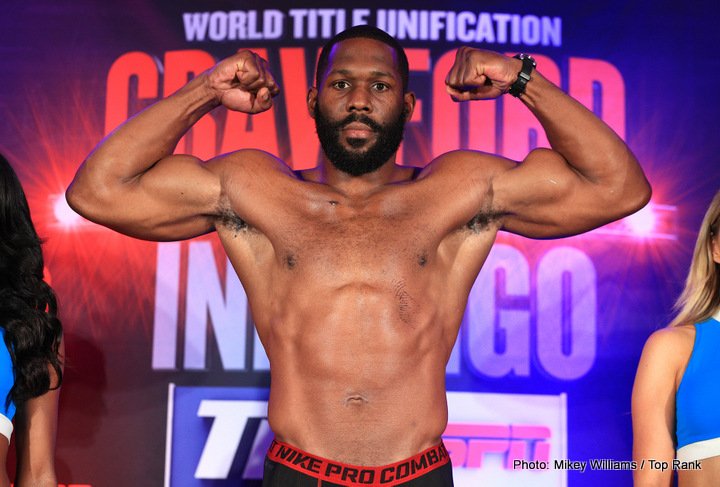 While British heavyweight Dillian Whyte used his under-card appearance and win on the Crawford-Indongo card as a showcase to call out WBC heavyweight ruler Deontay Wilder, Philadelphia's Bryant Jennings used his under-card win, over Daniel Martz, as a way to call out reigning WBO champ Joseph Parker.
Jennings, who returned from a 20-month layoff, crushed Martz inside just two rounds, in so doing scoring his first win since July of 2014 when he won a decision over Mike Perez. After the Perez win, 32 year old Jennings lost back to back fights against Wladimir Klitschko (Pts) and Luis Ortiz (a KO defeat) but he now says he is back and "working towards that fight with Parker."
"This is just the beginning," Jennings, 20-2(11) said after last night's win as quoted by RingTV.com. "I treat everything like it's my first project…..I'll be working towards that fight with Parker but right now I'm taking it one step at a time. I have faith and confidence in my abilities."
John David Jackson, Jennings' trainer, says it is now "my job to get him ready for Parker."
Parker, the unbeaten WBO boss, must first come through okay in his upcoming September 23rd title defence against Britain's Hughie Fury in Manchester – and this fight is by no means a gimme for the New Zealander. But providing he does get the September win, and assuming Jennings both stays active and defeats a top-ten guy in the meantime, then maybe this match-up would prove interesting enough for the fans.
Jennings may have been hammered by Ortiz, but he showed heart in agreeing to fight the avoided Cuban southpaw. While in the Klitschko decision loss, Jennings pushed the then-champ hard, catching Wladimir with a number of shots. If the loss to Ortiz hasn't robbed him of too much – self confidence and punch resistance – maybe Jennings can see his dream of becoming a world champion come true.
One fight that really would make sense, perhaps as a final eliminator – for Parker or for either Anthony Joshua or Deontay Wilder – would be Jennings Vs. Whyte. These two have had words in the past and the fight seems a natural.