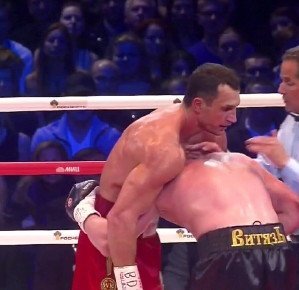 Russia's Alexander Povetkin had a lot to deal with when he was in the ring challenging for Wladimir Klitschko's collection of heavyweight titles. The Olympic gold medallist had to cope with Wladimir's significant advantages in height, reach, weight and physical strength, and Povetkin also had to do his best to come to terms with "Dr. Steel Hammer's" punching power. To add to these problems, Povetkin had to deal with the champ's excessive holding, grappling and pushing – these three elements of Klitschko's game prompting some people to feel the king should have been removed from his throne via disqualification.
But despite all this, Povetkin has called for a rematch with Klitschko. Speaking to The Moscow News today, Povetkin, 26-1(18) said he feels he can improve on last Saturday's ultimately bruising and frustrating performance.

"I'm not frightened and I'm going to set my sights on meeting him again," Povetkin said of Wladimir. "Tactically, Wladimir beat me, but I definitely never gave up mentally or physically. At that moment, he was stronger. I'll take the correct conclusions from it, especially in terms of tactics."
Klitschko, according to The Moscow News piece, has refused to rule out a rematch but has said that it would likely take time due to his other alphabelt mandatory obligations. This actually comes as good news to all fight fans who remember the great heavyweight title bouts of yesteryear. For surely even the most ardent Klitschko supporter is very hard-pressed to be able to come up with a defence for Wladimir's latest performance. Yes, the 37-year-old long reigning champ got the job done, once again, by using his physical advantages and yes, he'd be a fool not to use his strength to close down a dangerous, game challenger like Povetkin. But in no way was Saturday's fight exciting, memorable (except for all the wrong reasons – and let's face it, Saturday's fight was almost as bad as Wlad's God-awful "fight" with Sultan Ibragimov all those years ago!) or a display of greatness from Wladimir.
The holding was simply terrible and stern warnings should definitely have been issued by the referee long before a point was taken away from Klitschko late in the fight. Povetkin, as "small" as he is in comparison to the towering champion, had no chance against Wladimir's octopus impression. And what makes anyone, Povetkin included, think a rematch would be any different? Past fighters, all talented in different areas, have tried in vane to prevent Klitschko from grabbing, holding and leaning on and they have all been unsuccessful. Since learning painful lessons in his losing fights with Corrie Sanders and Lamon Brewster, Klitschko the cautious has proved darn near invincible.
Povetkin and his team can put their heads together and try and think of all the game-plans they can, but the fact is simple: the sheer physical strength of the taller, bigger champion will make it impossible for Povetkin to keep himself from being tied up each and every time Klitschko wants to put his weight on him, bend him over and manhandle him. A different, stricter referee might give Klitschko a few problems, but would any official go as far as to DQ the champ? No way. Therefore, if a Klitschko-Povetkin II does materialise, we can pretty much expect the exact same thing we witnessed four days ago. And that would in no way be a good thing for the one-time glamour division of our sport.
The question is worth asking though, who is there out there who CAN do something about Klitschko's tediously effective way of fighting? Would the raw power of Deontay Wilder manage to break through the champ's monotonous jab, right hand, clinch, lean, hold routine? How about the sheer self belief and physical roughness of Tyson Fury?
Aside from these two, who else is there that can shake things up and return the thrill to world heavyweight title fights!?