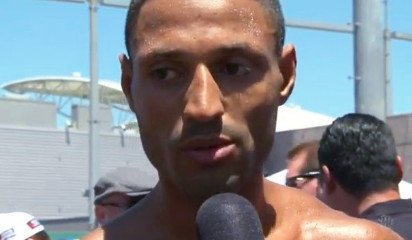 British challenger Kell Brook (32-0, 22 KOs) is promising a knockout for Saturday night against IBF welterweight champion Shawn Porter (24-0-1, 15 KOs) when they battle it out in an important fight at the StubHub Center in Carson, California. Brook weighed in 146.5 pounds at today's weigh-in.
Brook towered over Porter during the face-off with him and seemed to have lost the nervousness that he initially had during their final press conference on Thursday. Porter weighed in at 146.75.
The fight is important because the winner of the Brook-Porter fight can move forward to potential bigger fights in the future against the likes of Amir Khan and Floyd Mayweather Jr. The loser will need to start over and try and rebuild their career.
A knockout loss for either of these guys would be a major setback for their careers, especially Brook because he's 28-years-old now and he's spent 10 years getting to this point. If he's moved slowly after a loss to Porter, it could take Brook ages to get back into another title fight.
"I'm coming here to win. This is my time. He's getting took out," Brook said to Showtime after the weigh-in. "He's walking into a chocolate brownie from my right hand."
The co-feature weigh-in between Anthony Dirrell (26-0-1, 22 KOs) and WBC super middleweight champion Sakio Bika (32-5-3, 21 KOs) was a little more interesting because of the back and forth jawing between the two. They both kept telling each other to shut up. Bika weighed in at 167.75 pounds. Dirrell weighed in at 168.
Both fighters were talking nonstop during the stare down and you could tell that they've got some serious animosity towards each other due to their first fight last December, which was ruled a draw. Bika thinks he was robbed in the fight, as does Dirrell. It was a very close fight and an exciting one from start to finish.
The Bika-Dirrell 2 fight has the potential to be the best fight on the card if both guys bring it like they did last December.
WBC lightweight champion Omar Figueroa (23-0-1, 17 KOs) will be defending his title on Saturday night against #1 WBC Daniel Estrada (32-2-1, 24 KOs) in one of toughest tests of Figueroa's career. He'll be fortunate if he still has his title after this fight. Figueroa weighed in at 135 pounds. Estrada weighed 134.5.
Shawn Porter 146.75 vs. Kell Brook 146.5
IBF welterweight title
Sakio Bika 167.75 vs. Anthony Dirrell 168
WBC super middleweight title
Omar Figueroa 135 vs. Daniel Estrada 134.5
WBC lightweight title