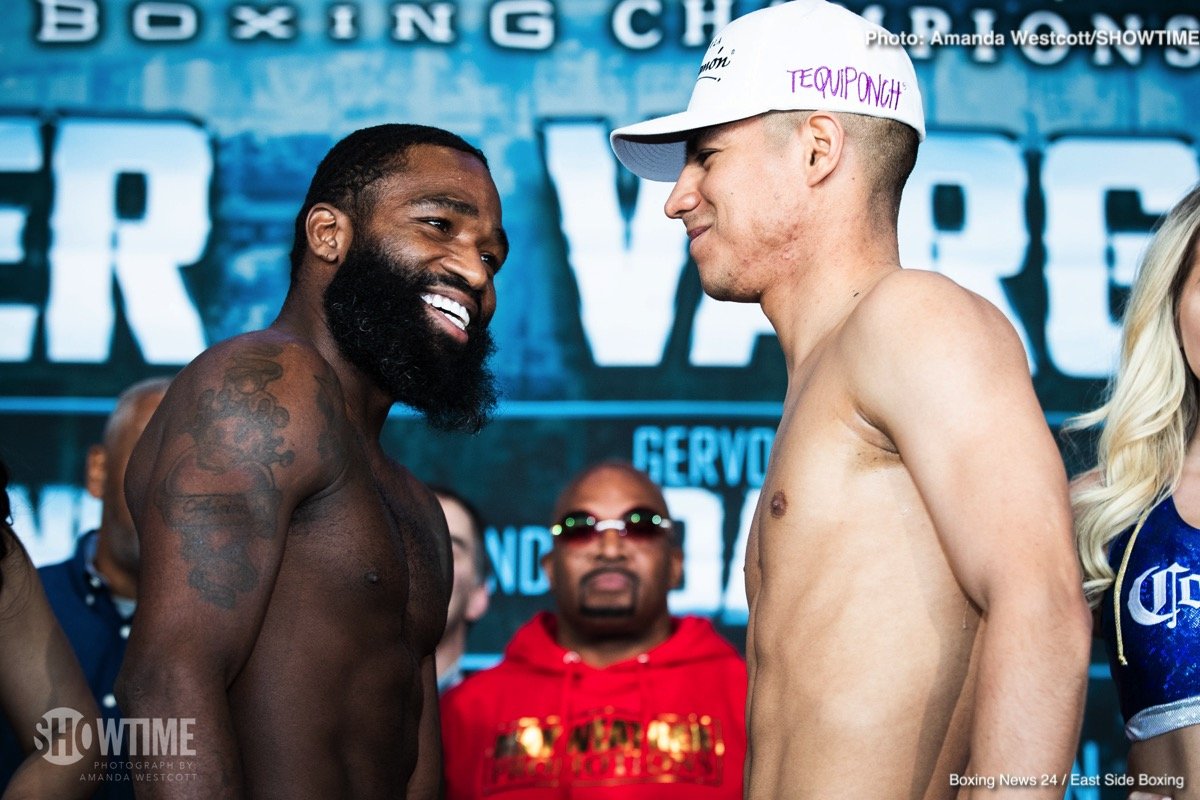 Welterweight Main Event – 12 Rounds
Adrien Broner: 144
Jessie Vargas: 143 ¾.
Referee: Charlie Fitch; Judges: Julie Lederman (N.Y.), Eric Marlinski (N.Y.), Kevin Morgan (N.Y.)
Interim WBC Middleweight World Title – 12 Rounds
Jermall Charlo: 160
Hugo Centeno, Jr.: 158 ½
Referee: Steve Willis; Judges: Don Ackerman (N.Y.), Carlos Ortiz, Jr. (N.Y.), Steve Weisfeld (N.J.)
WBA Super Featherweight World Championship
Gervonta Davis: 129
Jesus Cuellar: 129 ¼
Referee: Benjy Esteves; Judges: Glenn Feldman (Conn.), Waleska Roldan (N.Y.), Don Trella (Conn.)
FLASH QUOTES:
ADRIEN BRONER: "We had a helluva camp. It was the first time doing a full camp with Uncle Kev, which is what I call him. You know him as Coach Kevin Cunningham. It was very militant, but we got through it. It's something that was always there [urgency]. You know, something had to be brought out of Adrien Broner and tomorrow night I will be victorious and I will put on a good show."
JESSIE VARGAS: "All of the hard work is done. Now all I have to do is go out there and entertain my fans. I have a great team behind me that keeps me focused and helps me avoid any distractions or negativity."
JERMALL CHARLO: "I was just frustrated at the moment [when the fight was postponed in March]. This time I'm having fun. Turn up Brooklyn!"
HUGO CENTENO JR.: "My last fight against Aleem gave me confidence and catapulted me back into the conversation of the best fighters in the division. My confidence is through the roof right now and I'm focused on the task at hand. I know the Charlo brothers like to play mind games but at the end of the day it's me against Jermall.
GERVONTA DAVIS: "I had a great camp and I'm focused. I'm a dangerous Tank. I'm ready. Moving my camp from Baltimore to Florida, there were no distractions. Just waking up boxing, and going to sleep boxing. I knew what I was going to do when I woke up in the morning. I'm ready."
JESUS CUELLAR: "I feel very good. I had a great camp and I feel very sure of myself that I will become a world champion. We've done everything necessary in training camp to face Gervonta's speed and power and I will show that on Saturday night."