WBC light welterweight champion Regis Prograis (29-1, 24 KOs) defeated unheralded challenger Danielito  Zorrilla (17-2, 13 KOs) by a closer-than-expected 12-round split decision on Saturday night in the headliner at the Smoothie King Center in New Orleans, Louisiana.
The southpaw Prograis knocked Zorrilla down with a looping left hand in round three. However, the constant movement, along with the speed, power, and length of Zorrilla, frustrated Prograis, making him hesitant to get close to land his shots.
The judges' scores were as follows: 118-109, 117-110 for Prograis, and 114-113 for Zorrilla.
Undercard results from tonight's Prograis vs. Zorrilla card:
2016 Olympic silver medalist Shakhram Giyasov (14-0, 9 KOs) defeated Harold Calderon (27-1, 18 KOs) by a dominant twelve round unanimous decision in welterweight action in the chief support bout
The scores:
Giyasov pressured Calderon all night, hitting him with single shots and daring him to try and fire back at him.
Calderon's corner pleaded with him in between rounds, trying to get him to go on the attack, and he failed to follow their instructions. The shots that Giyasov was catching Calderon with made him hesitant to let his hands go.
The crowd booed the lack of action starting in the eighth, as they wanted to see Calderon and Giyasov exchange more, but it wasn't happening.
Giyasov was throwing single shots and not interested in throwing combinations, which is understandable because he was getting caught when he'd thrown more than one shot at a time.
In a brutal finish, knockout artist Julissa Alejandra Guzman (13-2-2, 7 KOs) stopped IBF Inter-continental female super bantamweight champion Ramla Ali (8-1, 2 KOs) in the eighth round. Guzman caught Ramla with a huge left hook to the head that knocked her flat on the canvas.
You could tell from that shot that Ramla wasn't going to beat the count, but she tried but was counted out before she should make it to her feet. The time of the stoppage was at 0:42 of the eighth.
Ramla had started off well,  outboxing Guzman through the first five rounds. But from the sixth round, Guzman continually caught Ramla with hard left hooks.
Super featherweight prospect Jeremy Hill (19-3, 12 KOs) scored a beautiful highlight reel knockout of 36-year-old Mark Davis (19-2, 14 KOs), dropping him with a huge right hand to the head to get a stoppage in the fourth.
Hill hurt Davis with a right hand to the side of the head and then nailed him with a follow-up right hand that sent him through the ropes.
When Davis untangled himself from the ropes, the referee stopped the contest, choosing not to take any chances with the hurt fighter. The official time of the stoppage was at 1:29 of round four.
Female flyweight Ginny Fuchs (3-0, 1 KO) beat Indeya Smith (6-7-2, 1 KOs), by an eight round unanimous decision. The judges' scores were 79-73, 80-72, and 80-72.
Light welterweight Xavier Madrid (6-2, 2 KOs) brawled his way to an eight round split decision over Aaron Aponte (7-1-1, 2 KOs). Aponte was penalized a point in the fifth due to low blows. The score was 76-75, 76-75 for Madrid, and 78-73 for Aponte.
Lightweight Criztec Bazaldua (2-0) outworked Elroy Fruto (1-2), winning an easy four round unanimous decision. The score was 40-36.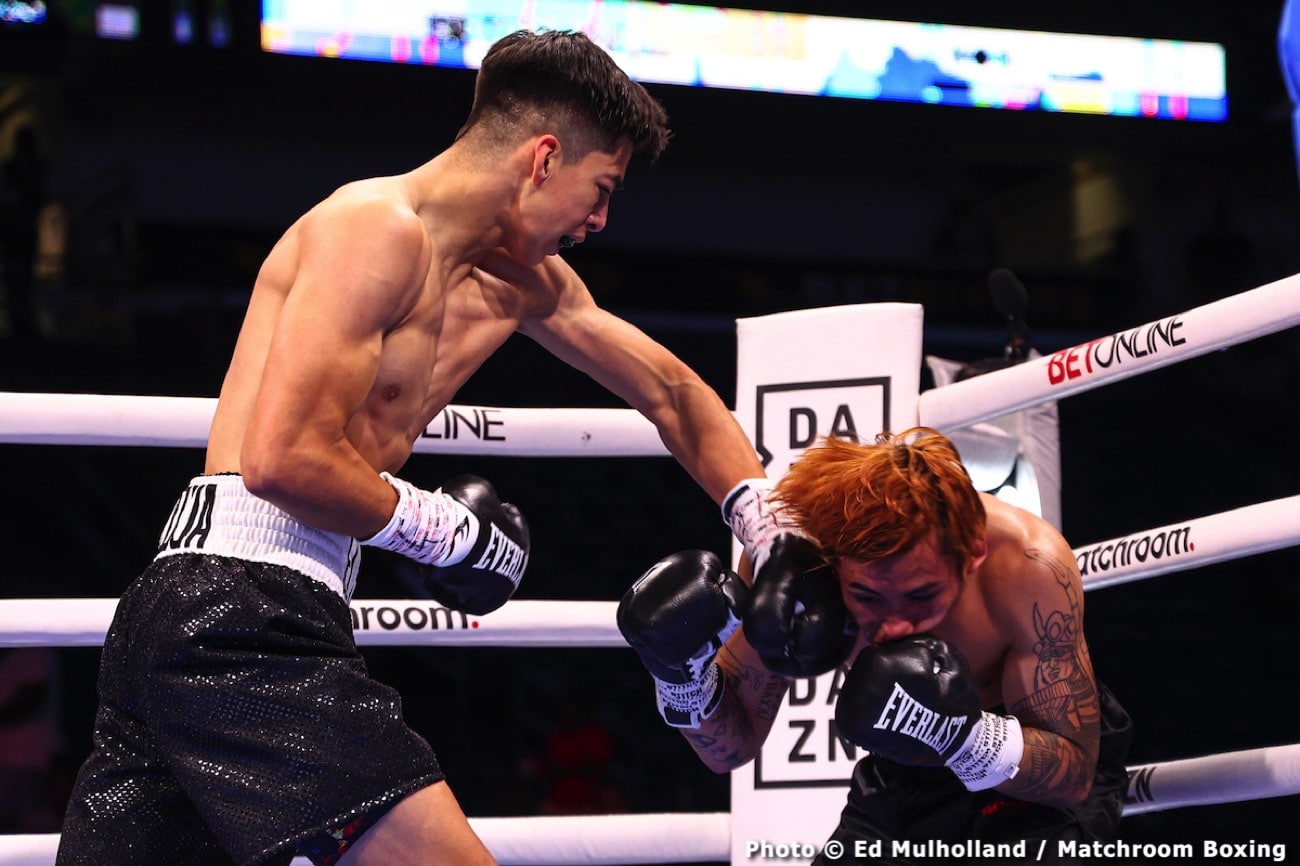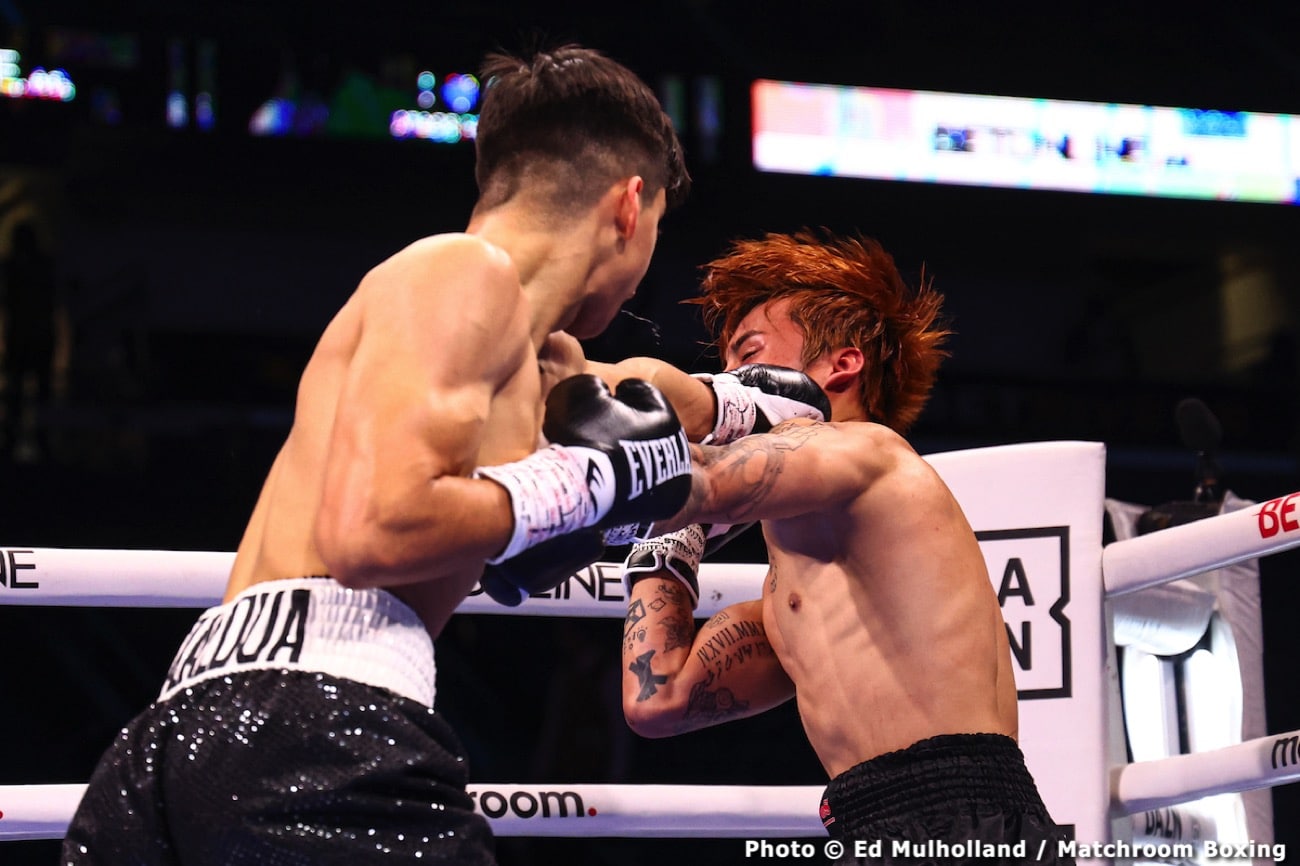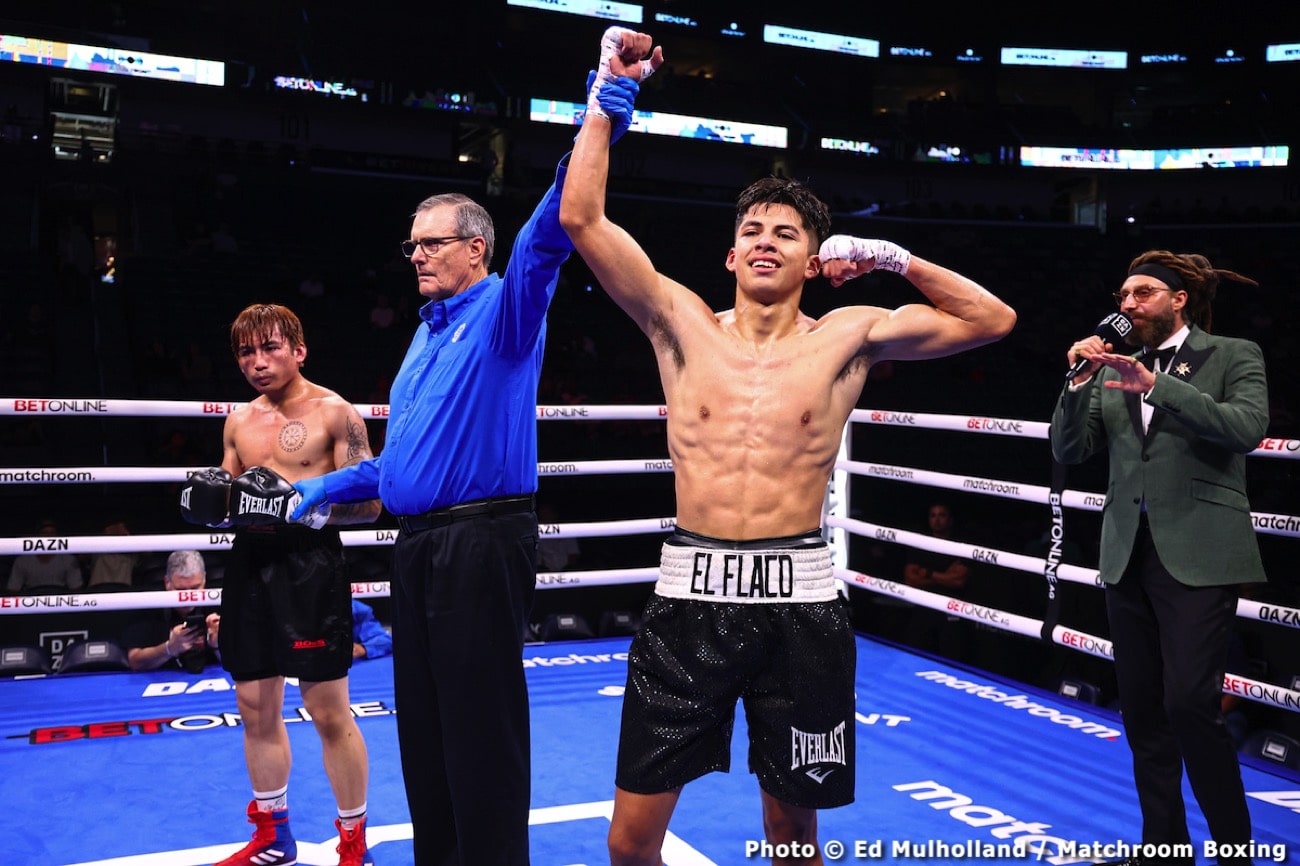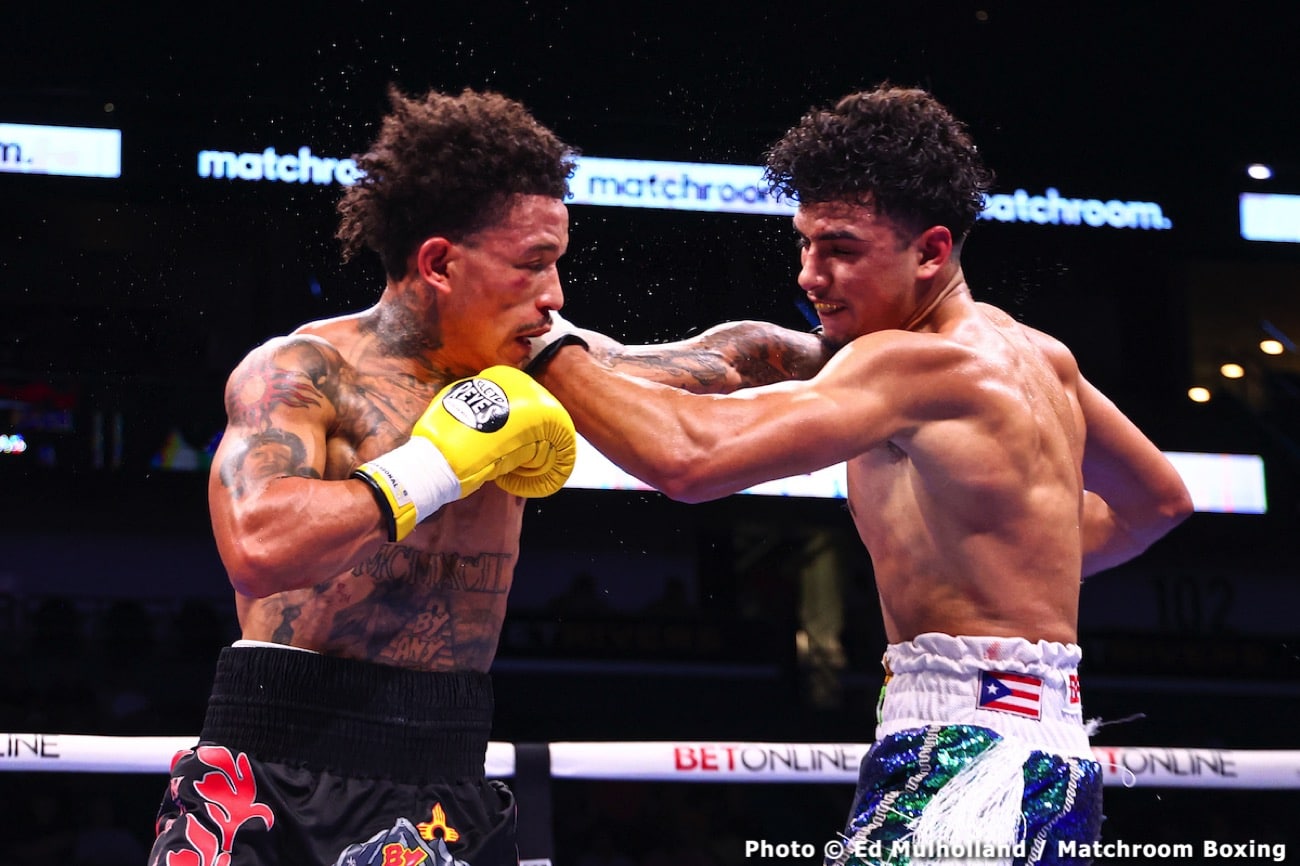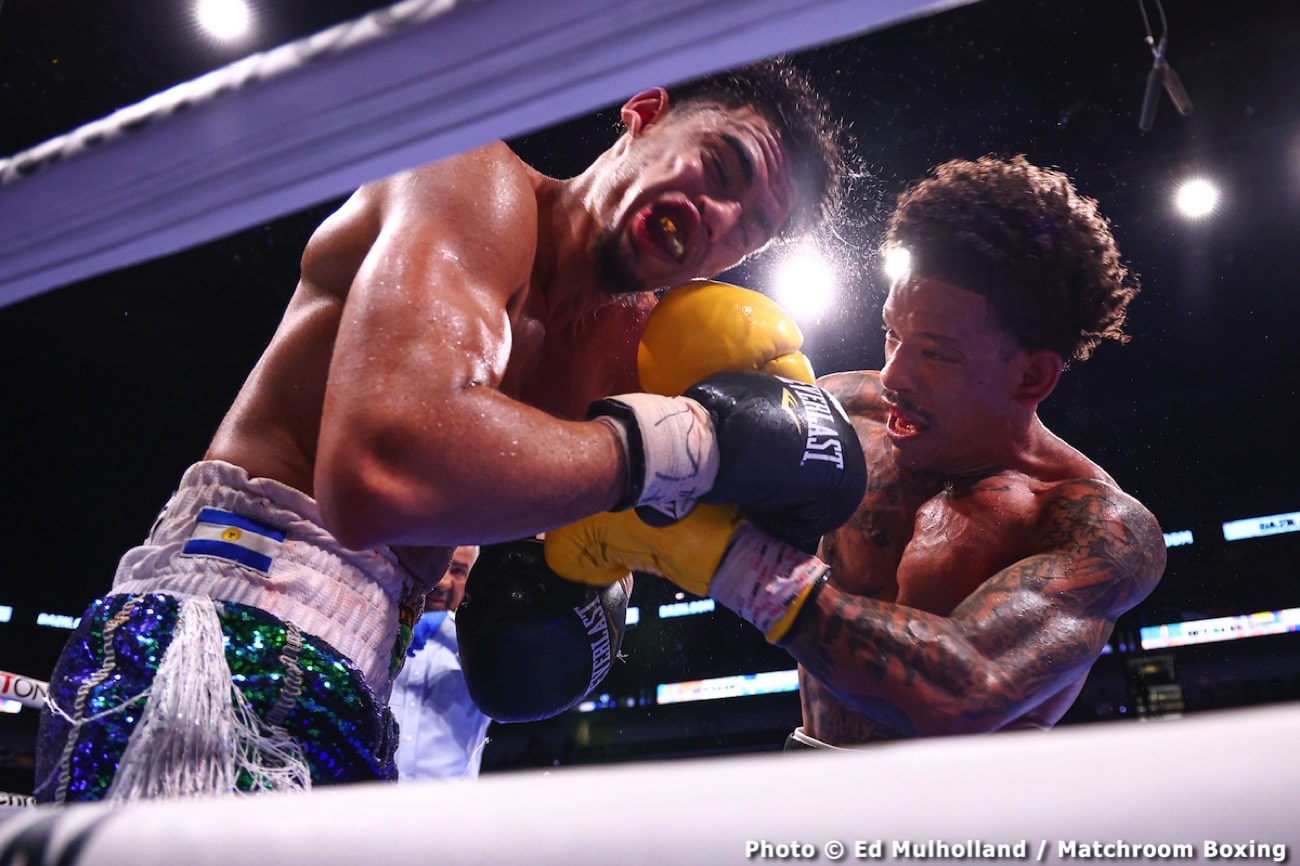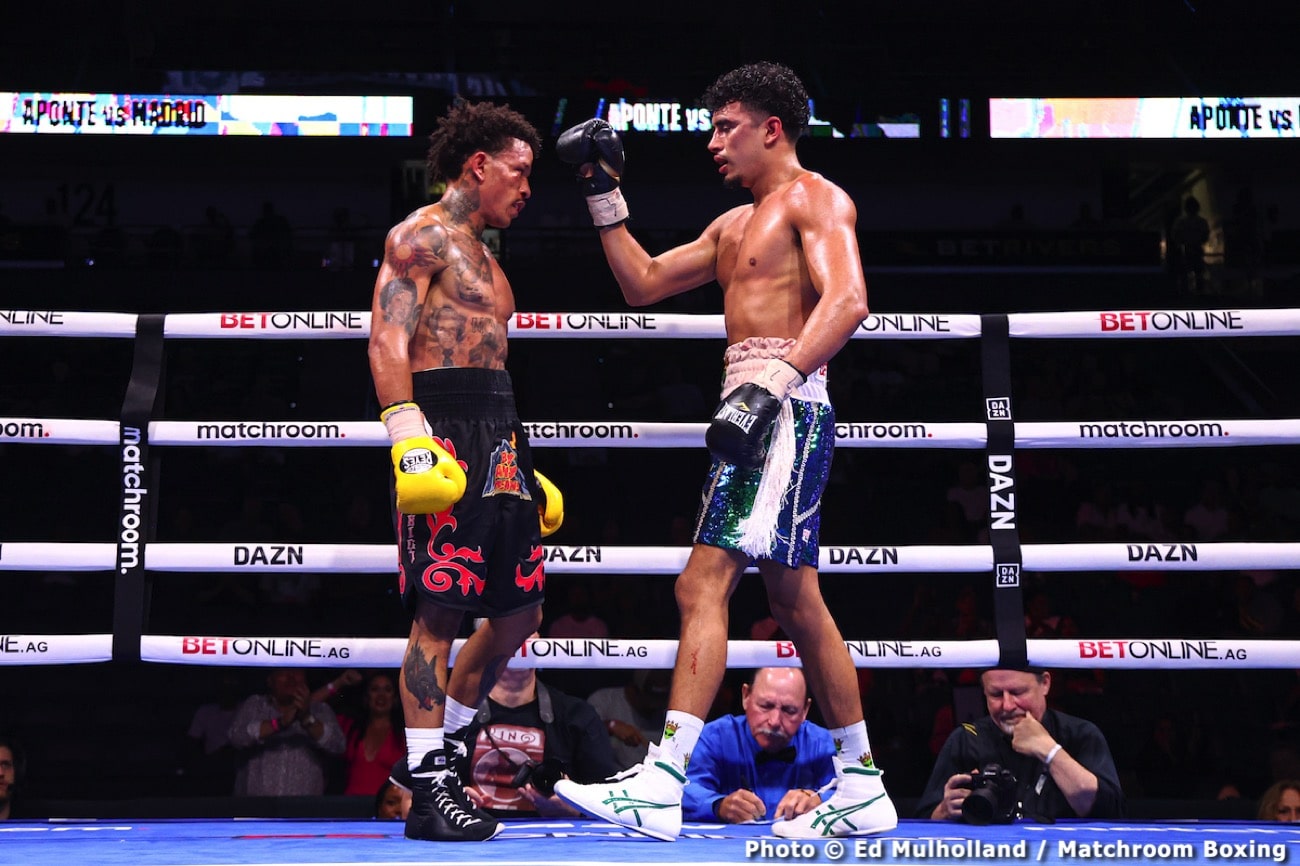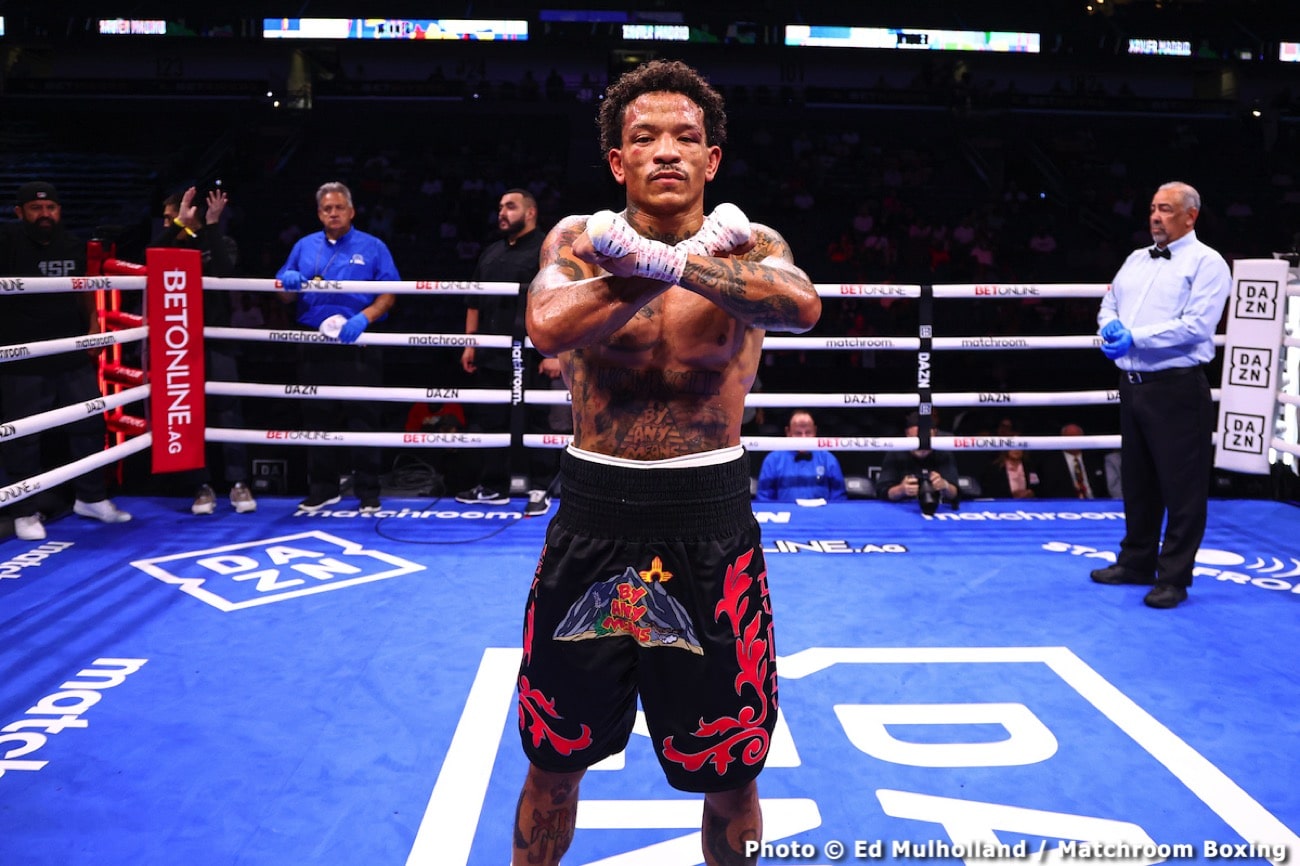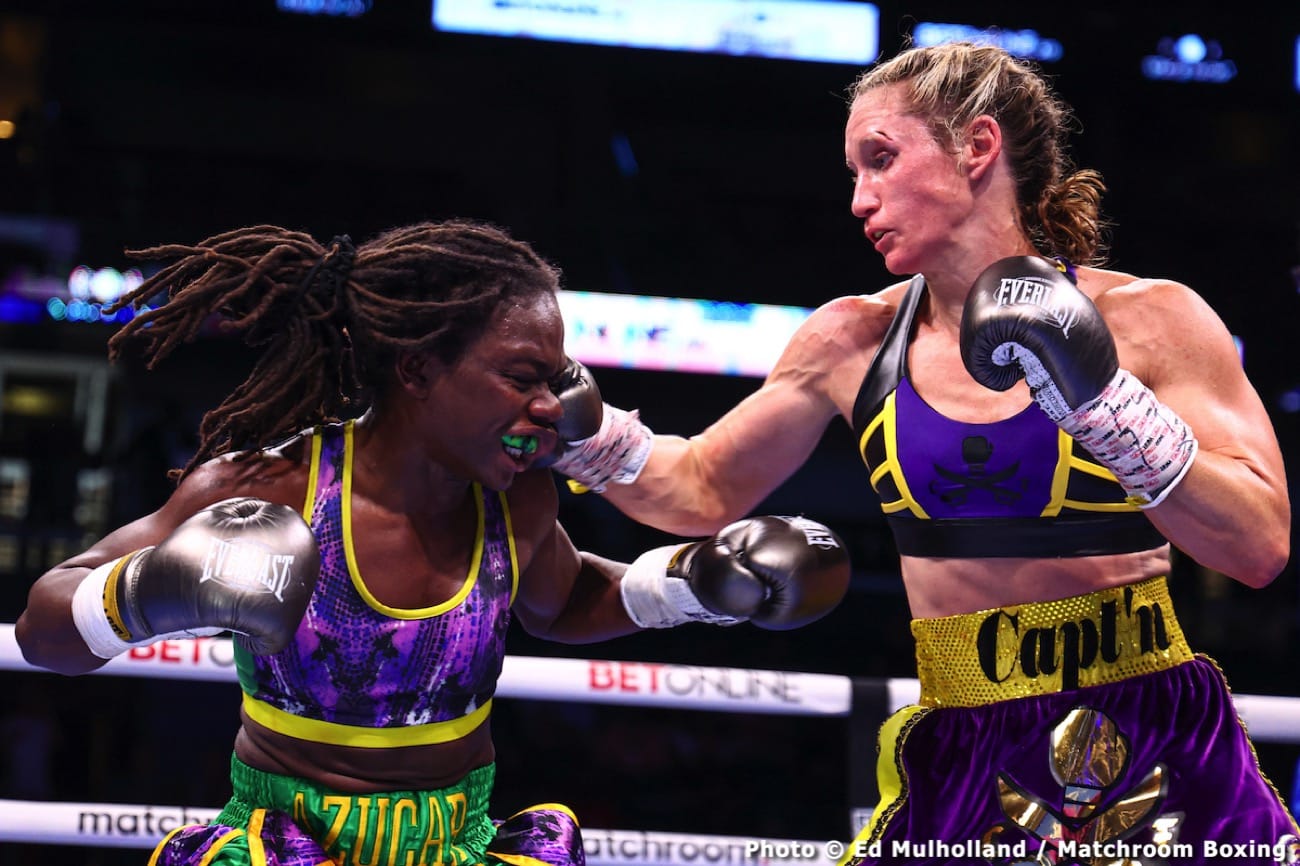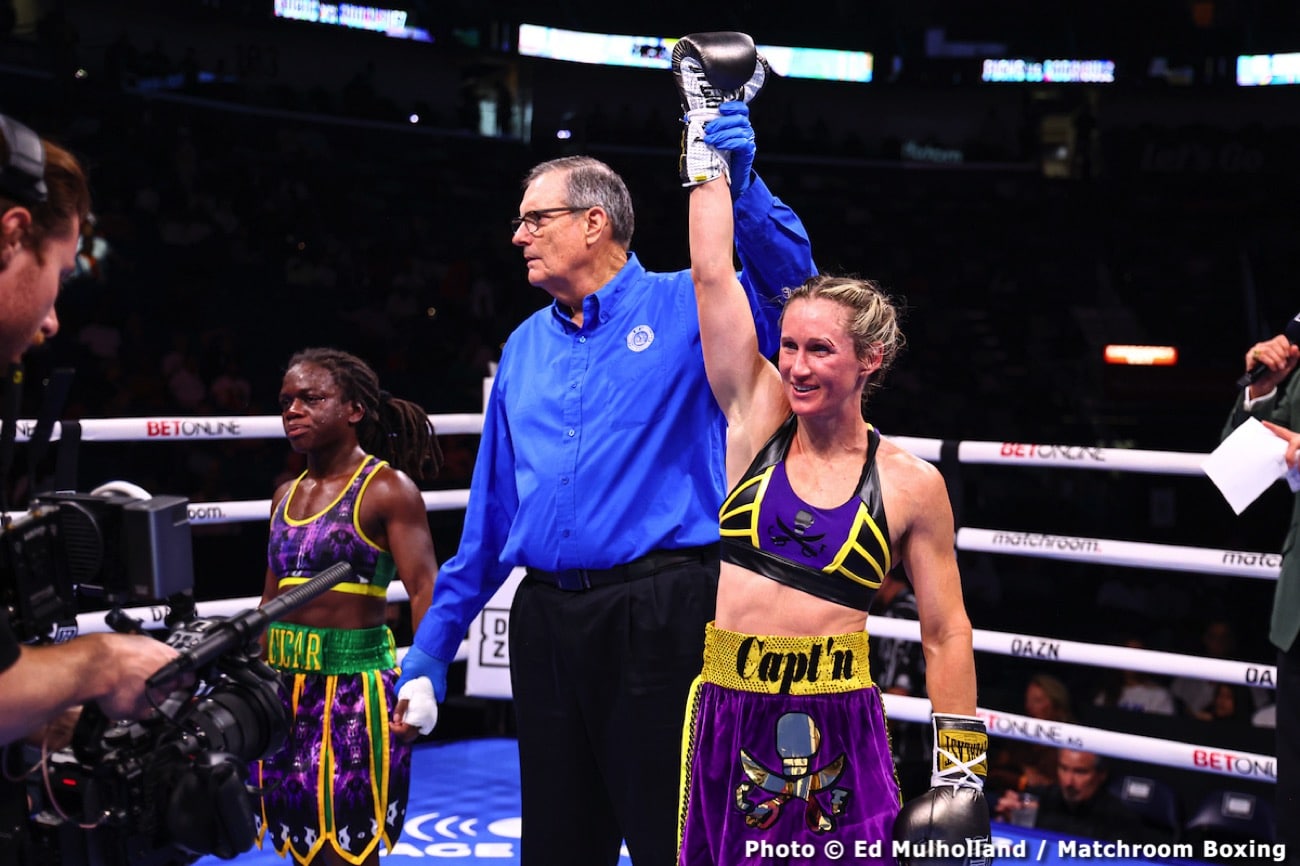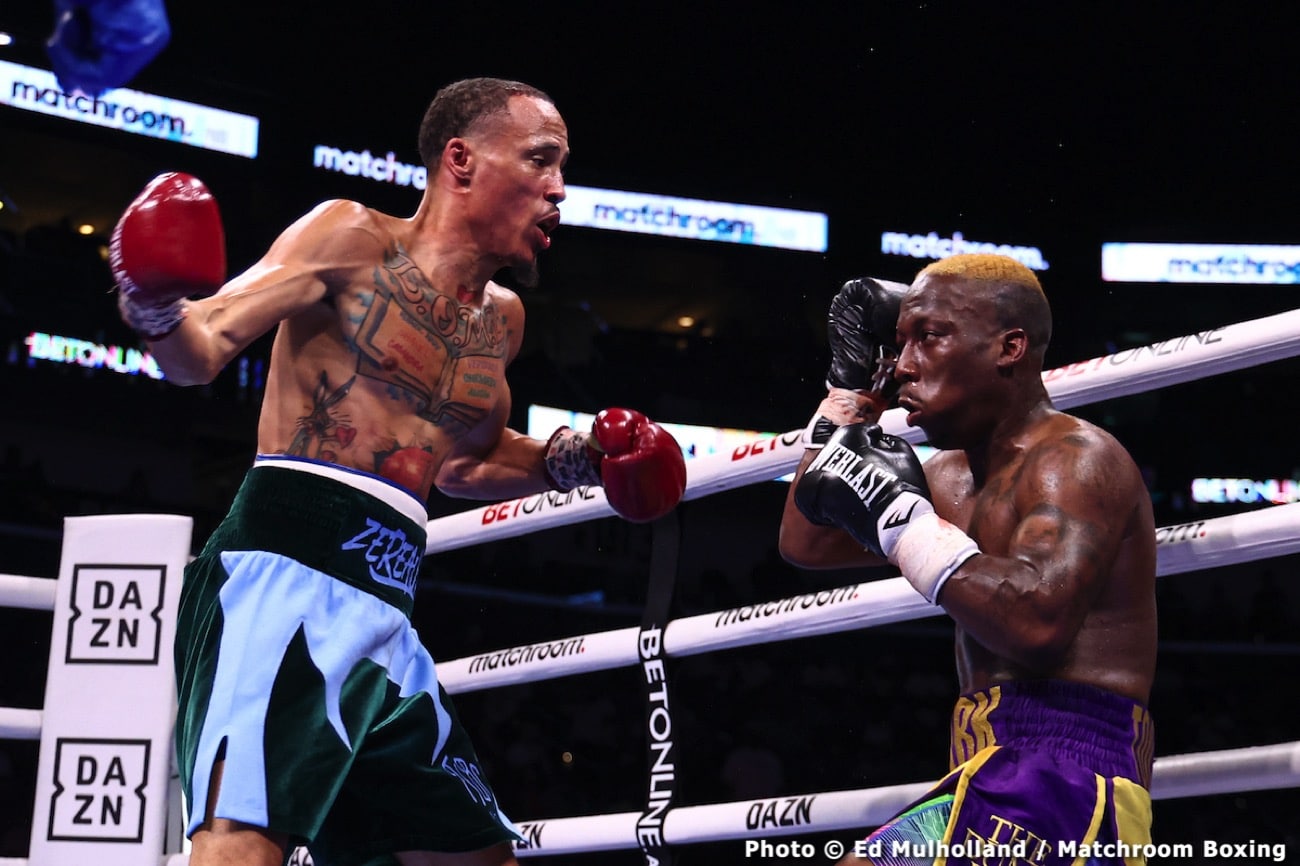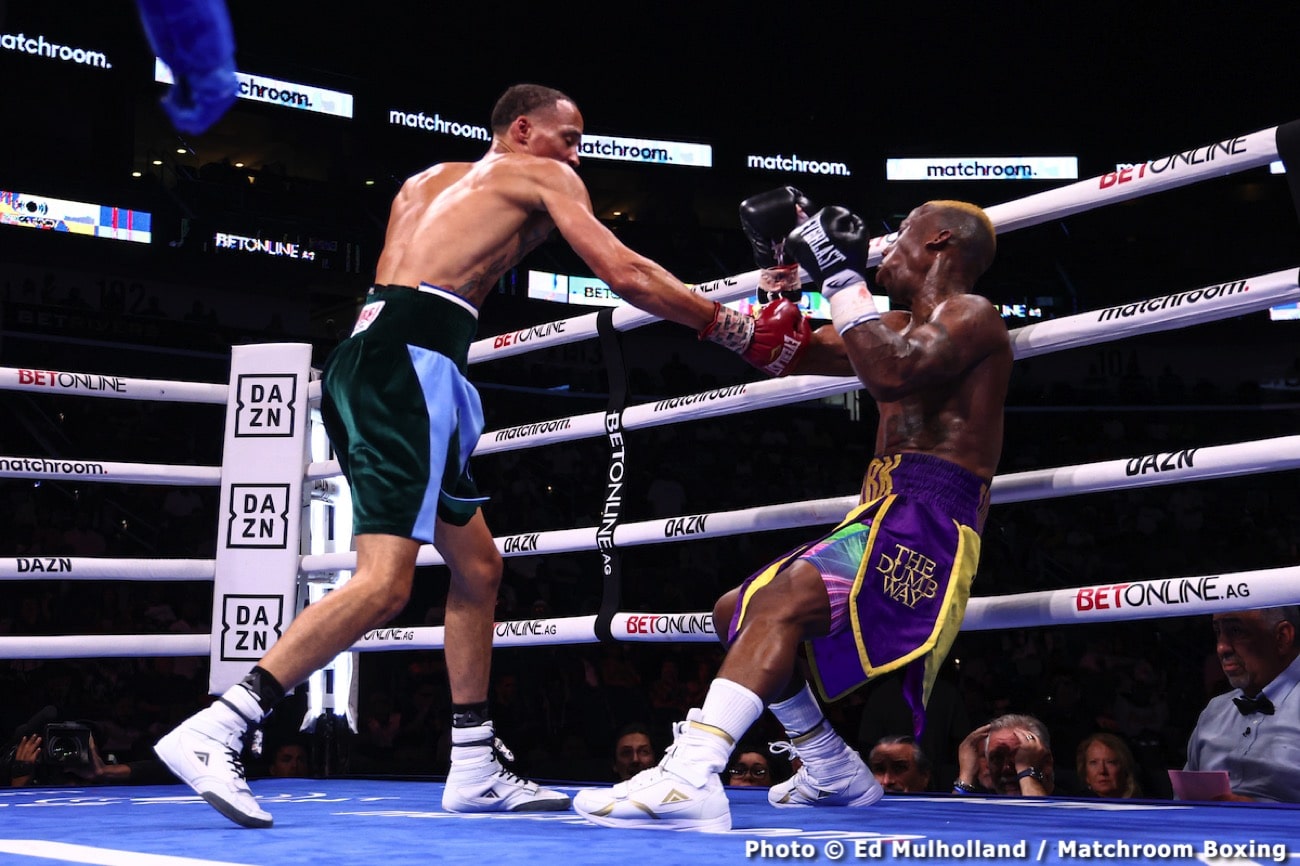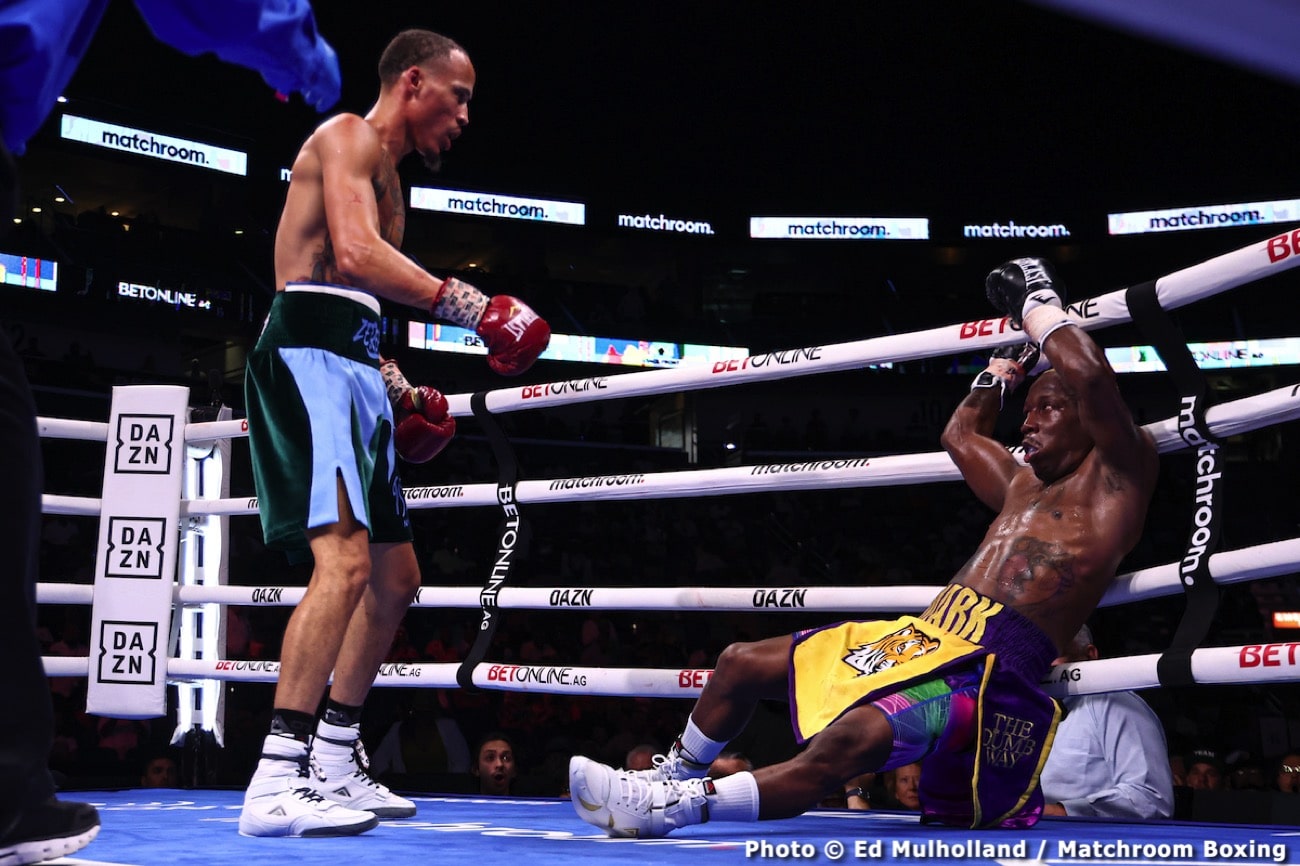 WBC light welterweight champion Regis Prograis will look to make a statement in his showcase fight tonight in his debut for Matchroom against the capable Danielito Zorrilla live on DAZN.
Although Prograis denies there being any pressure on him, the reality is that he's likely feeling the weight of the world on his shoulders. He recently signed with Eddie Hearn's company Matchroom, and they have massive expectations from him.
As such, Prograis must not only win, but do it in a fashion that impresses the boxing world to show that Hearn made the right decision to sign him.
Further, Prograis isn't young at 34, so he must shine tonight and in every fight with Matchroom so they can turn him into a star as quickly as possible before he begins to show signs of age.
In Prograis' last fight, he looked outstanding, stopping Jose Zepeda in the eleventh round last November in a performance that showed that he's the #1 fighter in the 140-lb division.
No one could do what Prograis did to Zepeda. Certainly not the now-retired pot-shot fighter Teofimo Lopez or the easy-to-hit IBF champion Subriel Matias.
Prograis (28-1, 24 KOs) will return to defend his newly won WBC 140-lb title against Zorrilla (17-1, 13 KOs) at the Smoothie King Center in New Orleans, Louisiana.
The time of the fight tonight will be around 10:21 p.m. ET on DAZN. The Prograis vs. Zorrilla event begins at 8:00 pm. ET.
Prediction for Prograis vs. Zorrila: Regis by sixth round knockout.
"I think we're going to get a scintillating performance, a special
performance from a special fighter," said Eddie Hearn to iFL TV on what boxing fans can expect to see from tonight's fight between WBC light welterweight champion Regis Prograis and Danielito Zorrilla in New Orleans.
"Yeah, you'll see the atmosphere in there tonight. We've had five weeks of promotion. You'll see the crowd, you'll see the atmosphere, and this is going to be to start something very big for Regis Prograis.
"Jack Catterall, Devin Haney, I think they're the two likely fights next if he comes through tonight, but he should come
through with a statement. You don't want to come through with a lackluster performance.
"You want to come through with a statement that's going to get
everyone's attention.
"Not necessarily a stoppage, but there is pressure to look good and to light up the arena," said Hearn when asked if Prograis needs a knockout of Zorrilla to impress.
"No pressure, bro. I fight this. This is what I enjoy. I'm going to just go out there and do my thing, you know?" said Prograis to Fight Hub TV about his fight tonight against Zorrilla.
"If a knockout comes, then a knockout comes. I'm not going to be over-anxious or anything like that. If I get them hurt, then I'll get them out of there, but if not, then I can box. I can do my thing. So I'm not. No, it's no pressure, bro.
"I thought that I was supposed to feel more pressure, but I just don't know. I came here for camp a few weeks ago, and when I was in camp, it was all good.
"Eddie just naturally got that European English charm," said Prograis about Eddie Hearn. "I tell people all the time. It just
felt like I'm more of a priority over here with Matchroom," said Prograis.