Undefeated, highly hyped heavyweight contender Jared Anderson (15-0, 14 KOs) saw his knockout streak end in being taken the distance by former IBF heavyweight champion Charles Martin (28-4-1, 26 KO), winning a 10 round unanimous decision, but he did not look great at the Huntington Center in Toledo, Ohio.
The scores were 98-91, 99-90 and 99-90.
Anderson was caught by left hands from Martin while pulling back all night long and was wobbled in rounds five, eight, and ten.
In the final seconds of the fight, Martin caught Anderson with a left hand that turned his legs to jelly, and he was forced to grab & hold to make it out of the round.
It was shocking to watch, but Anderson had it coming to him because he had already started celebrating in the last 30 seconds as if the win was in the bag.
In another blowout on tonight's undercard, lightweight Abdullah Mason (9-0, 8 KOs) defeated Alex de Oliveira (20-5, 14 KOs) by a second round knockout in the chief support bout.
Mason knocked de Oliveira down with a right to the head. The fight was stopped by the referee. The time of the stoppage was at 2:18 of round two.
Heavyweight artist Arslanbek Makhmudov (17-0, 16 KOs) dropped Raphael Akpejiori (15-1, 14 KOs) twice en route to a second round knockout.
The fight was waived off by the referee after Makhmudov knocked Akpejiori down in round two with a left hook to the head. Akpejiori looked out on his feet when he got up, so the referee did the right thing, halting it.
In the first round, Makhmudov hurt Akpejiori with huge uppercuts to the head, dropping him hard at the end of the round.
The inexperienced 32-year-old Akpejiori was mostly clinching & wrestling Makhmudov to keep him from getting hit shots off. Numerous times the referee had to separate the two fighters.
Top Rank will need to keep Makhmudov away from Jared Anderson because the way the Russian looked tonight, he would spoil their plans on trying to turn him into a star.
Tiger Johnson (9-0, 5 KOs) looked sensational, beating Jonathan Montrel (15-2, 10 KOs) by a lopsided eight round unanimous decision in super featherweight action. The score was 80-72, 80-72, and 80-72.
Unbeaten light heavyweight Dante Benjamin Jr. (7-0, 5 KOs) made short work of Mirady Zola (4-3, 1 KOs), stopping him in round one. Zola was down once and came close to being dropped second time. The referee stepped in and halted the fight at 1:56 of the first.
DeAndre Ware (16-4-2, 9 KOs) beat an overmatched Decarlo Perez (19-9-1, 6 KOs) by a six round unanimous decision in super middleweight action. The judges had it 58-56, 59-55, and 59-55.
Middleweight Rance Ward (8-5-1, 2 KOs) beat Husam Al Mashadi (6-1, 5 KOs) by a surprisingly one-sided six round majority decision in a fight that was supposed to be competitive going in.
Ward had the better engine and spent most of the second half of the contest nailing Mashadi with big shots to the head and body. The judges scored it 58-57, 59-55, and 57-57.
Super featherweight Tyler McCreary (18-2-1, 8 KOs) beat Deivi Julio (26-14, 16 KOs) by a narrow six round unanimous decision in a back &forth contest from start to finish. The judges had it 59-54, 57-56, and 57-56).
In an action-packed bout, junior Middleweight Nicklaus Flaz (11-2, 7 KOs) pounded his way to an eight round majority decision over Jahi Tucker (10-1, 5 KOs). The scores were 76-76, 78-74, and 77-75.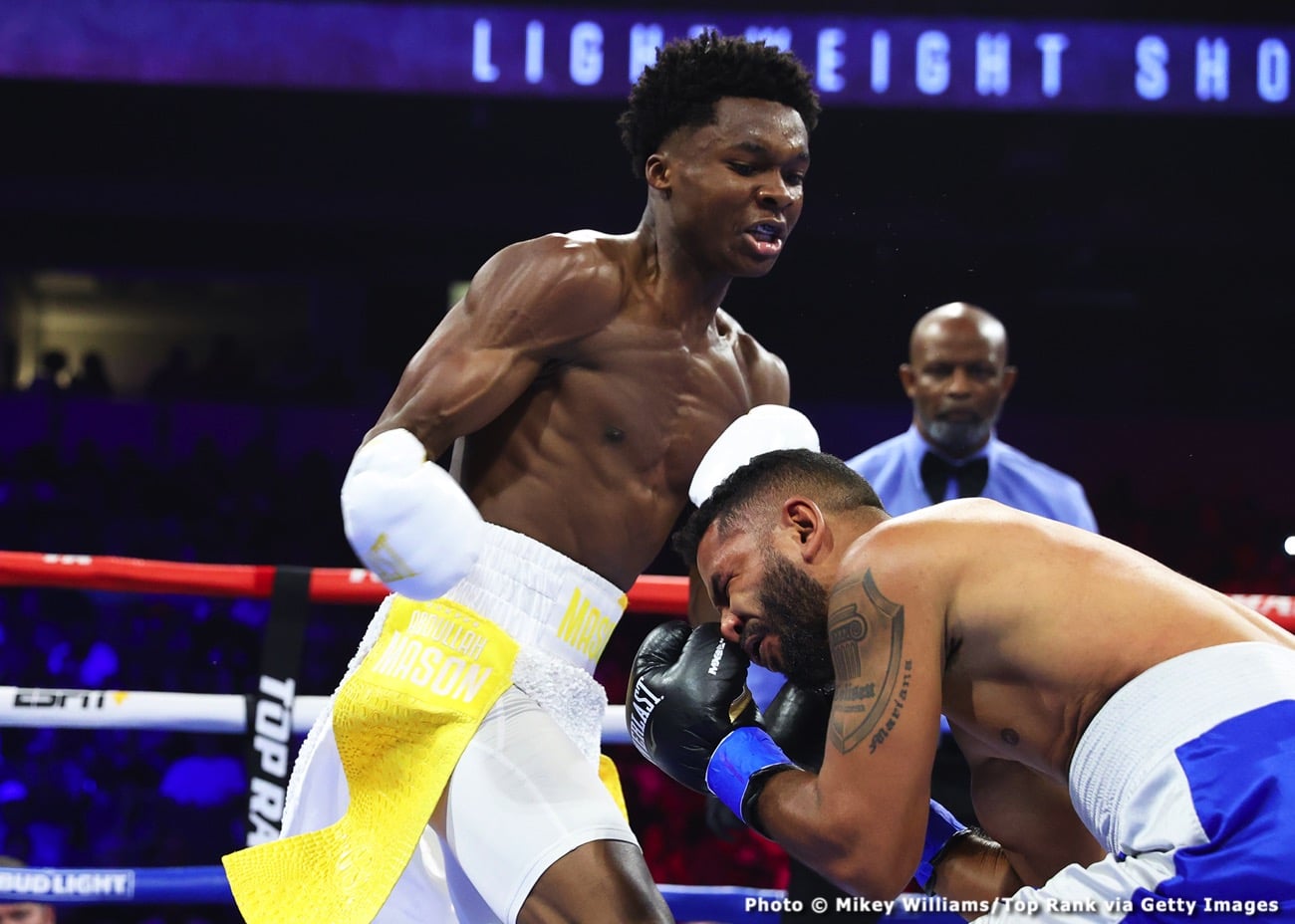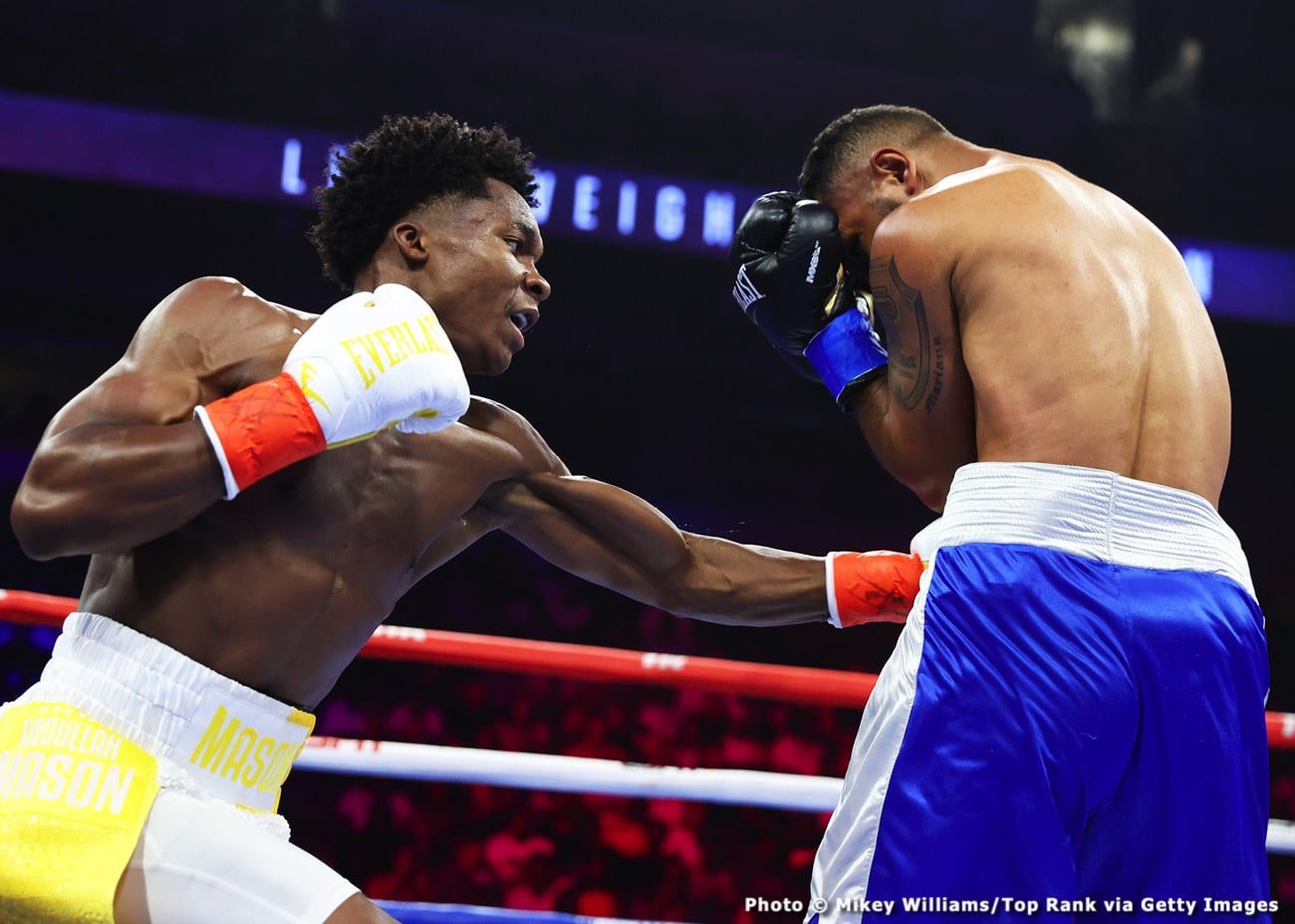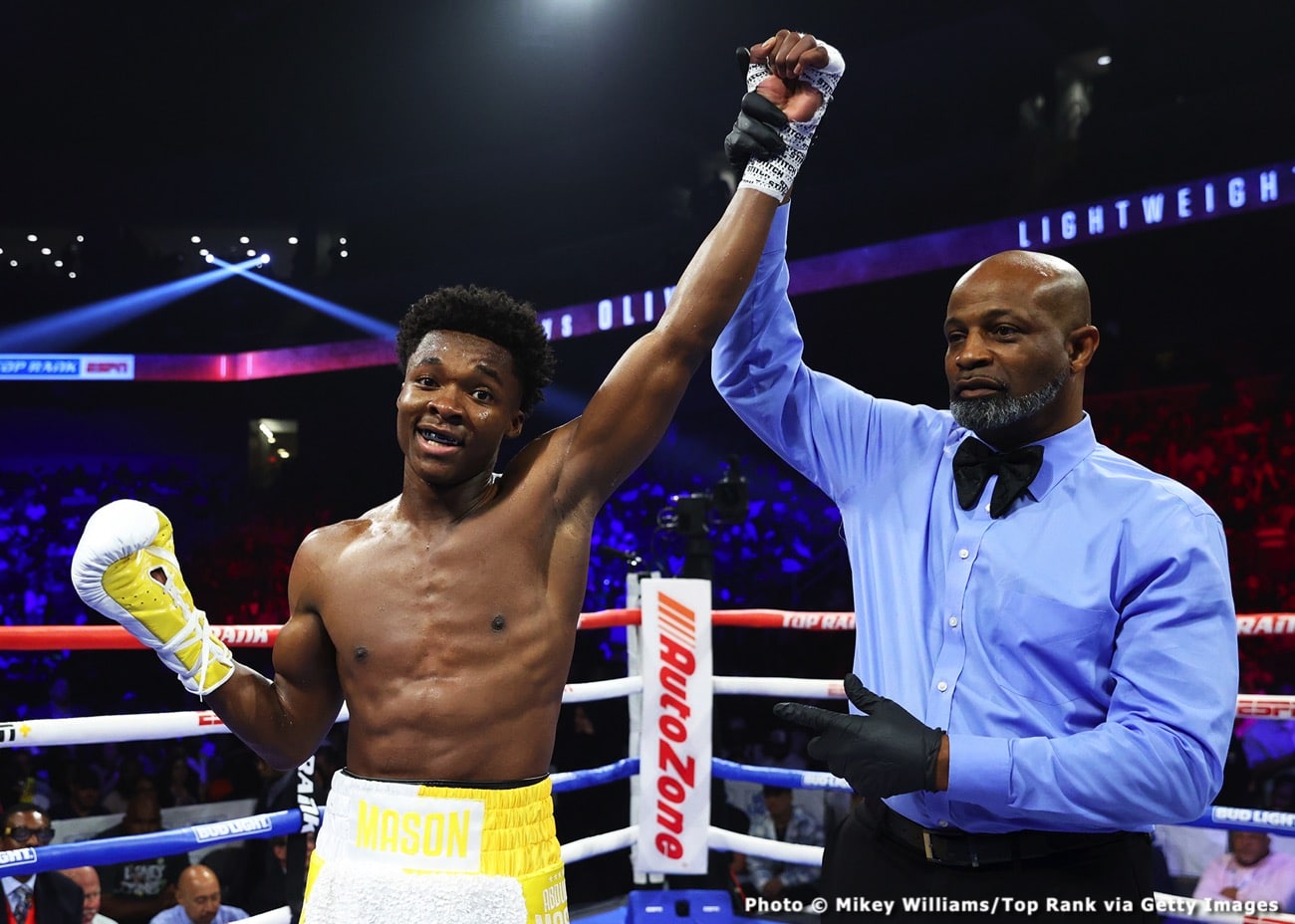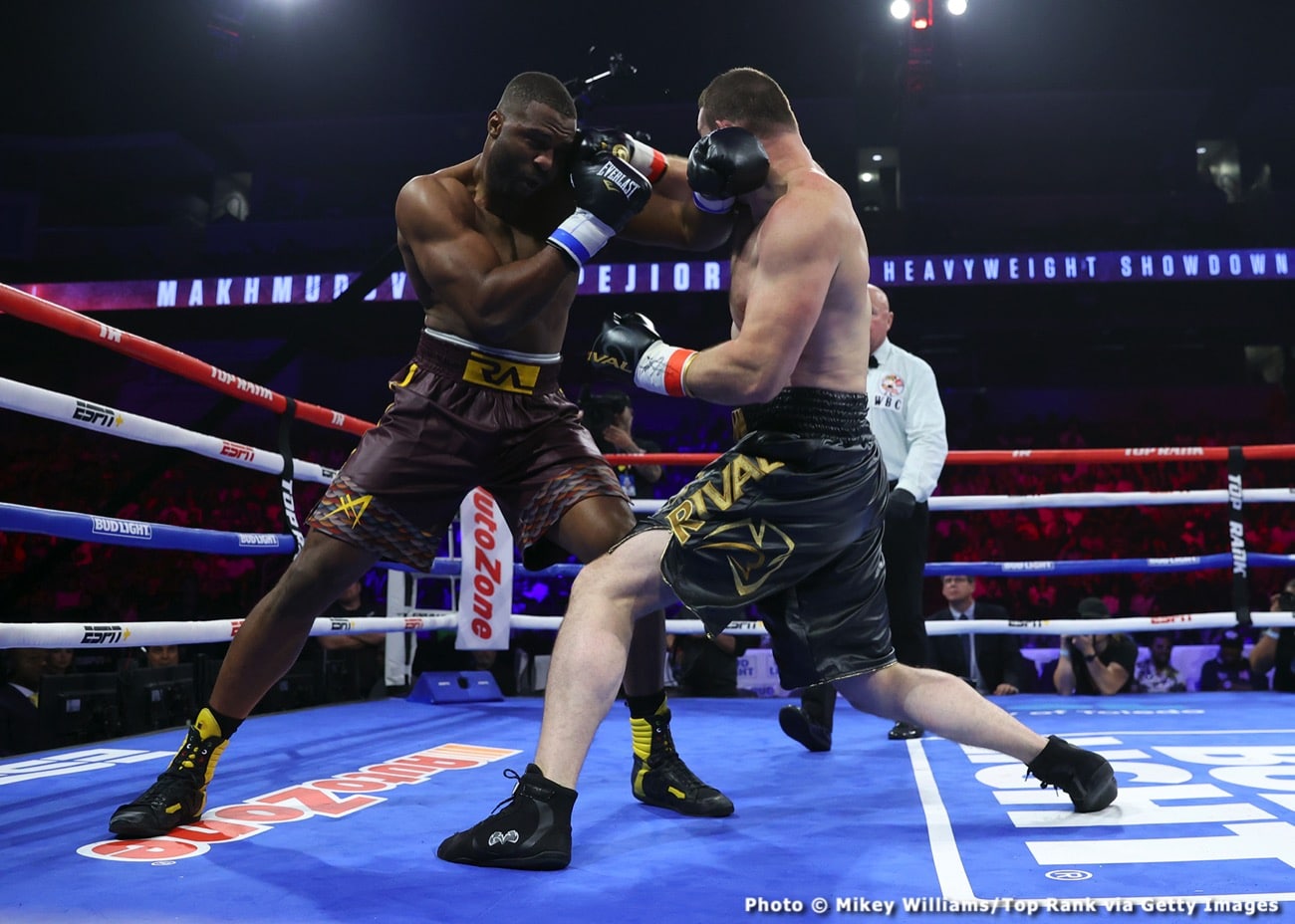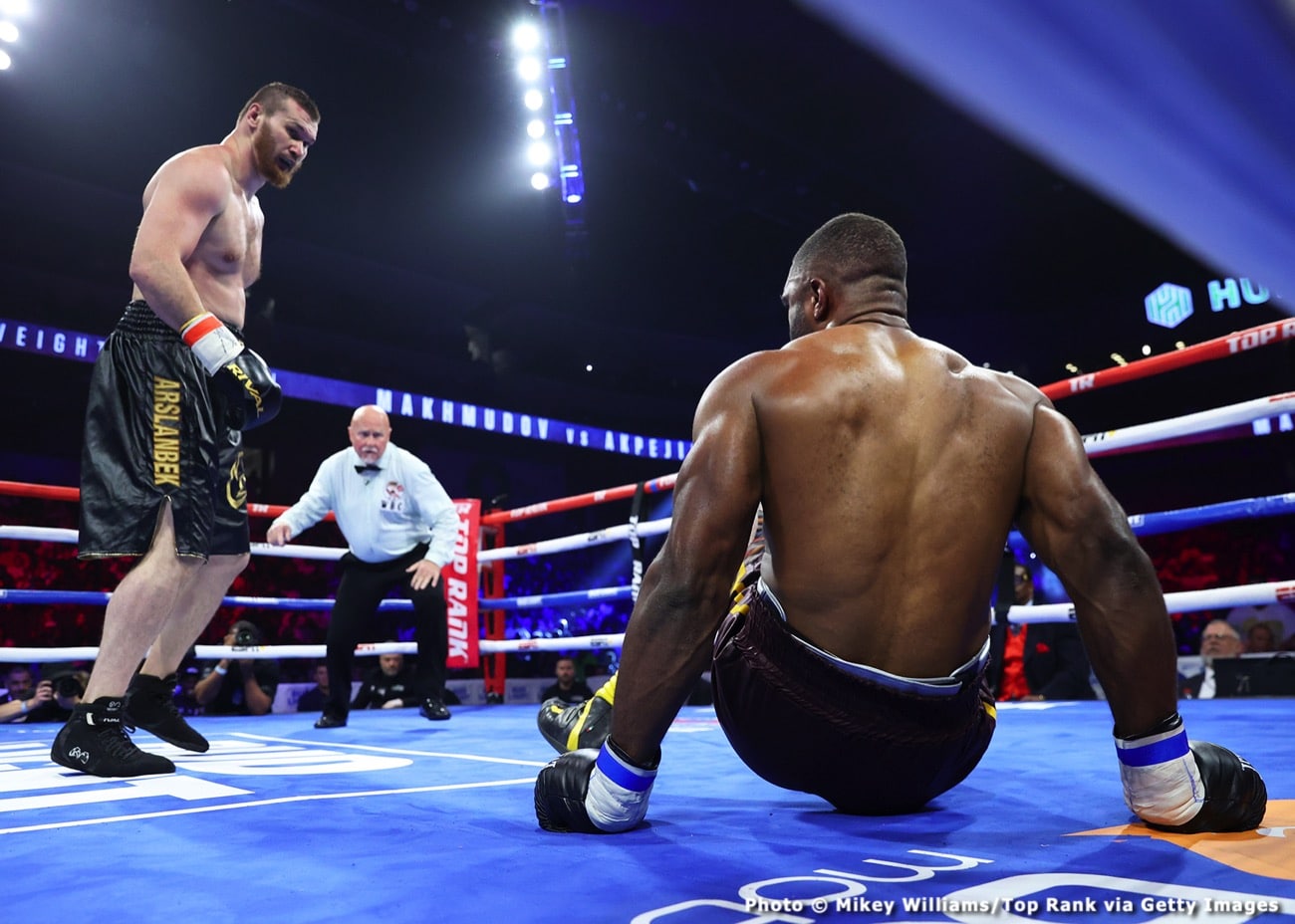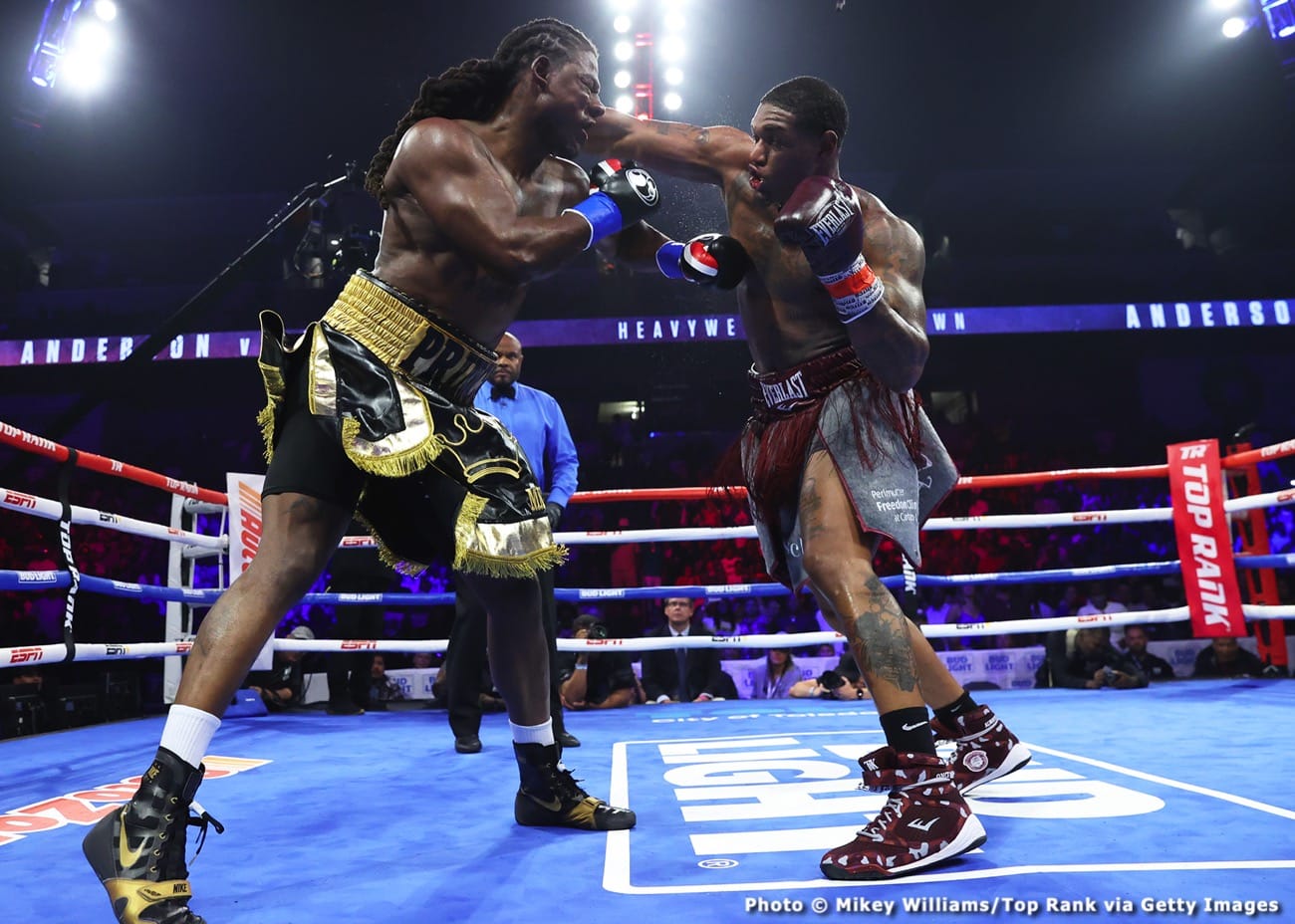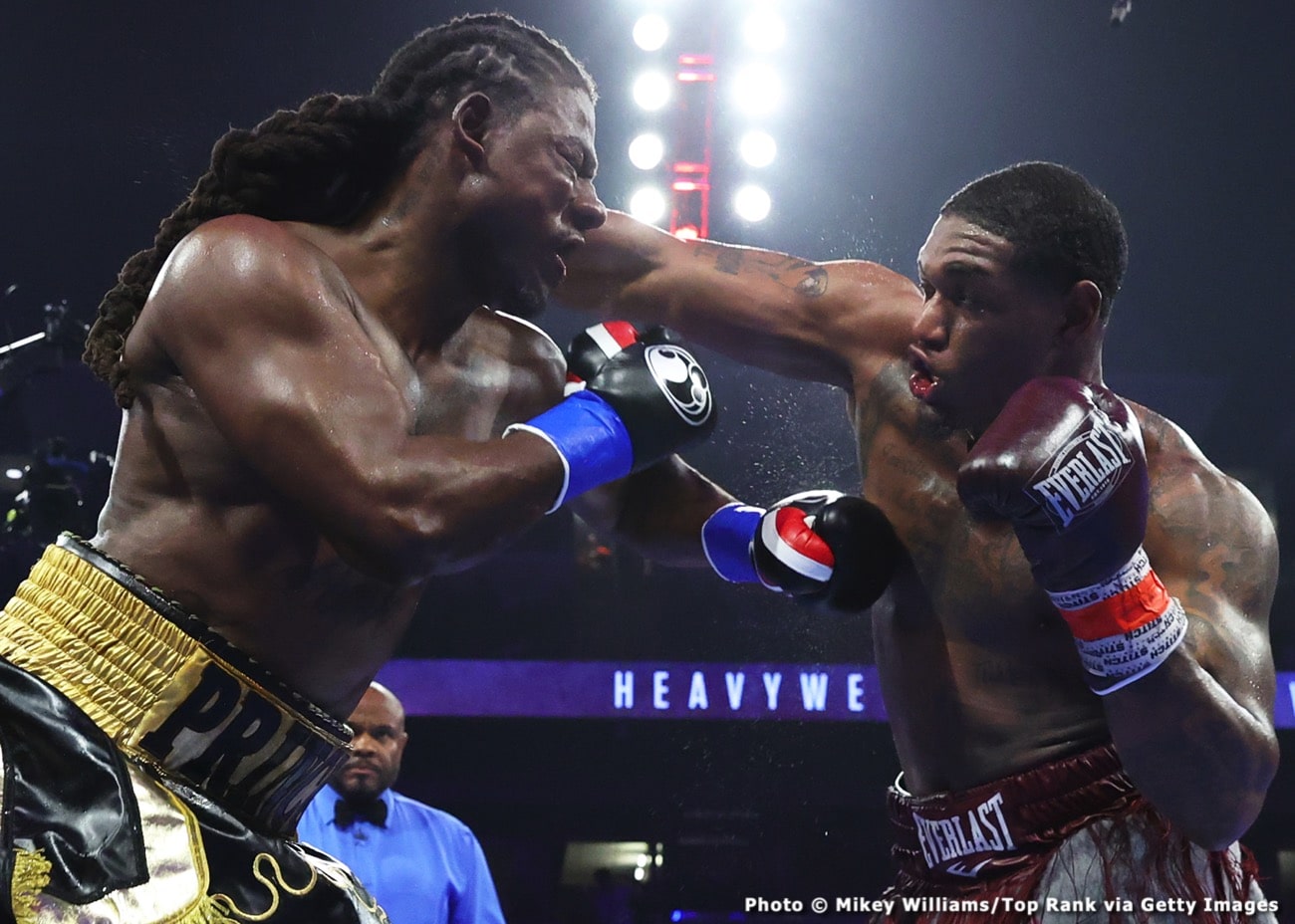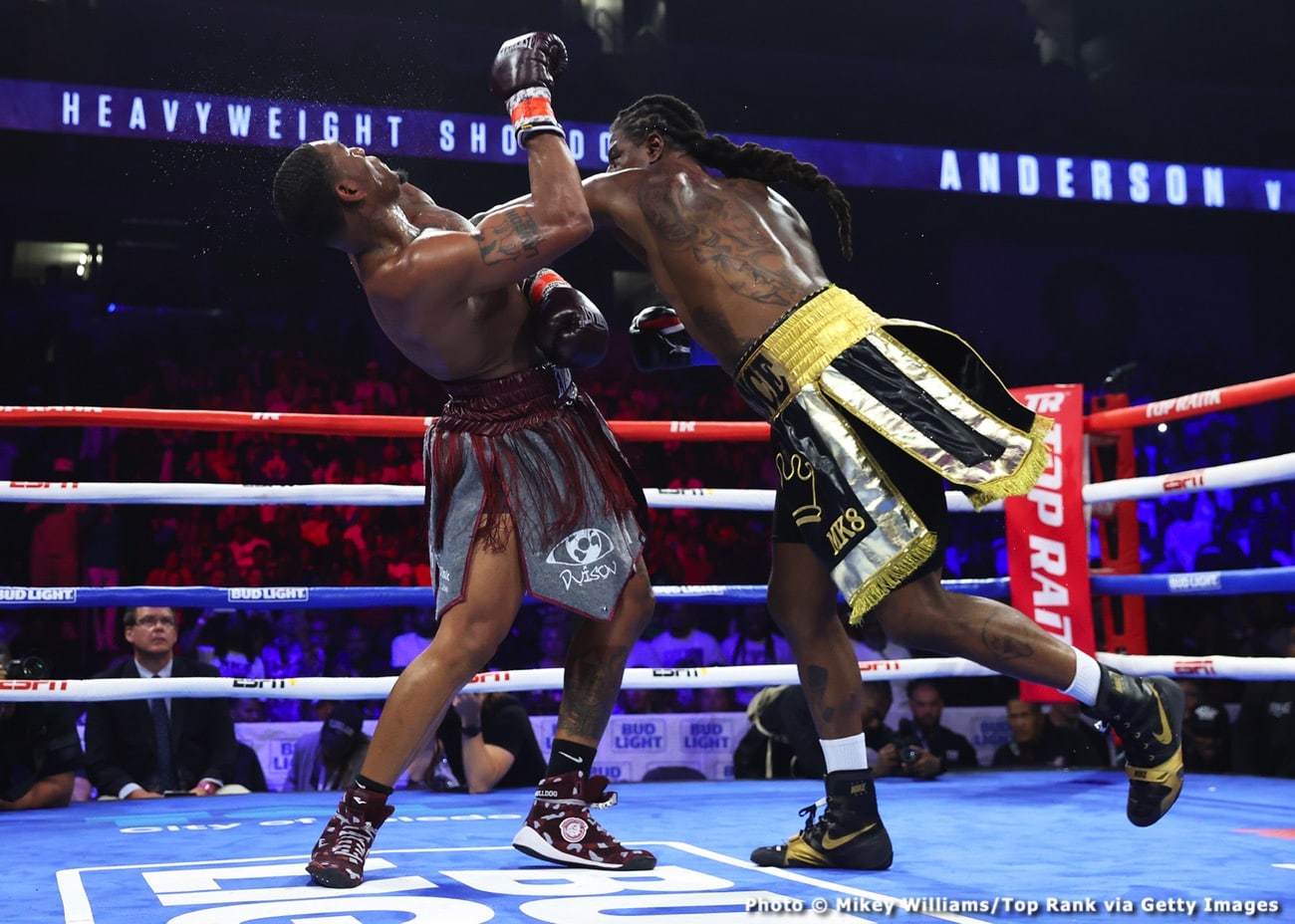 Jared Anderson (14-0, 14 KOs) is ready for his 10-round fight tonight against the tough southpaw Charles Martin (29-3-1, 26 KOs), who is coming in as a high-level substitute for their main event fight at the Huntington Center in Toledo, Ohio.
The 23-year-old Anderson insists he's ready to take on the former IBF heavyweight champion Martin in tonight's live boxing on ESPN & ESPN+. Action will be shown beginning at 10:00  p.m. ET.
Jared Anderson to put maximum effort into career
"I am going to, like you said, ride the horse and take it as far as I can, but I don't feel like I need to take it to the extent that everybody is wishing upon me," said Jared Anderson said Max on Boxing.
"Some people listening to that might think, 'Wait a minute; does this dude love the game?' Because when you get to the top level, and you eventually come across another super-talented heavyweight in his prime, a lot of times, it stands to reason that the guy who loves it, who needs it, who thinks it is part of their destiny, has an advantage in those moments. Do you not see it that way?" said Max Kellerman.
"No, I don't see it that way," said Anderson. "It's just that simple, but as a fighter, I'm a competitor, simple as that. I'm one of the biggest competitors in the gym, and if I want to win, I want to win. It's that simple.
"If I put my life on the line if I get into that ring, I want to win. Do you know what I'm saying? So I think that's what's going to separate me from anybody who works just as hard and is talented and all that good stuff.
"I'm a competitor, and I want to win. If you take the food off my plate, it's going to come with a consequence. So that's all it is to it.
"I got to tell you when I hear that, you come across as mature because just because a legend who you admire in Roy Jones is telling you one thing doesn't mean you subscribe to it. You don't necessarily sign up for it.
Anderson doing things his way
"You see things your own way, and I think your point of view is a very reasonable one. Not that you need someone else to tell you that, but it does sound that way. That aside, were you emotional because it was Roy Jones?
"What does it mean to you when a guy like Roy looks at you and says that you're like him in terms of your talent and stuff like that."
"It was great to feel like he could relate to me and my situation and everything but not necessarily," said Anderson. "I feel as though Roy, and I appreciate that though do that you do feel as though I have a good reason for how I look at things and everything, but I just felt Roy was pushing his agenda.
"What works for everybody else doesn't work for other people. It worked for him, and I'm going to take what I heard and what I felt like I needed to hear out of that conversation, and I'm going to run with it.
"I'm going to run to be the best at what I want to be. He said, 'You want to ride that horse and this career until you done until you finish,' and that's exactly what I'm going to do.
"I'm saying I took a lot from that conversation, but I don't think I was emotional because it was Roy. I think I was more or less emotional because I knew that at that moment where I was speaking about it.
"What was going through my head was my family, and why I fight, what I'm fighting for, and it's just the pressure built up. It's simple as that. The pressure built up on why I'm doing this, and all those emotions ran through at one time, and I just couldn't hold it back," said Jared.
It's interesting you bring it up. This happens in other sports, too," said Kellerman. "A lot of times, the best coaches, managers, co-head coaches, boxing trainers never hit the highest level themselves because they do what you're saying. They think, 'Okay, I did it this way,' and they try to impose that on everyone.
"You think of the greatest boxing trainers as pros, like Freddie Roach and Emanuel Stewart. They hit certain levels, but it wasn't the uppermost level. Maybe that helped them be a better coach, and that might mean that you'll never be a good coach.
Jared ready for Charles Martin
"I don't know because it looks like you're also destined to me for really, really good things. So, Charles Martin is a lot is a last-minute replacement, but he is a former belt holder. What did that do to your preparation to be preparing for one fighter and then at the 11th Hour have to switch, not only to another fighter but a guy who has real world-class experience?"
"I train with world-class fighters all the time. So that didn't change anything," said Anderson. "He's still a southpaw, so that didn't have to change either. The only difference was the height difference, but I was already training with taller fighters anyways. One is 6'4″, and the other is 6'6", if I'm not mistaken.
"So I was ready for the height anyways, but you know it didn't really change much, just change the face, same mission," said Anderson.