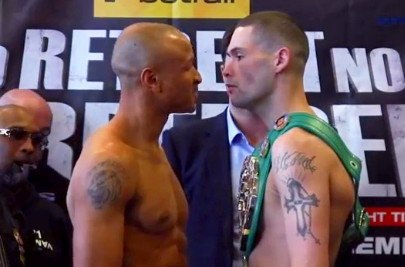 WBC Silver light heavyweight champion Tony Bellew (19-1, 12 KO's) will be looking to keep alive his hopes for a world title shot against WBC 175 lb. champ Chad Dawson by taking on Isaac "Golden Boy" Chilemba (20-1-1, 9 KO's) in a fight in Bellew's home city at the Echo Arena in Liverpool, UK. Bellew, #1 WBC, needs the win to keep his ranking to get a possible shot at Dawson's title either this year or next year depending on how long Dawson strings it out before facing him.
Bellew, 30, hasn't faced any really quality light heavyweights other than WBO light heavyweight champion Nathan Cleverly, who beat Bellew by a 12 round majority decision two years ago in Liverpool.
It's hard to say how well Bellew will do against Chilemba tonight because he's got a lot more talent than the mostly mediocre opposition that Bellew has been fed by his promoters, and, unlike the guys Bellew has been facing lately, Chilemba has a really chin.
This is probably going to be a fight where Bellew isn't going to be able to count on winning by a quick knockout like what he's been accustomed to getting. He's going to have to try and out-box Chilemba if the KO isn't going to happen.
Chilemba is one of those guys that wasn't blessed with the most talent, but he makes up for it by working hard, and throwing lots of punches.
Chilemba struggled in fights against Edison Miranda, Maxim Vlasov and Thomas Oosthuizen. He beat Vlasov and Miranda, but the fights were very close, and he arguably deserved a decision in his fight with Oosthuizen in 2010.
Chilemba, who was born in Blantyre, Malawi, has won his last five fights since his draw against Oosthuizen. He's beaten Vlasov, Jameson Bostic, Miranda, Vikapita Meroro and Rayco Saunders and done well.
Bellew, 30, has a three-fight winning streak since his loss to Cleverly, and has beaten Danny McIntosh, Miranda and Roberto Bolonti.